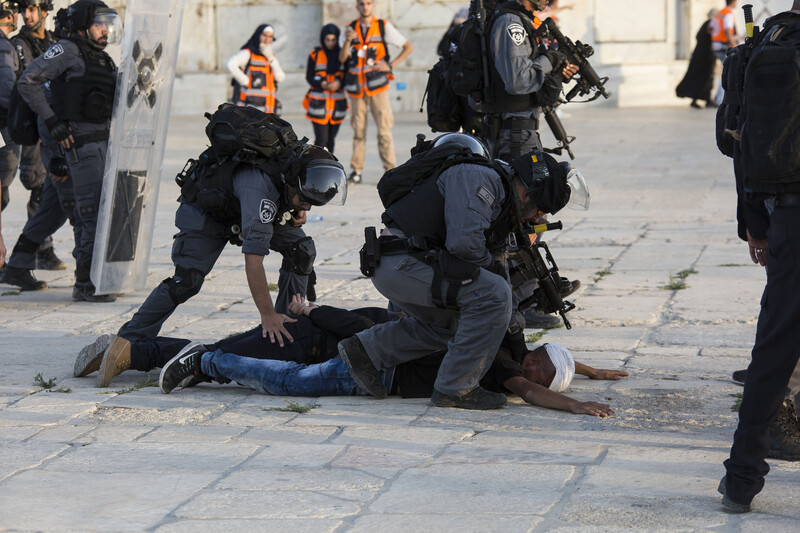 Jerusalem's al-Asqa mosque – one of Islam's holiest sites – received much attention during the summer when Israel blocked Palestinian worshippers from entering it.
Some incidents of Israeli brutality around that period nonetheless went unreported by international media.
Through my work as a lawyer with the Public Committee Against Torture in Israel, I gathered testimony from victims of one such incident.
On 27 July, Israeli police raided the al-Aqsa compound at around 10pm. That was shortly after Israeli authorities had removed the metal detectors and cameras they had placed at the entrance to the compound.
The raid, not the first at al-Aqsa that day, was perceived as police exacting revenge on Palestinians who had successfully resisted the restrictions on access to the mosque with two weeks of civil disobedience.
Moments after calling on everyone to evacuate the mosque, police officers fired rubber bullets at the unarmed worshippers, injuring several. About 120 Palestinians were rounded up, none of whom resisted arrest.
A Palestinian medical team had been providing aid to a worshipper in the mosque before the raid occurred. Members of the team found themselves helping the raid's victims, including a man who was injured by a sponge-tipped bullet.
One of the medical team testified that a senior Israeli police officer known as Shlomi "walked towards us and told his troops: 'They're not paramedics, they are all liars, take their vests and fuck them up.'"
The police stripped the medical staff of their uniforms, clumped them together with the worshippers and forced them into a corner with their hands raised in the air.
The police then forced all the detainees to the ground. Many were beaten by police wearing padded gloves and wielding batons.
Shackled
The detainees had their hands tied behind their backs with plastic cables. Shackled and helpless, the detainees were forced to sit on their knees, with some being ordered to bow their heads between their legs.
"They pointed at me, I walked over towards them, a police woman grabbed me by my hands, while another police officer kicked me from behind, and I fell to the ground," one detainee said.
"They held my hands behind my back and one of them jumped above me, stepped on my hip, pulled my hands further back, and handcuffed me. I told him, 'It's very tight, I'm only a human.' The officer said, 'Is this tight?' and tightened the plastic cuffs until I bled."
The detainees were split into two groups and forced to walk barefoot out of the mosque to the Moroccan Gate – an entrance to Jerusalem's Old City.
Some were forced to walk with their heads facing down; others were forced to bow at a 90 degree angle while walking. At the gate, some were forced onto their knees again while others were given a full body search.
All this took place as Israeli onlookers mocked, filmed and photographed the detainees.
The first group of detainees was transferred onto police vehicles. The second group, about 100 detainees, was forced onto a low floor bus run by the Israeli public transport firm Egged.
Once they were loaded onto the bus, the detainees were forced to sit with their hands behind their backs. One young man said that there was an initial sense of relief "that I was finally seated on a chair, because my feet were killing me from the beating, being stepped on by police officers, and walking barefoot during the arrest. I wasn't able to move, my feet were swollen."
The young man quickly added that he was "wrong to feel at ease." He was promptly told to bow his head between his knees.
"My back was cracking"
While in that position, police officers threw another detainee on his back and those of the three detainees placed beside him. Another three detainees were then piled on top of them, forming a kind of human pyramid.
"They threw a heavy person on the four of us," the man said. "I felt my back was cracking."
Other detainees were made to open their legs so that two detainees could be placed on each leg. In some cases, a further detainee was placed lying the floor between fellow detainees' legs and facing their genitals.
The remainder of the detainees was forced to sit on the floor of the bus' corridor.
The level of police aggression was such that detainees feared for their lives.
"I saw death in their [the police's] eyes," said one young man.
"I don't get scared easily," said another man, aged 22. "But that night, I was sure they came to kill us, all of us. I was so afraid that I almost urinated in my pants."
Testimonies of these young men and some others formed the basis of a complaint made by the Public Committee Against Torture in Israel on behalf of 10 Palestinians placed on that bus. The complaint was filed with Israel's police investigation unit in late August.
The bus carrying the detainees was brought to the Russian Compound, an interrogation center synonymous with torture.
Assault
Some detainees alleged further police violence against them at the center. A teenage boy, who was visibly in pain, was among those assaulted there.
Most of the detainees were released from the Russian Compound after an hour or so. Others, though, were not released until the following day.
Each member of the group held until the next day was shackled to another man throughout his detention. They had to accompany each other even when using the toilets.
The men who were shackled together had to sleep on the floor.
One of the detainees was struck in the head by police during the raid. Even though he was visibly bleeding, he was not provided with any medical attention until after his detention – when he was brought away in an ambulance.
The detainees with whom I spoke all reported of swelling in the wrists and of bleeding as a result of the tight restraints placed on them.
This incident was not the first time that Israel has commandeered public transport vehicles for military or policing operations.
In 1992, Israel used Egged buses to deport more than 400 Palestinians – blindfolded – from the occupied West Bank and Gaza to southern Lebanon.
The misuse of buses by Israel's forces of occupation is symptomatic of a bigger issue. Since its establishment, Israel has deliberately seized public or civilian property and transformed it into closed military zones. Designating large tracts of the West Bank in that way has allowed Israel to expand its settlements.
Israel refuses to separate military and civilian life. The Israeli army runs bases and offices in universities; soldiers carry weapons on public transport.
By penetrating into almost every aspect of Palestinian life, Israel has been able to raid places of worship with impunity. Buses have been turned into prison cells.
Sharazad Odeh is a Palestinian human rights lawyer and a researcher on law and gender. She works as a staff attorney with Kayan Feminist Organization and holds various research roles at Hebrew University of Jerusalem. The opinions expressed in this article are her own.
Tags