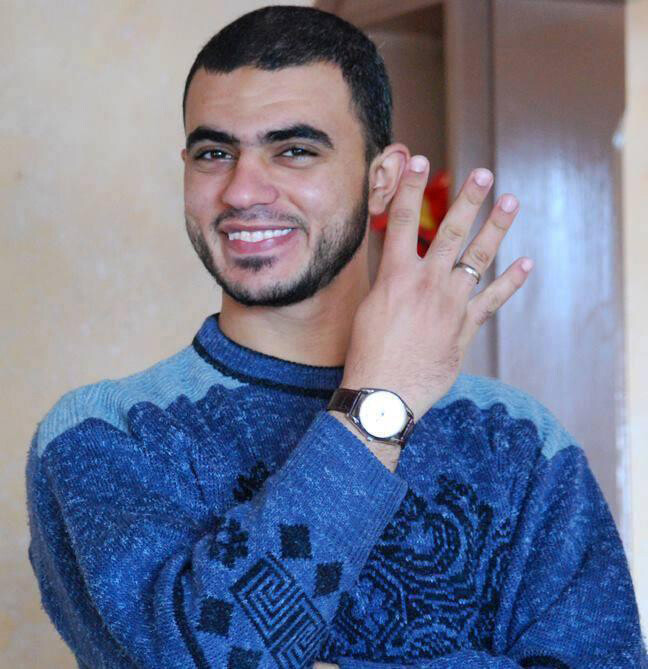 Khaled Hamad and Hala Shehada had been married just a few months and were expecting their first baby. Khaled had promised to buy Hala a maternity dress once her belly began to swell. Her pregnancy is now visible but her mother bought the dress instead as Khaled has been murdered by the State of Israel.
A 25-year-old photographer and journalist, Khaled lived in Jabaliya refugee camp in northern Gaza. On 20 July, he traveled by ambulance to the Shujaiya district of Gaza City. He was making a documentary for Continue Agency, a local media production company, about the work of paramedics during Israel's offensive against Gaza.
Bloodiest day
Once they had made it to Shujaiya, the ambulance was hit by a number of Israeli missiles. Khaled was killed, along with a paramedic. It was the bloodiest day of Operation Protective Edge, as Israel calls its onslaught. At least one hundred Palestinians were killed that day, including 66 in Shujaiya.
"I tried many times to stop him from going out, begging him to stay with me," Hala said. "But he always smiled, saying that I'll be happy when I see the film. It would be fantastic, he would say, and then he would go out."
Hala tried to phone her husband several times on the day of the massacre. He did not respond, so she sent him text messages. Still no response.
Then she turned on the TV. Al Jazeera showed images of a dead man, wearing a vest marked "press."
"Khaled!" she screamed. Some of Khaled's family were beside her. They refused to believe it was him. But she knew it was. She could see his camera on the TV screen. "I know Khaled's camera," she said.
Khaled kept filming even after he was attacked. His video captures his last moments.
Vow to seek justice
Hala, herself a third-year journalism student, received the video ten days after Khaled's death. She has watched it several times, even though it has been very distressing. "His last cry of pain endlessly echoes in my ears," she said.
Hala has decided to hold off on publishing the video until she thinks the time is right to do so. "The video is powerful," she said. "It exposes Israel's crimes of deliberately targeting journalists and paramedics." The sound of heavy shelling can be heard in the background.
She vows to seek justice for her husband in the international court system.
Hala is distraught. She sends text messages to her late husband's phone, asking him to come home. She also posts updates about her situation on Facebook.
Khaled Hamad was a journalist doing his job. Since Israel's bombing of Gaza began in July, he filmed the attacks every day until his final one.
Khaled is one of many journalists to have lost their lives in the current attack. On 5 August, Al Jazeera reported that at least eleven media workers had been killed. Since then, Simone Camilli, a video journalist with the Associated Press, and translator Ali Shehda Abu Afash lost their lives when an unexploded missle detonated in the northern Gaza town of Beit Lahia.
This week yet another young media worker, Abdallah Murtaji, died as a result of his wounds from Israel's bombing.
Khaled Hamad was evidently looking forward to being a parent. But now his child will grow up deprived of a father.
Maram Humaid is a 23-year-old journalist working temporarily in Gaza's information ministry. Follow her on Twitter: @maramgaza.
Tags