Israeli forces killed at least 100 Palestinians on Sunday, including 66 people in a single neighborhood of Gaza City, bringing the 13-day death toll to at least 437 people. The vast majority of them are civilians and include least one hundred children.
Early Sunday morning, Israel indiscriminately shelled the eastern Gaza City neighborhood of Shujaiya, destroying homes and buildings. Dozens of the dead and hundreds of injured and maimed people were pulled from the rubble.
Inside al-Shifa hospital, Gaza's main medical center, a doctor says that the majority of those injured are children, and that the morgue was over capacity with victims of the massacre.
The Electronic Intifada spoke with Dr. Belal Dabour at 8:20pm Palestine local time on Sunday. Dabour said he had seen horrific scenes. "Just one ambulance just carried five bodies, I saw it myself," he said. "Two children, one old woman and two men."
Dabour, who wrote about his experience treating the wounded — especially wounded children — after Israel's heavy bombardment and indiscriminate artillery attacks on Thursday, said that "more than one hundred medicines are missing" and are at "zero stock" right now. "These medicines include some very vital medicines, some medicines which a hospital can't run without," he added.
Listen to the audio recording of Dabour, or read the transcript of his interview below.
Doctors, he said, are buying vital medicines and supplies from private pharmeceutical companies and pharmacies with their own money.
At the time we called him, Dabour was standing in front of the hospital's morgue with a group of his relatives. They were collecting the body of Dabour's distant cousin, who was killed in the massacre, so that they could bury her before sundown.
Meanwhile, Ma'an News Agency published a harrowing report this morning describing the scene of the massacre:
Inside were scenes of absolute devastation: entire buildings collapsed on themselves or strewn into the streets. Mangled trees were bent over, children's shoes — a girl's purple slipper, a boy's blue flip-flop — mixed in with the rubble underfoot.

An entire apartment building of several floors was still ablaze, the fire burning on the ground floor and covering the facade with black soot. And there were bodies lying in the streets.

Some were burnt almost beyond recognition, whole appendages missing. One man in his house robes was completely charred black except for his internal organs, which were starkly yellow against the coal color of the rest of his body. The dead were young and old, with more than one lifeless child carried out by frantic ambulance workers.

They also found the carcass of one of their [paramedic] vehicles, its windows all blown out and holes punched into its sides by shrapnel.
Man shot before eyes of solidarity activists
Last week, Israel heavily shelled the al-Wafa rehab and geriatric hospital adjacent to Shujaiya.
Doctors, nurses and hospital staff were able to safely evacuate the patients — some of whom are paralyzed and in need of constant, critical care. The International Solidarity Movement (ISM) issued a press release saying that foreign activists, who had maintained a constant presence inside the hospital before the attacks, attempted to retrieve salvageable medical supplies for patients in dire need. Joe Catron, activist and contributor to The Electronic Intifada, said al-Wafa was "still smoking" from Israel's strikes on 17 July. ISM added:
Charlie Andreasson, Swedish activist, states, "We were waiting to get clearance from the Red Cross to go back to al-Wafa. This is urgent because without medicine, the patients cannot receive proper treatment, and coordination through the Red Cross has not been possible." Previous attempts by the Red Crescent to enter the Shujaiya neighborhood to retrieve wounded people from this area were met with live ammunition from the Israeli army.
After the Shujaiya massacre, international activists and local municipality workers attempted to rescue injured people from underneath the rubble, and witnessed Israeli forces shooting and killing a man who was attempting to reach his family.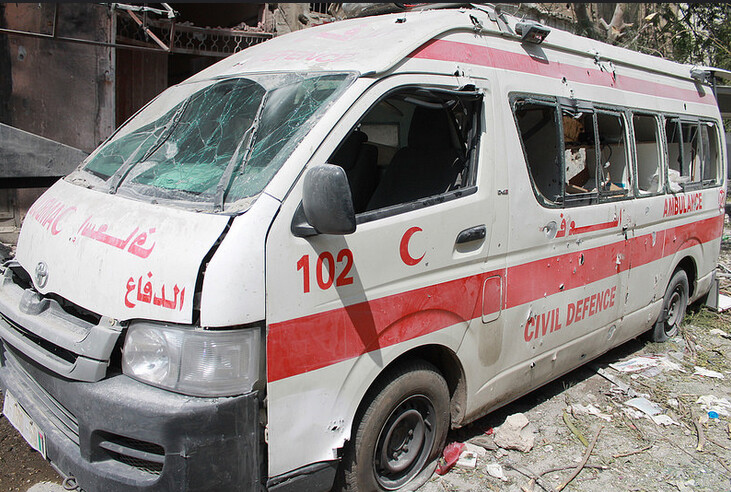 Catron states: "We all just watched a man murdered in front of us. He was trying to reach his family in Shujaiya, he had not heard from them and was worried about them. They shot him, and then continued to fire as he was on the ground. We had no choice but to retreat. We couldn't reach him due to the artillery fire and then he stopped moving."

"Shujaiya is a smoking wasteland," Catron adds. "We just passed two bombed out ambulances."
Interview with Dr. Belal Dabour
Nora Barrows-Friedman: Dr. Belal, can you talk about what al-Shifa hospital has been dealing with since the Shujaiya massacre last night, on top of the last two weeks of this Israeli attack?
Belal Dabour: We received a family of four, a pregnant lady, her husband and two children, they were living in a tower in a building close to al-Shifa hospital and they were targeted. Their flat was targeted out of nowhere. They have no affiliation, no political actions, they were targeted and they all died.
And while in the emergency room I did not recognize them but suddenly my relatives started coming in and she [the pregnant lady] turned out to be a distant cousin of mine. So you can imagine how this situation — this story is the same thing for dozens of families these days.
As for the Shujaiya massacre — since dawn hours, from 5am maybe, for two hours, about 50 bodies and 250 injuries arrived all at one time, in two hours at al-Shifa hospital from Shujaiya.
Families torn apart, families dying all together, a very difficult situation. And the seven operation rooms in al-Shifa hospital were working all together all at one time. Doctors and staff were being called in from their homes. They arrived in ambulances to help. And once this frenzy was all over, it was about 1pm or 2pm, there was a temporary ceasefire for two hours, and it repeated all again.
A lot of bodies were unable to be extracted from the scene. And in the morning — we were now taking a lot of injuries and they arrived all at once during the two-hour temporary ceasefire. One ambulance for five bodies arrived — just one ambulance just carried five bodies, I saw it myself. Two children, one old woman, and two men. This is what a massacre sounds like, you know?
NBF: Dr. Belal, you're at al-Shifa hospital right now. Can you describe the scene right now after these massacres have happened?
BD: Yeah. I'm now standing in front of the morgue with my relatives, who are coming to see their sons and daughters and grandchildren. With them, there are many other families all coming to take the bodies with them, the relatives of their loved ones have to bury them before dark. Now, it's the sunset.
Also in al-Shifa hospital, besides the hundreds coming to take the bodies of their relatives, are other hundreds who have fled their homes and have found nowhere to go but to come to al-Shifa hospital just to seek refuge.
So during the day, there were thousands — maybe one or two thousand people lying around in this hospital, in the corners, in the streets nearby, and in the gardens, near the cafeteria, and now as night has come, the number has decreased to two hundred but there are still families — whole families — just lying in alShifa hospital, in whatever place they could find and settle, because they have nowhere to go. Some of them are a little bit injured, some of them are just standing because they have nowhere else to go.
NBF: Belal, can you talk about the conditions in the hospital in terms of basic medical supplies and medications? Of course, we're talking about supplies that have been depleted for seven years under the Israeli blockade. What's it like trying treating patients under these kinds of conditions?
BD: A lot of supplies are missing. The Ministry of Health issued a statement today. They said that more than 100 medicines are missing — are at zero stock now. These medicines include some very vital medicines, some medicines which a hospital can't run without. This is a problem. Now, we in the surgery department, and especially in the emergency room, we take whatever we need from the other departments, so now there are some medicines — for example, the normal saline and intravenous fluids, just this basic need … for example, you might find it in the emergency room simply because we exhausted the resources of the other departments. You might not find these medicines or these disposals at the internal medicine department, or at the obstetrics or the gynecology departments, for example.
Others are not found either in the emergency room, or the surgery, or the other departments. And these drugs, or these medicines, we all [need] to buy them from the private sector, from the pharmacies across the street from al-Shifa. We buy them all from our own money.
Some of the medicines, for example some antibiotics, some painkillers, are just examples of the kinds of medicines that are missing. Of course, no need to mention the more advanced medicines for non-emergent diseases, which have been missing for months now, before this whole aggression started.
NBF: Finally, Dr. Belal, you wrote a very moving and powerful and disturbing article for The Electronic Intifada about the impact of these kinds of attacks that Israel has been launching against the people of Gaza, especially how it impacts children. Can you talk about your experience with treating children right now, as they're going through this kind of unbearable trauma?
BD: Yeah. Let me just say that children are the majority of the injuries we receive at Shifa.
No less than fifty percent of the injuries I treated or I've seen myself today are children. And when I say children, I do not mean under 18 years of age, I mean under 12 or 15 years of age. That's what I mean by children.
Today, there was a very moving scene of a father and his five little daughters just sitting in the emergency room, unable to move, crying. When I asked about their loss, it turned out that his wife, the mother of those little five children, has died from the attacks in Shujaiya, in an artillery massacre. This is one side of the tragedy that children see, that children go through here in Gaza.
Let me talk to you about my last shift three days ago. We received three children, they were hiding from the random artillery fire, and they were hidden under the staircase, because that was the only cement part of their house, they live in poverty, and that's where the artillery hit them. It hit them directly in the staircase. They all died immediately, however all three of them were beheaded. And they died immediately. But not all are lucky to have such an easy death, or such a quick death, some of them have serious injuries. Some of them have shrapnels — they're unlucky to get these shrapnels. For example, cutting their spines — they're just children, and they will live their whole life now with disabilities.
There are some children who sustained major burns I have seen myself, there are little, beautiful girls who sustained shrapnel in their faces, most of their faces have major disfiguring that they will have to live [with] the rest of their lives. So these are just all examples of what children are going through today. And what's really moving is that when you talk about 2,800 injuries, there are at least one thousand children among them.
Tags