Kholoud Nassar, 26, armed only with a smartphone camera, is trying to create something from nothing.
Nassar launched her first Instagram account in 2013 with the idea of showing the "bright side" of Gaza City by posting photos of her daily trips through its streets.
She said the account was one of the first established by a woman in Gaza, and the idea came to her while she was looking for work after finishing her media degree at the Islamic University of Gaza.
"I'm passionate about our historic places. I want to show people outside Gaza that this city didn't appear suddenly with its conflicts and wars, but has a long history marked by beautiful old places, shrines, mosques, churches and old palaces," Nassar told The Electronic Intifada.
She's not alone. In an attempt to tackle the widespread frustration in the occupied Gaza Strip – isolated from the world by a 10-year-old Israeli economic and military siege – a group of young women who are acquainted but work independently from one another have turned to social media platforms to present the unseen sides of their home.
The Electronic Intifada has spoken to some of these women about their motivation and experiences on social media. They've designed these accounts to post photos, videos, news and publicize events that show a lighter side of life in Gaza, explain its history and its ancient sites.
And they've found a ready audience: Together, their "followers" number in the hundreds of thousands and come from all over the world.
Nassar began by posting photos – some of Gaza City's Old City, some of local crafts, some more artistic photos – taken with her mobile phone. The response was immediate and sometimes confounding.
"When I posted the first photos, I received many comments and messages wondering if these photos were really of Gaza. People would ask whether we normally eat and walk in the streets, whether we have the internet and mobile phones, how it is such beautiful places exist in Gaza, this place of war and destruction."
The feedback motivated her.
"I felt a sense of responsibility to challenge stereotypes and this false image of Gaza," Nassar said. "I felt people outside should realize that while Gaza has its dark side, it also has a light one."
She now plans to take the street photography a step further and start producing videos she hopes will give outsiders greater insight into life in Gaza.
"If Gaza has one face of death, she has many other faces of life," Nassar said.
Gaza on YouTube
Asmaa and Saja Khaldi, 20, are already promoting their own videos online. In 2016, the twins launched a YouTube channel simply called Khaldi Twins, which features videos of their travels in Gaza, some narrated in English, others with English subtitles.

Architecture students at the Islamic University in Gaza, the sisters see social media as a platform to express themselves.

"Social media is available to anyone to publish and talk about many issues. People around the world use these platforms to spread ideas, cultures, as well as marketing themselves. We just thought, let's try it," Asmaa said.

Like Nassar, the twins look for positive stories. Their page is replete with short films about horse-riding in Gaza, walks in the Old City, a snippet on life in a refugee camp.

Their first film was about the Eid al-Adha holiday:

The feedback was positive and convinced them to keep filming.

But, like any enterprise in Gaza, they face multiple challenges, foremost the scarcity of power. Palestinians in Gaza enjoy just three to four hours of electricity a day and are cut off from the rest of the world by a siege imposed by Israel and Egypt.

And yet in part, it is the hardships that inform their videos.

"The idea is to overcome your personal pains and wounds in order to cope with the long marathon that this world presents," Asmaa said.

Asmaa and Saja try to combine fun with highlighting little seen aspects of Gaza, particularly the ancient architecture of the Old City. And much to their own amusement, some of their viewers come from Gaza itself, many of whom have never been to the places they show.

"The reactions of people from Gaza are always interesting. Some have been asking whether these places really exist in Gaza and how to visit them," Saja said.

"I think that we succeeded a little bit to change the way Palestinians in Gaza look at their home. I think the difficult conditions often blind them from seeing the beauty of their land."

The twins aim to continue to produce videos and aim to do so to higher and higher standards. They are also hoping to make films not just from Gaza, but from all of Palestine, if they can ever escape the blockade.

"We started by looking for happiness inside us. Then we moved to look for it in people's hearts inside Gaza. Now we want to find it outside Gaza too."
Light a candle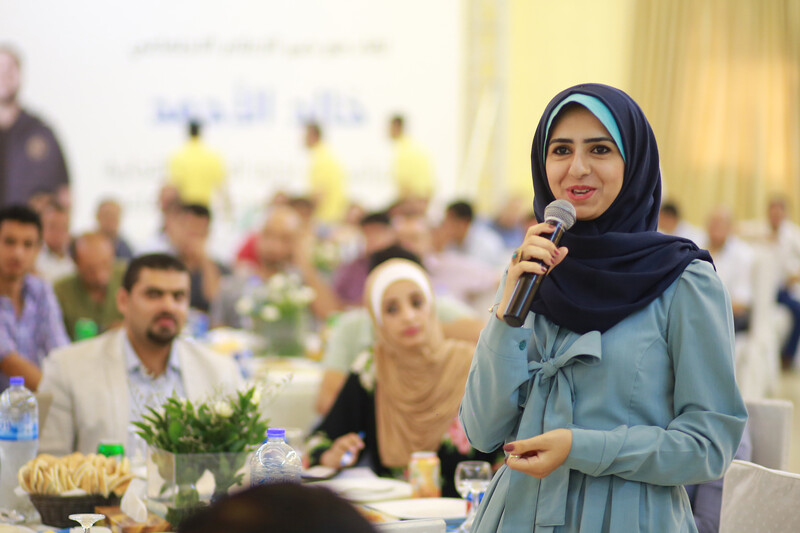 For Baraa Elghalayini, 22, social media platforms, especially Instagram, have played a crucial role in her life. A TV presenter on Al-Kitab, a well-known local satellite channel, social media has provided her "outstanding" opportunities, she told The Electronic Intifada.
She became active on social media while still in her first year at Gaza's Al-Azhar University in 2013, where she studied media and communications.
"I started to post photos with short captions on Instagram about my daily life in Gaza and I noticed there was a lot of interaction with followers outside Gaza. So I turned it into a mission to talk about Gaza from new perspectives."
Elghalayini is passionate about photography and has taken several courses to develop her skills.
"Pictures really do tell a thousand words. That's why I prefer Instagram: The focus is on photos with short captions."
Her activity on social media – where her Instagram account now counts over 137,000 followers – also drew the attention of a number of businesses in Gaza. They contacted her (and other friends with whom she was collaborating) offering paid work to market their products in her own videos as well as produce content for various companies.
"At first, I considered my activity on social media as a duty to promote Gaza, Palestine and what goes on around me," Elghalayini said.
But when a commercial angle appeared she was not shy of taking advantage. She has since been invited to speak about her experience online at local fora and says her time online has taught her much, not least how to handle life in Gaza.
"I learned many things. I learned how to cope with the frustrating situation in Gaza and not surrender in the face of the social and political conditions that oppress us."
She added, "To light a candle is better than to curse the darkness."
Maram Humaid is a Gaza-based translator and journalist.
Tags