Majd Oweida's parents had to wait almost four months before they could visit their son in jail.
"I cannot describe what it's like to see your beloved son behind bars," said Maha Oweida, Majd's mother. "I could not hug him or even talk to him properly. They only allowed me see him from behind a glass screen and talk to him with a telephone handset."
That visit took place in Ashkelon prison, in the south of Israel, during June. Majd had been in detention since he was arrested at Erez checkpoint between Gaza and Israel in February.
The Israeli authorities have charged Majd, a computer engineer, with electronic espionage.
At a court hearing in March, it was alleged that he led a cyber team for the armed wing of Islamic Jihad. He is accused of intercepting Israeli drone feeds, writing a program for gathering data from Tel Aviv's Ben Gurion Airport and hacking signals from cameras placed on streets by the Israeli police.
His family reject the allegations. "He did not have any political or military affiliations," Majd's father, Jawad, said.
Though Majd has long been interested in computers, his family insists that he would not have had the skill to develop the kind of elaborate hacking operation Israel claims he ran.
"These accusations are totally false," his mother said.
Majd's case was reported by the international press after the charges against him were announced. While his plight has not been reported more recently, his family are still trying to raise awareness.
They regularly join other relatives of prisoners at sit-in protests opposite the Red Cross offices in Gaza City.
Psychological pressure?
As well as being a computer engineer, Majd is a lover of music. He worked as a scout for the TV program Arabs Got Talent and obtained a license to set up a Palestine-focused version of the show.
Majd was on his way to Ramallah when he was arrested. He had been granted an Israeli permit to leave Gaza so that he could visit the occupied West Bank and meet Arabs Got Talent staff.
When they visited him in Ashkelon, Majd's parents were relieved that he was in good form.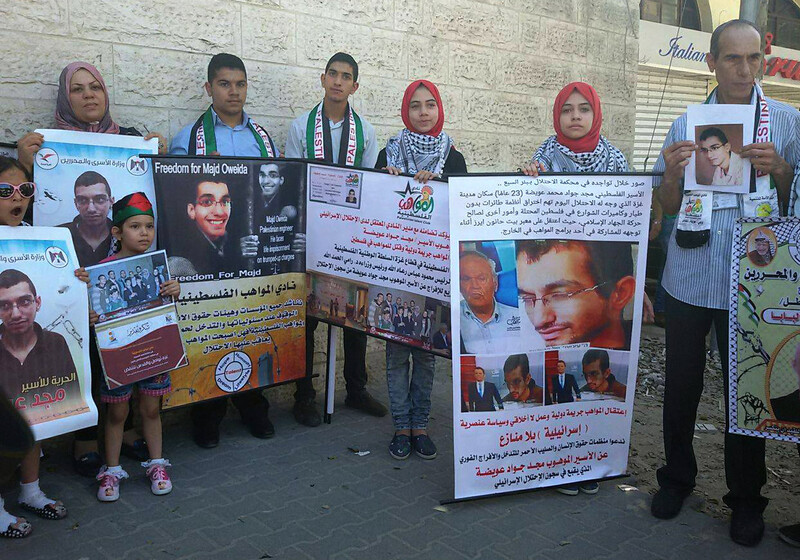 But human rights advocates are perturbed by how Israel has issued a ban on reporting details of Majd's interrogation.
Mervat an-Nahal, a lawyer working with the Al Mezan Center for Human Rights in Gaza, said "Majd might have been subjected to torture and psychological pressure."
For 19 days following his arrest, Majd was not allowed to see a lawyer, according to an-Nahal. She added that the lawyer who went to see him at the end of those 19 days has been forbidden from revealing any details about his interrogation.
"Majd's arrest is part of a systematic policy through which the Israeli occupation takes away the most basic rights of the Palestinian people," an-Nahal said.
Majd's next court appearance is scheduled for 21 August, his family have been told.
"Media show"
"This case is a media show for the Israeli public," said Jawad, Majd's father. "Israel is trying to prove to its people that it has scored a serious security goal by arresting my son Majd. The Israeli media are reporting the case as if someone who had been wanted for years has been caught. They have resorted to a lot of exaggeration."
The mass circulation newspaper Israel Hayom, for example, has reported uncritically on allegations against Majd made by the Israeli authorities during a court hearing.
Among the claims are that a senior member of Islamic Jihad bought specialist equipment for Majd in the US and smuggled the equipment into Gaza. According to the newspaper, Majd was able to use the equipment to hack into Israel's drone camera systems and discover that particular Palestinian resistance fighters were under surveillance.
It is not unusual for Israel to arrest Palestinians seeking to travel through Erez.
A recent report by the Palestinian Centre for Human Rights stated that three civilians were arrested at Erez during the month of June. One of the three was accompanying a family member who was traveling to an Israeli hospital for treatment.
Erez is the only checkpoint through which people in Gaza may travel to Israel or the West Bank.
Since imposing a tightened siege on Gaza in 2007, Israel has only allowed the Strip's inhabitants to travel through Erez in exceptional cases. Among those theoretically allowed to leave via Erez are patients with serious conditions, businesspeople, elderly pilgrims en route to Jerusalem, family members of prisoners detained inside Israel and workers with international humanitarian and development organizations.
In practice, however, Israel has blocked many people's travel plans, even when they have been granted permits. For nine days in June, Israel stopped patients from leaving Gaza via Erez, except in a number of urgent cases.
Like most people in Gaza, Majd Oweida has only been able to travel on rare occasions.
Following Israel's 2014 attack on Gaza, he joined the youth band al-Takht al-Sharki on a trip to Beirut. The group left through the Egyptian-controlled Rafah crossing in southern Gaza, which is also frequently closed.
The group made an emotional appearance on Arabs Got Talent. Majd was filmed shedding tears behind the scenes.
"We are proud of him," said Majd's brother Amjad, who has also been working on a spin-off version of the show called Palestinians Got Talent.
"We will follow Majd's example of nurturing Palestinian talent until he is free," Amjad added.
Majd's father, Jawad, concurred: "My son did not harm anybody. His energies were focused on discovering talent."
Maram Humaid is a Gaza-based translator and journalist.
Tags