Since 2011, Aaed al-Athamna, his wife Asmaa and their six children have been sheltering in a mud-brick home in the Izbet Abed Rabbo neighborhood in the northeastern Gaza Strip.
They have been displaced since Israel's three-week-long "Operation Cast Lead" assault which began six years ago.
The area suffered heavy Israeli bombing and shelling in January 2009, destroying the family's 230-square-meter cement home.
The al-Athamnas' life has been similar to that of thousands of families in the coastal enclave displaced during the Israeli attack six years ago. The situation has gotten catastrophically worse since Israel's most recent attack in the summer, which left more than 2,200 people dead.
"I consider myself lucky compared with tens of thousands of others," Aaed, a taxi driver in his mid-thirties, told The Electronic Intifada. "At least my current home of sand and mud has sheltered my family from the sun and winter rains, even though it is only 80 square meters [860 square feet]," he said.
The UN's Office for the Coordination of Humanitarian Affairs now reports that an additional 100,000 people in Gaza have been displaced and need permanent shelter.
Damaged in latest Israeli attack
More than 113,000 homes, or 13 percent of Gaza's housing stock, were affected by the summer bombardment, with 22,000 units destroyed or severely damaged.
Much of the destruction would have been caused in attacks by barrages of inaccurate Israeli heavy artillery.
But Israel also deliberately targeted private homes on a large scale, including multi-story apartment buildings, actions Amnesty International has described as war crimes.
It is now winter and Asmaa al-Athamna spends much of her time mopping up water and trying to keep the house comfortable for Aaed and their four girls and two boys. Asmaa told The Electronic Intifada that Israeli shelling in the area over the summer caused cracks in the ceiling that allow the rain to come through.
"But in general, this home has proved much better than many other metal boxes," al-Athamna said, referring to the shipping container homes donated by international organizations as emergency shelters for some of the displaced. The metal containers are known for being extremely hot in summer and bitterly cold in winter.
"Thank God we have a home to protect us," al-Athamna said as she carried on with her housework.
Innovations
Mushrif al-Irr lives in another mud-brick home with eleven members of his family, also in northeastern Gaza. What's remarkable is that the house contains not a drop of cement, nor any steel reinforcement bars (known as rebar).
"We started living in this home almost one year after the 2008-2009 Israeli war on Gaza," al-Irr told The Electronic Intifada. "And since then, we have been living comfortably at all times of the year, including summer and winter. In summer, the home feels cool, while in winter it feels warm."
Cement and rebar are the basic ingredients of construction in Gaza, but both are in severely short supply due to the siege Israel imposed on Gaza in 2007. The UN's Gaza Reconstruction Mechanism, brokered after this summer's assault, has done nothing to ease the shortage. Many Palestinian analysts say the arrangement for strictly monitored imports simply turns the UN into the enforcer of Israel's siege.
Al-Irr is full of praise for the sand- and mud-brick houses. "This is a very creative idea that has helped partially resolve the reconstruction problem in Gaza," he said. "I myself have been applying for a cement home since my home was destroyed in 2009."
Al-Irr, who is in his early fifties, spoke as he showed The Electronic Intifada the spot — about two kilometers from the Israel-Gaza boundary — where his old home had stood.
Gaza soil
The initiative to build the mud and sand houses has been backed by UNRWA, the UN agency for Palestine refugees, and a number of other international aid organizations.
Engineer Imad al-Khaldi, a designer of alternative buildings, told The Electronic Intifada that he had suggested the initiative to UNRWA.
"Back in 2009, I and many others realized the need for speedy reconstruction of destroyed homes. I had long experience in the field of alternative construction and I offered my expertise to UNRWA, which had built several such homes of sand by then," al-Khaldi said.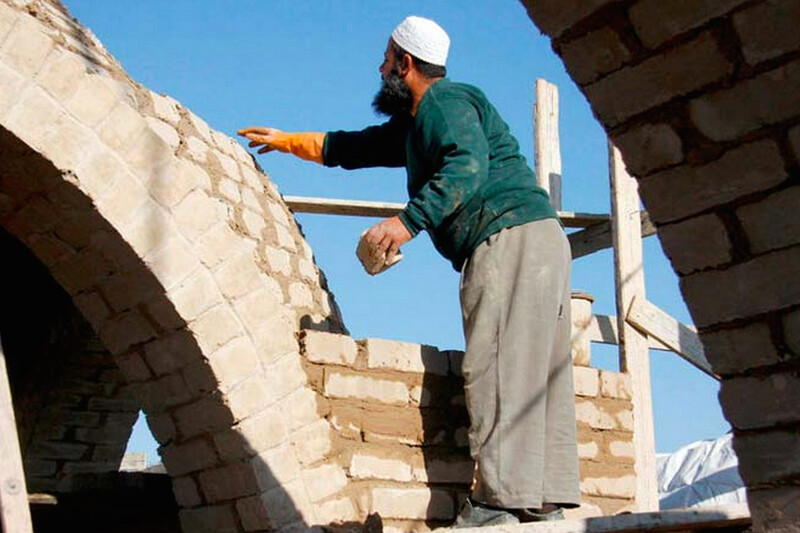 Each home costs about thirteen to fourteen thousand dollars to build and includes three rooms — a small family room, a kitchen and a bathroom — al-Khaldi explained during an interview at his office in Gaza City.
In his forties, al-Khaldi is the owner of the New Horizons alternative construction company.
Al-Khaldi says that using materials from Gaza's "rich" soil makes sense. Natural ingredients such as potassium and calcium make the buildings durable, he says.
"These days I am working on new ideas for using the soil based on the fact that it contains such substances," he said. "We're thinking about how to build sand bricks and walls that can be installed and uninstalled easily."
While al-Khaldi is excited by these innovations, the number of people likely to benefit is still a tiny fraction of those in need.
UNRWA says that while it is providing emergency payments for shelter assistance to 39,000 displaced refugee families, its funding for this purpose will reach zero in January. As of mid-December, the agency said that it was still sheltering more than 19,000 people in its schools displaced by the most recent Israeli assault.
Slow reconstruction
After two full-scale Israeli assaults in 2008-2009 and 2014 destroyed tens of thousands of homes, reconstruction has barely begun, and to rebuild on such a scale there is still little alternative to traditional methods.
According to estimates by the Palestinian Authority ministry of housing and construction in the Gaza Strip, only two percent of the $5.4 billion in reconstruction funds pledged by international donors last October has actually arrived.
The international charity Oxfam has estimated that at the current glacial pace, reconstruction could take 23 years.
The housing shortage doesn't just apply to the destroyed homes. Gaza was already suffering from a shortage of some 250,000 units, the housing ministry estimates, to accommodate its fast-growing population which is now around 1.8 million.
"In our assessment, Gaza needs at least 5.5 million tons of raw building materials, including 1.5 million tons of cement alone," Nabil Abu Muelik, chairman of the Gaza contractors union, told The Electronic Intifada.
Yet under the UN Gaza Reconstruction Mechanism, a mere 4,000 tons of cement has entered Gaza since October — that's less than one quarter of one percent of the estimated need.
In March 2009, following Operation Cast Lead, donors also pledged billions to help rebuild Gaza. With the latest pledges, the total offered is almost ten billion dollars. And yet little has gotten through. People in Gaza are exasperated that nothing has happened.
"It is deplorable that such little progress has been made given the enormous scale of needs and massive destruction," Catherine Essoyan, Oxfam's Middle East regional director, said in a recent year-end statement.
"People in Gaza are becoming increasingly and understandably frustrated at the lack of progress. The international community has repeatedly failed the people of Gaza," Essoyan added, "it must not fail them again."
"I can live in this sand-built home for ten years to come. I prefer living here than waiting for Godot," al-Irr said, referring to famous play by Samuel Beckett.
For tens of thousands of others in Gaza, even such small comfort remains a distant dream.
Rami Almeghari is a journalist and university lecturer based in the Gaza Strip.
Tags