On the morning of 20 July 2014, Khaled Hamad, 25, took advantage of a lull in the relentless Israeli offensive against Gaza – then just under two weeks old – to take a break to discuss names with Hala Shehada, his wife, for the baby they were expecting.
Then he went back to work. Kissing the woman he had married just three months earlier, the photojournalist took off in an ambulance and headed for the Shujaiya neighborhood to document the violence and destruction that rained down on Gaza in those days.
Today, Khaled's widow is one of thousands of Palestinians in Gaza learning to cope with the grief, injury and loss that is the overwhelming legacy of that devastating 2014 offensive. Like many of those, Hala is only slowly recovering her balance and finding a way to move forward with the couple's daughter, Toleen, the name they had both agreed to on that fateful July morning.
"For two years, I saw the sun only once a week, and found no sanctuary other than sleeping," Hala told The Electronic Intifada.
Picturing happiness
It took near-tragedy for her to rouse herself. At age 2, Toleen contracted a fever that almost left her blind. The girl was bedridden for two weeks before recovering, but it served as a wake-up call to her mother.
Now, three years after her husband's death, Hala has opened al-Toleena Studio, a photography business specializing in social occasions like weddings and family gatherings. To capture these moments of happiness, Hala uses Khaled's camera, the one he didn't take to Shujaiya.
And training the lens on those occasions has proven therapeutic.
"My first job was to record my friend's wedding. I felt so overwhelmed taking those pictures. Every time I take a photo of a happy couple, I feel like my heart is recovering. Khaled is always on my mind and heart but I have finally found a way to cope with his loss."
Khaled is still there, ever-present on Hala's Facebook page or Instagram profile, in her posts and picture captions. It has become her way of dealing with her grief.
"I found writing the best way of easing my pain and challenging myself. I always write to make Khaled feel present. He'll always be with me."
Dreams turn to dust
Imad Daher, 28, has slowly tried to breathe life back into his broken family.
On 20 July, one of the darkest days of the Israeli offensive, Imad's family agreed that he would wed the woman he had his heart set on once the fighting ended.
Just two hours later, however, two Israeli missiles destroyed the family house in the Shujaiya neighborhood and Imad's dream. Six members of the family were killed. Only Imad, his 11-year-old sister Bisan and his sister-in-law Shaima, then pregnant with his brother Muhammad's child, survived.
For a year he grieved before deciding to do what tradition bid him to do: rather than marry his originally intended, he married his brother's widow in order to care for her and raise his brother's son, Abd al-Rahman, as his own.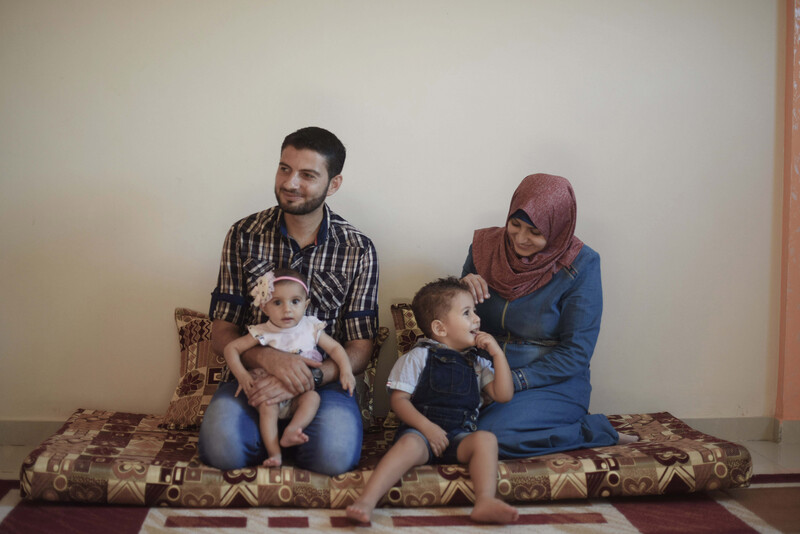 Imad, who works as an accountant in the private sector, says it was his duty.
"I had to take care of Shaima and her son. In Gaza, dreams never turn out the way we want."
Three years on, a mural on the front gate bearing the names of the slain relatives adorns the family's newly rebuilt house. Last year, Imad and Shaima had a daughter, Nirmeen, who is named after Imad's sister, one of the fatalities that night.
"We've tried to bring back life to this family. And we have. But three hearts still suffer," Imad said: his own, Shaima's for her husband, and the woman he originally intended to marry and refused to name.
Truth is revenge
Shujaiya was the location of one of the deadliest Israeli bombardments during the Israeli offensive in 2014, known universally in Gaza as the Shujaiya massacre. According to the United Nations, from 19 to 20 July, 55 civilians were killed, including 19 children and 14 women, hundreds were injured and more than 1,800 homes and buildings were damaged, 670 of which were completely destroyed while 608 suffered severe damage.
So ferocious was the bombardment that even John Kerry, then US secretary of state, sarcastically remarked in an unguarded moment that it had been a "hell of a pinpoint operation," which is how Israeli officials would describe their bombing campaigns during the war.
But the carnage in that particular neighborhood did not stop after those deadly 24 hours. On 30 July, during what was supposed to be a temporary ceasefire, another missile strike in Shujaiya left two journalists dead and one severely wounded.
The footage of photojournalist Hamed al-Shobaki screaming in pain in the immediate aftermath of the strike was widely shared on social media. Hamid faced amputation but was transferred to Egypt, where doctors managed to save his leg and where he began what would turn out to be a one-year rehabilitation.
His first thought upon returning to Gaza was to get back to work. His agency, Al-Manara, initially refused his request, but his bosses eventually relented, allowing him to work in the office only.
Now, Hamed is the manager of the film department and works daily in the field. His colleagues could not hold him back from that either.
"The only way I can take revenge on Israel is to keep documenting its violations against Palestinians," he told The Electronic Intifada.
At least 15 journalists were killed during Israel's 51-day offensive.
Absolute determination
Luay al-Najjar, 28, has suffered his share of injury and damage during a 10-year period in which Israel has waged three wars on Gaza.
The farmer from Khan Younis lost both legs in an Israeli missile strike in 2008 and spent 25 days in intensive care after being transferred from Egypt to Saudi Arabia. When he returned, he married and had five children. Then, in 2014, Israeli planes returned and almost destroyed his house.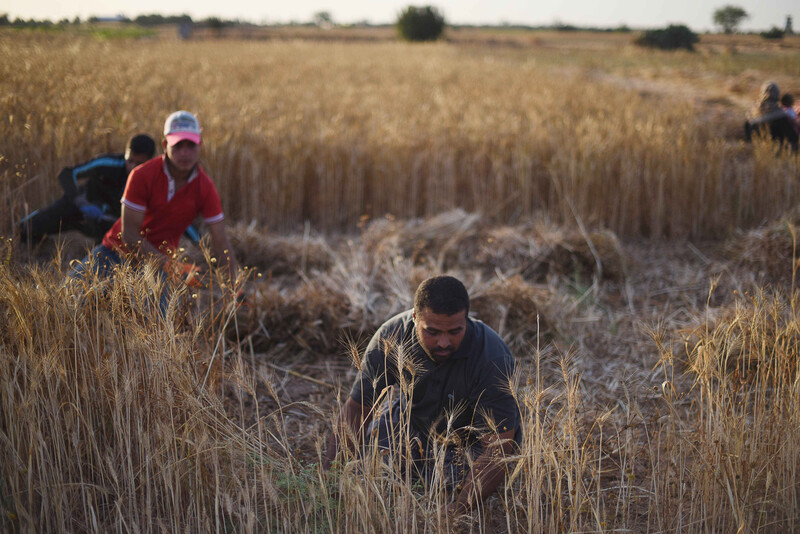 Today he lives in the ruins of his home and despite his amputated legs, takes on as much work as he can. He works in tiling and helps out with the olive and wheat harvests on his uncle's land.
"I'm not disabled as long as my mind works," he told The Electronic Intifada.
His determination has paid off. This year, Luay finished a degree in history and geography from the Islamic University in Gaza. And he credits his wife, Alaa, for pushing him.
"She became depressed watching me stay at home the whole time. She always told me there were things I could do despite my disability."
Sleeping in the graveyard
Nazmi Balata, 26, found his baby son barely alive after a missile strike on 29 July on his family home in the Jabaliya camp in the northern Gaza Strip. The attack almost wiped out his entire family.
Nazmi had left gathered family members moments earlier to go to the market when the strike happened.
His son, Abd al-Kareem, was still alive, though barely.
"I could not believe the horror of the scene," Nazmi told The Electronic Intifada. He carefully extracted his child from the rubble of the house and ran to find an ambulance.
It was too late. Abd al-Kareem, just 13 months old, died in his father's arms. Ten other relatives were also killed in the strike. Five family members present survived, among them a cousin and Nazmi's father-in-law.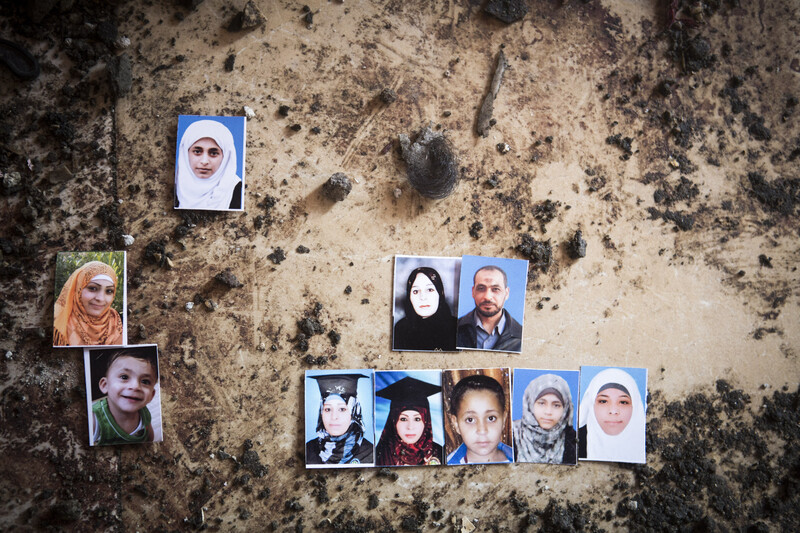 For two years, Nazmi slept and ate alone in the cemetery where his family is buried.
"Everyone thought I had lost my mind, but I was empty and my heart was breaking every moment," he said.
Eventually, and with the help of friends, Nazmi has begun to recover, to "laugh again." He went back to his studies and this year graduated in English literature from Al-Azhar University.
"The idea of being a depressed, useless man was not acceptable to my friends," Nazmi said.
"One day, my friend Muhammed Abu Ali came to me in the cemetery telling me what a failure I was, the way I was losing myself, and that my family would not be happy. The next morning I decided to change."
Sarah Algherbawi is a freelance writer and translator from Gaza.
Tags