Hebron resident and anti-occupation activist Hashem al-Azzeh died Wednesday after inhaling tear gas fired by Israeli forces.
According to Palestinian media reports, al-Azzeh, who suffered from a heart condition, began feeling chest pains while in his home in the Israeli-controlled Tel Rumeida neighborhood of the occupied West Bank city.
"There was no chance to get an ambulance there," Hisham Sharabati, coordinator of the Hebron Defense Committee and a field worker for the Palestinian human rights organization Al-Haq, told The Electronic Intifada. Israeli forces do not allow Palestinian vehicles to drive on the streets near his home, which are reserved for Jewish motorists.
Neighbors had to carry al-Azzeh down the hill to the nearest military checkpoint, where there were clashes between Israeli forces and Palestinian youth.
"There was tear gas there and the army kept them [al-Azzeh and his neighbors] for 10 minutes," said Sharabati. "He had heart problems from before, but his situation deteriorated because the tear gas made it worse and then the checkpoint delay."
When al-Azzeh was eventually brought to a hospital, he was pronounced dead upon arrival. He leaves behind his wife Nisreen and four children, the oldest of whom is 16.
Pregnant wife assaulted
Al-Azzeh lived in a part of Hebron that was frequently attacked by Israeli settlers.
"Hashem lived in a hilly area where the settlers' homes are higher than his," said Sharabati.
Like all Israeli settlements in the occupied West Bank, the Tel Rumeida settlement is illegal under international law. But this particular enclave, comprised of stacks of trailers flanked by Israeli army checkpoints, houses some of the most fanatical and violent settlers in the West Bank.
Al-Azzeh and his family endured sustained harassment from these extremists, including an attack in which settlers assaulted his nephew, then aged 9. The settlers forced a rock into the boy's mouth to crush his teeth, al-Azzeh had said in a video recording:
In another incident, al-Azzeh's own teeth were smashed when settlers attacked his home, ransacking it and destroying the furniture. Al-Azzeh's wife was assaulted by settlers twice while she was pregnant in her first and second trimesters. She miscarried both times.
Fanatic settlers
"Hashem had a big role in showing the world, showing the press, showing solidarity groups, showing any visitor the details of the harassment by the Israeli colonizers in the city of Hebron," said Sharabati. "The settlers practice all these crimes in the presence of the Israeli army who do not do anything to stop them."
"Everybody who knew him loved him for his method of giving the point of view of the Palestinian residents of Tel Rumeida and Hebron who are suffering from the settlements," said journalist and Hebron Defense Committee member Bassam Shweiki.
"The settlers of Hebron are the most fanatic settlers in the West Bank," he added.
One of the Tel Rumeida settlement's founding residents is the US-born Baruch Marzel, who has been arrested dozens of times by the Israeli authorities and whose criminal record includes acts of violence against Palestinians and Israeli police. Marzel has told The Times of Israel, "We need to remove from here all our enemies."
Graffiti spray-painted on the side of a Palestinian school near the al-Azzeh home reads "Gas the Arabs/JDL."
JDL is the acronym for the Jewish Defense League, which was founded by the right-wing settler Meir Kahane. Kahane founded Kach — an organization so racist and extreme that even in Israel it was outlawed and classified as a terrorist group.
Baruch Marzel, who joined the JDL during his teenage years, is a vociferous supporter of Kahane.
Another infamous JDL member was Brooklyn, New York-born settler Baruch Goldstein. In 1994, Goldstein killed 29 Palestinians and injured 125 inside Hebron's Ibrahimi mosque before he was beaten to death by survivors.
Following the massacre, the Israeli authorities divided the mosque into Muslim and Jewish sections. The killings also precipitated the closure of Shuhada Street and other areas of Hebron's Old City — collectively punishing Palestinian residents for the actions of an extremist settler.
Harassed during harvest
For al-Azzeh, simply remaining in his home was an act of resistance. While many of his immediate neighbors left as closures choked off virtually all economic activity in the area, he and his family stayed, often hosting international visitors and sharing his stories of struggle with them.
This reporter witnessed a typical episode of Israeli repression three years ago during the olive harvest. It was the first time al-Azzeh had been able to harvest his olives in five years.
Accompanied by a handful of International Solidarity Movement volunteers, al-Azzeh made relatively short work of his few trees as many of the olives had already been picked by the settlers.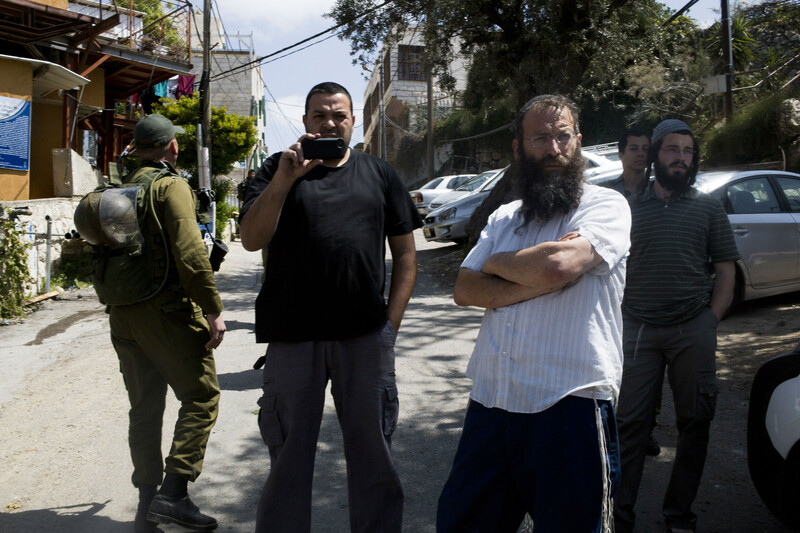 As the work was finishing, settlers barged into the small grove, claiming that not only were the olive trees theirs, but that the entire land had been given to them by God. When soldiers arrived on the scene, they separated the two groups and in the process arrested a volunteer and two Palestinians — one al-Azzeh's next-door neighbor and the other a videographer for the Israeli human rights group B'Tselem.
Even though an Israeli officer eventually acknowledged al-Azzeh's ownership of the land, the officer ordered him and his supporters to leave the area for the rest of the day. Baruch Marzel stood among the settlers watching the scene unfold from above.
Pattern of abuse
That incident of settler belligerence facilitated by the Israeli army is typical of the harassment and abuse endured by the al-Azzeh family and many other Palestinians in Hebron.
More than 50 Palestinians have been killed in shootings and clashes with Israeli forces since the beginning of October, during which time 10 Israelis have been killed by Palestinians.
"There are many Palestinians who are involved in resisting the occupation," said Sharabati. "It's true that maybe some try to stab an Israeli settler or an Israeli soldier. But we believe that in many other cases the soldiers and the settlers just invented these excuses after shooting."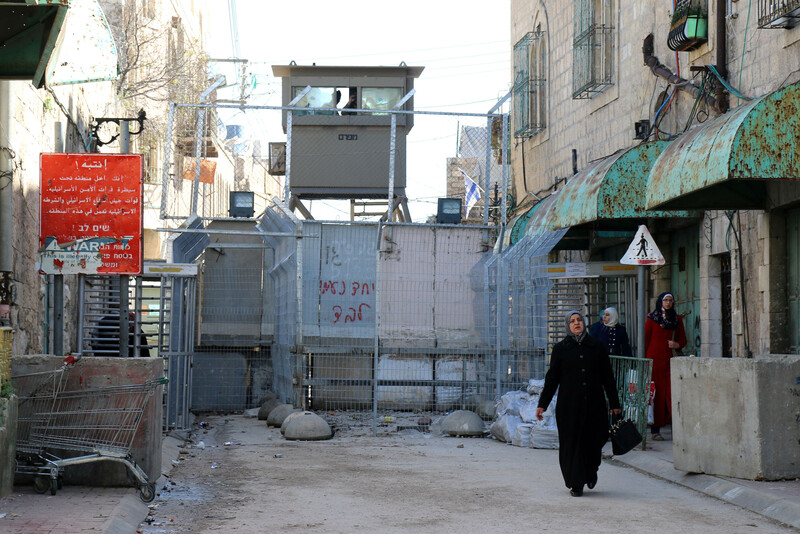 Hashem al-Azzeh's form of resistance was "social struggle," according to Shweiki: "Struggle by words — by giving every moment of his time whenever possible to explain what's happening."
"He was a simple man in his character, but he was solid," Shweiki added. "He called for peace all over the world. He didn't call for any violence. But he wanted to live in peace in his own land in his home."
Ryan Rodrick Beiler is a freelance photojournalist and member of the ActiveStills collective who lives in Oslo, Norway.
Tags