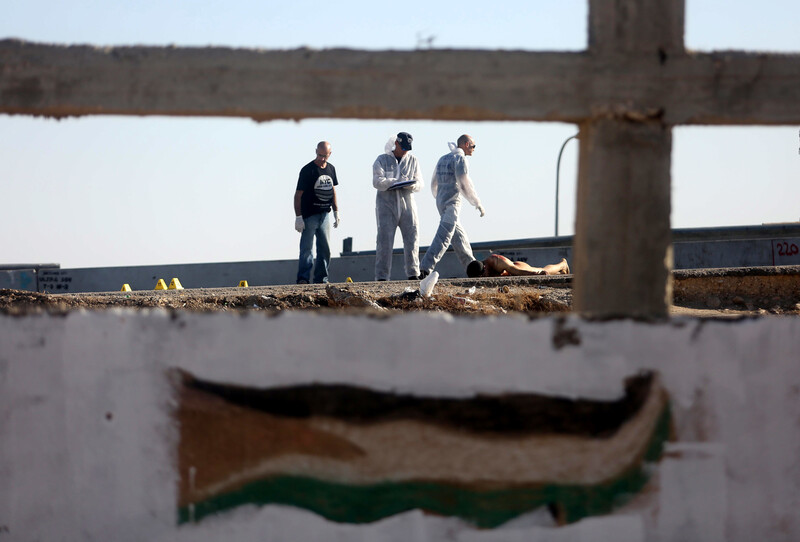 Two children shot dead by Israeli soldiers in the occupied West Bank city of Hebron on Tuesday night had been asking a soldier for help, a Palestinian human rights group says.
Israel claimed that 15-year-old Bashar Jamil al-Jabari and his 17-year-old cousin Husam Ismail Jamil al-Jabari had tried to stab soldiers at a checkpoint in the city.
But according to an investigation by the Palestinian Centre for Human Rights (PCHR), the two boys had been observing a protest by Israeli settlers near the city's Ibrahimi mosque at around 9:30pm.
"While watching the demonstration, the two children stood beside an Israeli soldier, who was around the corner of [the] al-Rajabi building that the Israeli settlers are attempting to seize control over. The soldier was leaning against the wall and normally talking to the two children," PCHR states.
The children later asked the soldier to let them pass through a metal gate so they could go back home.
"When the two children heading towards the gate were only two meters away from the soldier, other Israeli soldiers fortified in a military watchtower in the area opened fire at the children and killed them immediately," PCHR says.
The human rights group says Israel has not returned the children's bodies to their families.
Israel does not carry out credible investigations into the killings of Palestinians, including children, and its soldiers and settlers enjoy what amounts to blanket and systematic impunity for such crimes.
Last month Israeli forces fatally shot 18-year-old Hadil Salah Hashlamoun at a checkpoint in Hebron, and then claimed she'd lunged at soldiers with a knife. But photographs and eyewitnesses disproved the claim and showed she posed no threat.
Death after inhaling tear gas
The boys are among more than 50 Palestinians killed in the occupied West Bank and Gaza Strip since the start of October as Israel continues a crackdown it says is a response to attacks on its occupation forces, settlers and civilians that have left 10 Israelis dead.
Israeli forces have killed 10 Palestinian children in separate incidents across the West Bank, including East Jerusalem, and the Gaza Strip over the past three weeks, according to Defence for Children International-Palestine.
Palestinian medical services have treated thousands of injuries, including hundreds from live ammunition.
The violence continued on Wednesday.
Hashem al-Azzeh, 54, died after inhaling tear gas fired by Israeli occupation forces during confrontations with Palestinian youths in Hebron.
Israeli forces shot and injured another Palestinian who Israel said rammed his car into a group of soldiers, injuring five of them, near the West Bank settlement of Gush Etzion.
"Mistaken for a terrorist"
In Jerusalem, Israeli forces shot dead a man they said tried to grab one of their weapons.
Israeli authorities later admitted he was an Israeli Jewish man and not, as initially assumed, a Palestinian.
"When I was asked to deal with the body, I realized that he was a Jew, and that he was mistaken for a terrorist," Israeli medic Yehuda Meshi-Zahav said.
The killing underscores how trigger-happy Israeli forces are.
Human rights groups have condemned Israel's policy of extrajudicial executions – the summary killing of any Palestinian merely suspected of intending to carry out an attack.
Israel says its soldiers shot dead another Palestinian after he allegedly stabbed a soldier in the neck, injuring her seriously, near a settlement north of Jerusalem.
Palestinian Authority sources told Ma'an News Agency that the man was Mutaz Atallah Qassem, 22, from the town of al-Eizariya near Jerusalem.
Also on Wednesday, Israel occupation forces shot and lightly injured Istabraq Ahmad Nour near the West Bank settlement of Yitzhar, Ma'an reported.
Israel claimed that the 15-year-old had a knife and that she was planning to sneak in and attack settlers.
Yitzhar, built on land stolen from surrounding Palestinian villages, is a stronghold for settlers who frequently carry out attacks on local residents and their property.
The colony is the home of Yitzhak Shapira, the extremist rabbi who wrote a book justifiying the killing of Palestinian children.
A Palestinian boy suffered wounds and bruises after he was attacked by Israeli settlers in the occupied West Bank on Tuesday evening, Ma'an News Agency reported.
Saqir Mahmoud Hirzallah, 14, was harvesting olives with friends on his family's land in Yabad village when a group of Israelis from the settlement of Mevo Dotan attacked him.
Tags