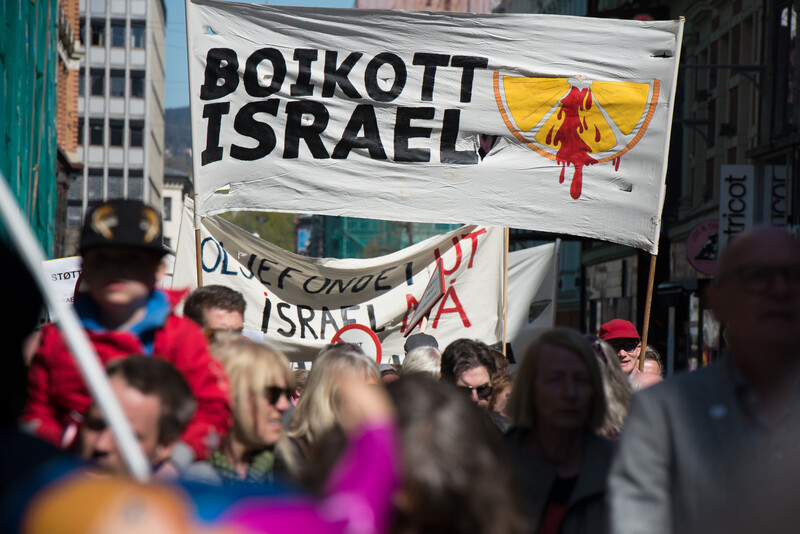 A routine matter of racial profiling by Israeli authorities has spiraled into a diplomatic attack on Norway's largest labor organization.
Mohammed Malik, a Norwegian citizen with Pakistani heritage, had joined a trade union study tour organized by the Palestine Committee of Norway, but was stopped for questioning by officials at Tel Aviv's Ben Gurion Airport on 17 February. While all other members of the delegation were allowed to continue on their trip, Malik spent the night in detention before being deported and issued a lifetime entry ban.
During Malik's interrogation, Israeli agents discovered that he was a member of the Norwegian Food and Allied Workers Union. He was questioned about his union affiliation and the Norwegian Confederation of Trade Unions' (LO) policy toward Israel.
"My name was obviously the reason I was taken aside in passport control," Malik told a LO-affiliated newspaper. "But they deported me because I am a [trade] unionist. I was thrown out because I am affiliated with the LO."
Last May, LO – Norway's largest labor organization – voted to support a full economic, academic and cultural boycott of Israel.
According to Malik, the stated reason on his entry ban was "to prevent illegal immigration," and officials refused to provide any further explanation. In March last year, the Israel's parliament, the Knesset, passed new legislation barring entry to organizations that promote the Palestinian-led boycott, divestment and sanctions (BDS) movement.
Arbitrary
While LO did not appear on the recently published list of organizations to be barred by Israel, the Israeli embassy in Norway informed its affiliated newspaper that the entry ban applies to all LO leadership – at least in principle.
Israeli officials' arbitrary enforcement of its policies of racial and political discrimination mean that those hoping to visit Palestine for solidarity purposes continue to face great uncertainty that they will succeed in entering.
When questioned by the Norwegian newspaper Klassekampen, an Israeli official admitted that not every LO leader will automatically be denied entry, but that each case will be treated individually by Israeli authorities.
"On a general basis, it does not apply directly to ordinary members," said the official. "Most importantly, it is those who are central leaders and have a significant position, and are central boycott supporters who risk not getting in."
Oslo-based LO leader Roy Pedersen protested Israeli authorities' treatment of Malik, calling it "a serious limitation of freedom of speech and organization and a violation of human rights," in a letter to the Israeli embassy.
Jan-Egil Pedersen, a leading member of the Norwegian Food and Allied Workers Union, also wrote in protest: "I would like to remind you that Israel controls all entry and exit, not only to and from Israel, but also to and from the Palestinian territories [occupied in 1967]. Mohammed Malik represented no security threat, and there was no reasonable basis for rejecting him."
Business as usual?
In response to these protests, Israel's ambassador to Norway Raphael Schutz issued a strongly worded letter, invoking his family's history of escaping the Holocaust and condemning the LO's support for BDS.
"Unless and until LO rectifies the shameful boycott resolution and puts an end to its discriminating practices against the only Jewish state, its leaders should not expect getting a business as usual treatment from Israel," he wrote.
Accusing the BDS movement of being about "nullifying the Jewish state and its right to exist," Schutz added that it could not be expected that "the leaders of such a despicable policy will be welcome to visit Israel."
LO leaders have dismissed such criticism, telling Klassekampen that it is completely wrong to equate boycott with anti-Semitism and that the LO has never said that Israel should cease to exist.
Although Schutz implied that it was unusual for Israel to ban trade unionists, the state has been cracking down on its critics for some time.
As countless testimonies demonstrate, racial and political profiling of people crossing Israeli-controlled boundaries has long been routine practice. The practice has more recently been enshrined in law.
Virtually every person involved with Palestine solidarity knows someone who has been denied entry by Israeli authorities.
So it would seem that "business as usual treatment from Israel" is exactly what future visitors to Palestine should expect.
Tags