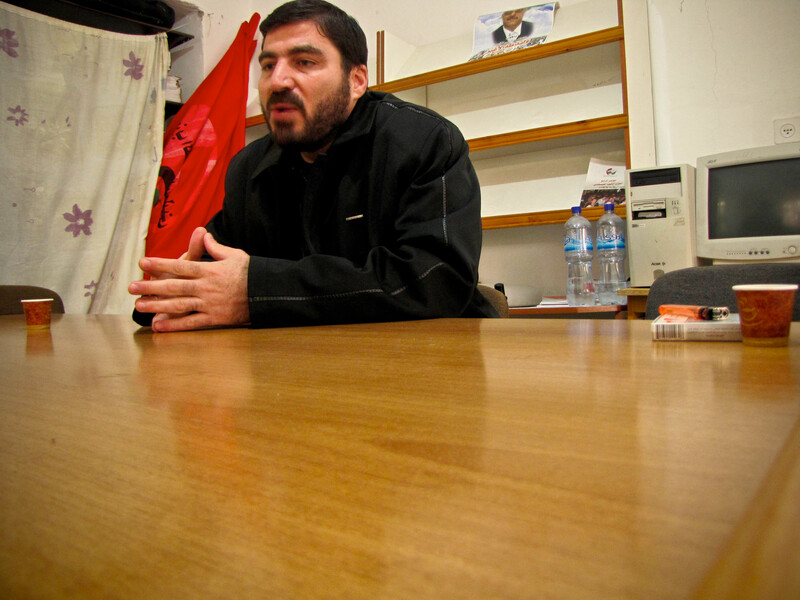 When olive season came to the northern West Bank village of Tell, the Ramadan family could be found spreading tarps underneath trees and thwacking down the high-hanging fruits with sticks. The talk was of cousins Khwaylid and Nizar Ramadan, two native sons freed from Israeli military prison as part of mid-October's prisoner swap deal and exiled to the Gaza Strip and Qatar, respectively. Then, the day after the swap, a group of Israeli settlers put up wanted posters of the Ramadan cousins on Facebook: $100,000 would be paid for information leading to the death or capture of each.
Khwaylid and Nizar are two of four Palestinian ex-prisoners with prices on their heads, offered and advertised by fringe ideologues in the Jewish settler community in violation of Israeli and international law. A group of settlers affiliated with the Kach party in Hebron are responsible for the $100,000 rewards on two other Palestinians, Mustafa Muslimani and Hani Jaber. Baruch Marzel, one of the settlers, has been seen in public hanging posters with Jaber's face under stark Hebrew letters spelling, "Kill him first," according to an article in the Israeli daily Ynet ("Right-wing activists in Hebron hunt for released terrorist," Ynet," 26 October 2011 [Hebrew]).
The Ramadan cousins were convicted in 1998 in an Israeli military court of killing Shlomo Liebman and Harel Ben-Nun, two yeshiva students in the Jewish settlement of Yitzhar, which sits atop the opposite hill from Tell. Both were sentenced to life imprisonment, but when the Liebman family heard they had been released, they decided that "by the laws of Moses" their lives were again forfeit.
"I was and wasn't expecting that from them," said Khwaylid's father, who asked that his name be withheld. "They're more dangerous than other settlers. They're out of their minds."
Nonetheless, he said he's happy to report that Khwaylid is in good health in Gaza and unworried. Others in Tell familiar with the death threat said Khwaylid had hired two bodyguards. Scoffing at the matter altogether, Khwaylid's uncle Ahmed Ramadan repeated a fatalistic refrain.
"Our times are in God's hands," he said. "I'm not scared and neither is he. If you live, you live, and if you die, you die. [Khwaylid] could be in a car or plane or bus and die there."
Settlers receiving funds from US institution
In Ahmed Ramadan's memory, however, this is the first time settlers have put a price — much less one so high — on the head of a particular Palestinian. The wanted posters were written in English, Hebrew, Arabic and Turkish (the Liebman family originally believed Nazzar would be exiled to Turkey) and distributed on Facebook until the site deleted them after a month.
The Arabic poster, the Ramadan family fears, was specifically intended for collaborators in Gaza. The English version promises $100,000 to "the first to catch the terrorists who killed our dear brother Shlomo Liebman in 1998 while guarding the Yizhar settlement in Samaria and our revenge to avenge them [sic] by the laws of Moses" ("Initial release: $100,000 on the heads of the murderers of Shlomo Liebman," 18 October 2011 [Hebrew]).
It is not known whether the reward money in any of the four cases comes from the Liebman family wealth or otherwise private coffers in Hebron. Yitzhar receives about a half million dollars each year from the Israeli government, despite calls from the Israeli general security service Shin Bet (Shabak) to halt the funding over reports that the yeshiva's senior rabbis were encouraging students to attack Palestinians ("Shin Bet urges Israeli government to halt funding of West Bank yeshiva," Haaretz, 27 September 2011).
The settlement also receives tens of thousands of dollars in tax-deductible donations from the New York-based Central Fund for Israel, as do Hebron settlers from the Hebron Fund ("US tax dollars fund rabbi who excused killing gentile babies," Haaretz, 15 December 2009).
The Liebman family did not respond to media requests.
Poster: "Kill him first"
In Hebron, 36-year-old Hani Jaber remains the only ex-prisoner to be living in the same city as the men who have vowed to kill him. He resides in a temporary safe house, unable to return to his family's home in the Old City. There, in the middle of the Israeli military-controlled H2 sector, some of the 600 illegal settlers have taken to circulating his image on the "Kill him first" posters, as well as a handwritten Arabic note offering a reward and a voice message recorded in Arabic and sent to local Palestinians' phones.
"I expect every wise Jew not to wait and sit idly," Kiryat Arba councilman Benzi Gopstein told Ynet in the aforementioned October article. "If you see him, you know he's going to kill you, so jump the gun. Don't be a sucker."
As for Hebron's Palestinians, a video produced by Ynet and embedded in the same article shows youths tearing Marzel's Arabic note to pieces and throwing it back at him. Though he acknowledges the danger to his life, Jaber himself laughs throughout interviews and says he is unafraid of death.
"I believe in the [Quranic] saying, 'Nothing will happen to us but what God has decreed for us,'" he said. "That's why I'm not scared. I walk on this path expecting any moment to die."
Like the Ramadan family, Jaber says he fears Palestinian collaborators above the settlers themselves.
"These settlers are paying a huge amount of money. What if some poor family gets greedy?" he asked. "At any moment, anyone can make a deal. You never know which side you'll be attacked from. That makes me more unstable than the settlers themselves. You know how to face a settler, but somebody attacking you from behind, that you can't deal with."
Indeed, how Jaber faced a settler, in 1993, is at the root of his story. After the first Palestinian intifada, before Hebron had been divided into H1 (under control of the Palestinian Authority) and H2 (the zone where Israeli settlers live), the then-18-year-old had witnessed a string of settler attacks in the Old City — permitted and often watched over by the Israeli military — that gradually stoked his anger. He said he saw settlers and soldiers beating children, pulling veiled women's hair, throwing feces and garbage and occasionally shooting into Palestinian homes. Soldiers invaded his brother's home in the middle of the night and beat his sister-in-law so hard she miscarried. His thirty-year-old cousin Azizeh Jaber was shot to death when she was on her way to give birth.
At one point, in the spring of 1993, he was dragged into an alley by four settlers and assaulted. "I felt for certain they wanted to kill me, so I grabbed one of their necks and I took his gun and I pointed it at his head," he recalled. "It was like I was playing an American wrestling video game. It's a violent game, but it resembles our reality in Palestine. It's also a game of self-defense."
That time Jaber did not pull the trigger. After he escaped, he went to the police and reported the settlers' vehicle plates and types of ammunition, but no action was taken. Then in May, after he witnessed 22-year-old settler Erez Shmuel beat his nine-year-old sister, he went into his house, took out a kitchen knife, and stabbed the young man to death. He was arrested in October 1993, confessed to the crime, and given two life sentences. Then 18 years old, he spent the next 18 years of his life in a military prison.
"Half and half," he said.
Jaber, like the Ramadan family, does not dispute his role in the death of settlers. He refuses to consider it a crime but rather "an operation" carried out in the name of national duty, saying Israel's settlement policy forms the core of a Palestinian existential crisis. He even concedes it got worse while he languished in prison — a year after he was incarcerated, Baruch Goldstein gunned down 29 Palestinian worshipers in the Cave of the Patriarchs massacre, and since 1993, the total population of settlers in the West Bank, including East Jerusalem, has nearly doubled, according to the Foundation for Middle East Peace ("Comprehensive Settlement Population 1972 – 2010"). But now, Jaber's thoughts are on more prosaic concerns.
"When I was in prison, marriage was just a dream," said Jaber. "I wanted to have a wife and a house and now I can. But with this instability, it's not a good idea to marry."
Jaber says he understands why nobody would choose a 36-year-old man living in a temporary house with $100,000 on his head. He thought instead to turn his focus to his education — a degree in either psychology or social services is the goal — but the best programs are in Ramallah or Nablus, and the Shabak (also known as Shin Bet) will not let him leave the Hebron governorate.
"When I was released, [it was without] any security conditions," he explained. "I know that for a fact. But I was summoned and they said, 'We know where you are.' The Shabak man said, 'Now you have security conditions.'"
As of that appointment two weeks ago, Jaber is not allowed to leave the Hebron governorate for three years.
Israeli soldiers threatening re-imprisonment
Of the 477 Palestinian prisoners released on 18 October in exchange for an captured Israeli tank gunner, the exact number of re-interrogated ex-prisoners is unknown, since not all cases are reported. But a slew of incidents have occurred in the last few weeks, with Israeli soldiers knocking on doors from Jenin to Nablus to Ramallah, delivering interrogation summons and warning the recently released that they could be back in prison within hours ("Israeli troops arrest six including freed prisoner, raid homes in the West Bank," Palestine News Network, 21 November 2011).
Hanan al-Hamouz, one of 27 female prisoners released in October, received such a call at 2am on 26 November. She lives in Beit Jala, near Bethlehem, but a squadron of four Israeli military vehicles pulled up to the alleyway where her 74-year-old mother lives in al-Azzeh refugee camp.
"There were three of them in the doorway," her mother recounted. "After a little while, two more came in from outside. They were heavily armed. They said, 'Where is Hanan?' I said she's not here. They said, 'Are you Hanan or her mother?' I said, 'No, I'm her mother.' They said, 'Where is your ID?' I gave them my ID. Then they told me to give her the summons."
The next day at 11 am, Hanan al-Hamouz showed up to the Etzion interrogation center south of Bethlehem and was reminded of the year she spent in prison.
"They took me from room to room, from this place to that, searched me, searched my bag, searched my phone, took out the battery and looked at it, just like the weekly searches in prison," she said. "I said is this an interview or an interrogation? I want to know. They said this is normal, we do this to all the prisoners. They said, 'Are you afraid?' I said, 'I'm afraid of no one but God.'"
The interrogator, an Arabic-speaker named Samira, unrolled a map and asked if al-Hamouz knew the whereabouts of freed prisoner Amneh Muna, who was exiled to Jordan, or whether they kept in touch. Samira gave her Muna's phone number and asked al-Hamouz to call her, but she refused. It was a bizarre provocation, she recalls, in light of the fact the Shin Bet probably already knew where Muna is.
"In prison we learned about unity, inside or outside," she said.
When the interrogation ended, Samira told al-Hamouz to watch out for herself and asked, "Do you ever think about going back to prison?"
Episodes of harassment are not limited, however, to Israeli officials. While his cohorts in the ideological core may publish death threats, settler Aryeh King of the Israel Land Fund splits his time between buying Palestinian property for Jewish owners and running a volunteer surveillance program on the roughly sixty freed Palestinian prisoners in Jerusalem.
"People should know that people who have murdered innocents are free to walk, free to enter every coffee shop and go on public transportation," King said in a telephone interview. "Believe me, if you sit next to one of them on the light rail in Jerusalem and notice he's a terrorist, you will jump out the window. I want innocent people to know who the terrorists are."
To that end, he and an unspecified number of volunteers have taken on the task of publishing the addresses, workplaces and pictures of all the ex-prisoners on fliers printed with "Warning: Murderer." King also wants a boycott of stores owned by ex-prisoners' families.
"It's the father, not the son," he said. "I don't have anything against the son, but if he is sponsoring a terrorist family, we will call the public not to support them by not buying from them and not using their services."
While boycotts are practiced informally in Jerusalem every day, threats on the lives of legally freed prisoners are in clear contravention of Israel's basic laws, specifically the 2002 amendment to the Penal Law criminalizing incitement to violence. There has been, however, no investigation into the Liebman family's threats or those of Baruch Marzel in Hebron, and an inquest with the Israeli Police Department yielded a tepid response.
"The Israeli police policy is to look into and examine if there is suspicion into incitement or the possibility to cause harm," said police spokesman Mickey Rosenfeld in an email. "This is implemented by our investigators in all of the police districts, including Judea and Samaria [the West Bank]. We deal with cases within all the different communities."
Meanwhile in Hebron, a huge banner celebrating the release of Hani Jaber flies triumphantly over the entrance to the city while Jaber himself returns to his safe house. His family's home in the Old City was attacked on 19 November by settlers under the guard of the Israeli military; a cousin named Badran Jaber, and two of Hani's brothers, Basel and Mutasim, were taken away ("Settlers following the attack on the home of liberated prisoner Jaber," Palestine News Network, 19 November 2011 [Arabic]).
Their whereabouts have still not been reported.
Weeks before, Baruch Marzel had made a stop at a grocery store in the Old City owned by Jaber's sister. Followed by Ynet cameras, he started asking for the prices of various items.
Marzel points to a candy bar and says, "How much for this?" "One shekel," the woman replies. He then points to a bag of chips. "One shekel," the woman says.
The video then shows Marzel handing over a copy of the "Kill him first" wanted poster, with Hani Jaber's face in black and white. He asks, "How much is the life of a Jew worth?"
When she does not respond, he answers his own question, "Very expensive."
Brendan Work (@freebeef) is a freelance reporter and English-language editor of the Palestine News Network, based in Bethlehem in the West Bank. His blog is called Work Abroad.
Tags