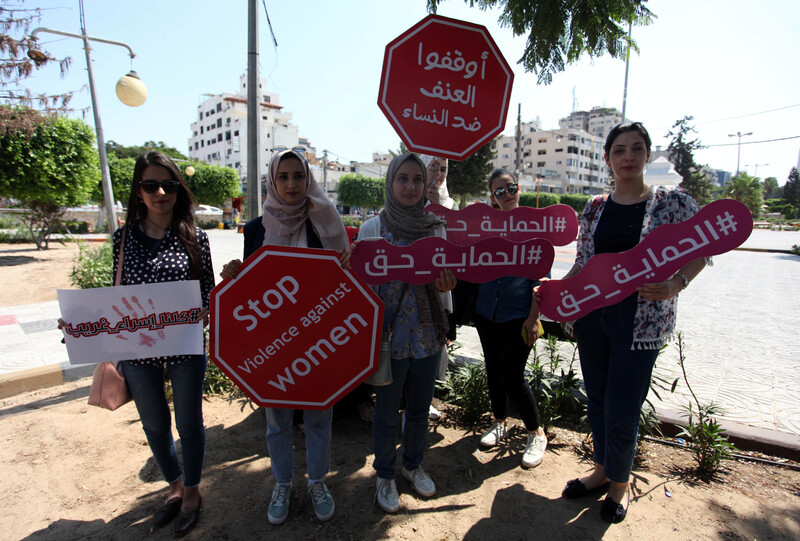 The death of Israa Gharib has highlighted how legislation applying in the occupied West Bank is inadequate to address violence against women, advocacy groups are saying.
Under the 1960 Jordanian penal code which applies in the territory, the killing of women in some circumstances has been treated as a lesser crime than the killing of men.
Last year, the Palestinian Authority repealed a provision that had allowed rapists marry their victims to avoid prosecution.
Another legal reform prevented judges from reducing sentences for people convicted of murdering women or children.
Randa Siniora from the Women's Center for Legal Aid and Counselling in Ramallah believes those changes are not sufficient. Crimes committed before the changes were introduced are not covered by them.
Siniora is pushing for the entire 1960 penal code to be scrapped. "Even if you amend the law it's still an outdated law," she told The Electronic Intifada.
The Women's Center for Legal Aid and Counselling wants comprehensive legislation on gender-related crime. As well as dealing with violence against women and girls by members of their own family, the legislation would penalize sexual harrasment and abusive behavior on the internet.
Having "the proper legal system in place to protect women" is vital, Siniora said, so that "women will be encouraged to report abuse."
Siniora's organization was established in 1991 and is funded by the European Union, as well as some individual European governments and international development charities.
Aged 21, Israa Gharib, a cosmetician from Beit Sahour, near the West Bank city of Bethlehem, died last month.
Three relatives have this week been charged with beating her to death.
"Calls for help"
Gharib died after being released from hospital, where she was reportedly admitted for a spinal injury.
A few weeks earlier, Gharib had posted images on the internet of her dating a man. It is believed that some members of her family disapproved of her doing so. It has been reported, too, that the man had proposed marriage.
While in hospital, Gharib posted other messages on Instagram. One of them stated: "I'm strong and have a will, and if I didn't have the will, I would have died already yesterday."
Siniora said that the messages were "discreet calls for help" and clearly implied that Gharib had suffered from some form of violence. The messages have been widely shared since her death.
The Women's Center for Legal Aid and Counselling has recorded 24 cases in the West Bank and Gaza during 2018 of women being killed, committing suicide or being pronounced dead by the authorities for "unknown reasons."
All these deaths could be the result of gender-related violence, according to Siniora.
While the Palestinian Authority has long signaled that it wishes to address violence against women, progress has been slow.
A Family Protection Bill – aimed at providing women who have been abused with a means of redress – has been under discussion within the Palestinian Authority for many years. Yet it has still not come into effect.
Since the Palestinian Legislative Council has not functioned for more than a decade, new laws are issued by decree of PA leader Mahmoud Abbas.
"It is important to realize that femicide [the killing of women] is the last stage of abuse," said Siniora. A legal system – backed up with sufficient resources – is needed so that abuse victims can receive support before it is too late.
Israa Gharib's death has led to multiple protests in Bethlehem, Ramallah and Gaza City. Some protesters have held placards bearing the names of other women who were killed.
Yasmeen Mjalli, a Palestinian American who founded the clothing line BabyFist, has been prominent in the demonstrations. She stressed the importance of "shedding light on the fact that patriarchy is a global phenomenon and not an Arab phenomenon."
Mjalli drew a link between the protests and how the Me Too movement has raised greater awareness internationally about the abuse of women.
"Not to attribute Palestinian activism to Me Too, but that movement did create waves across the globe and one of those waves is being seen here in Palestine," Mjalli said.
"Fight for our own rights"
Khalida Jarrar, an elected representative with the Popular Front for the Liberation of Palestine, argued that tackling gender-related violence should not be separated from the struggle by Palestinian women against oppression by Israel.
"Palestinian women also have additional violence inflicted on them internally within Palestinian society," Jarrar told The Electronic Intifada. "This is a central aspect of the women's movement in Palestine. When we fight against the occupation, we need to fight for our own rights and protections in our own society."
"Israa will not be the last woman who is killed if we don't immediately change [Palestinian] law," she added.
Dareen Tatour, a poet and Palestinian citizen of Israel, has been trying to raise awareness about violence against women.
"The terrorism of relatives is more severe than the terror of the occupation," Tatour wrote in a recent Facebook post, responding to Gharib's death. "Before liberation from Israeli occupation, we must liberate ourselves from the occupation of ourselves."
Tatour has previously been imprisoned by Israel over a 2015 poem, titled "Resist, My People, Resist Them."
After she was released from an Israeli prison last year, Tatour went public about her experiences facing sexual abuse at the hands of a relative. The abuse began when she was 7 and continued for years.
She expressed fears of being killed for going public about the abuse.
"I could be murdered at any moment but I can no longer be silent," she said last year. "I want to encourage other women to speak out. I am assuming responsibility, I am speaking out and I know I will be in danger."
Jaclynn Ashly is a journalist based in the West Bank.
Tags