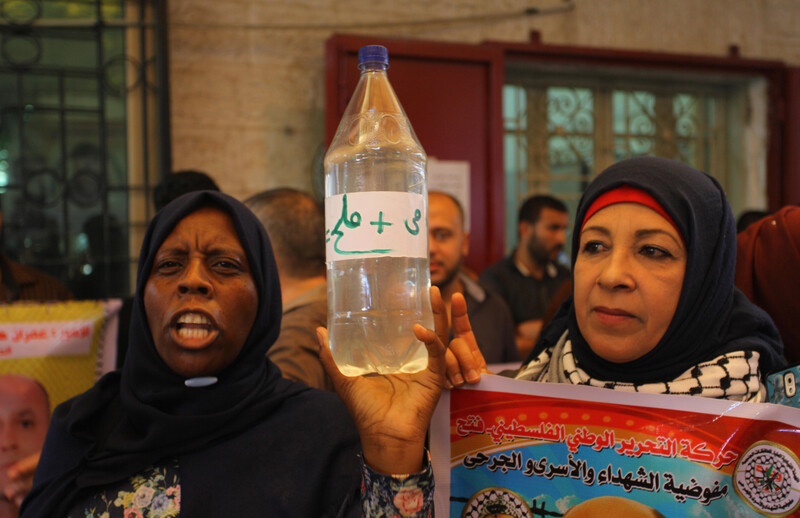 Preliminary results of the autopsy on Muhammad al-Rimawi show that he died as a result of severe beatings by Israeli soldiers, Palestinian authorities are saying.
The Israeli army is disputing this.
The autopsy was conducted at Israel's Abu Kabir Forensic Institute in the presence of Dr. Rayan al-Ali, the Palestinian Authority's chief medical examiner.
Al-Rimawi, 24, died shortly after he was beaten by Israeli soldiers in his home in the occupied West Bank village of Beit Rima on 18 September.
"The martyr was subjected to a policy officially approved by Israeli political and military circles, which allows soldiers to act freely and at their own discretion with detainees," the Palestinian Authority's Commission of Detainees and Ex-Detainees Affairs stated, according to Quds News Network.
"This led Israeli soldiers to use beatings and assault in their worst forms."
The results revealed bruises on al-Rimawi's chest, right thigh and various other spots on his body, according to the commission. The autopsy also revealed that the violent manner in which occupation soldiers raided al-Rimawi's home and assaulted him was a chief cause of his death.
Israeli media reports contradicted those of the PA commission for detainees.
"The autopsy of Muhammad al-Rimawi, conducted at the Abu Kabir Forensic Institute in the presence of a Palestinian physician, ruled out any possibility that he died after being beaten by soldiers and losing consciousness," the Israeli daily Haaretz reported, citing a statement from the Israeli army.
"The cause of death is still under investigation," Haaretz stated, adding that "no signs of violence were found on the body."
Al-Rimawi's family rejected the army's claims, according to Haaretz.
The Israeli human rights group B'Tselem has previously stated that the army's investigative mechanisms amount to "a system that whitewashes investigations and serves as a fig leaf for the occupation."
It remained unclear when al-Rimawi's body would be returned to his family.
Dozens of Israeli occupation forces raided al-Rimawi's family home before dawn on 18 September. Soldiers beat al-Rimawi in a separate room until he was unconscious, and then took him away in that condition, according to family members who witnessed the raid.
"After two hours, his family was informed of their son's death," according to prisoners advocacy group Addameer.
Al-Rimawi was the third Palestinian to die this year after severe beatings by Israeli soldiers during arrest or inside Israeli prisons.
Worsening conditions in Israeli prisons
Israel is set to impose a series of new punitive measures against Palestinians held in Hadarim prison and various others, prisoners told the Palestinian Authority's Commission of Detainees and Ex-Detainees Affairs.
New measures include banning prisoners from buying frozen food and prohibiting their families from bringing them textbooks.
Israeli guards will also force prisoners out of the their cells during searches and impose tighter restrictions when they are in prison yards.
"Such restrictions will lead to worse conditions in prisons, given the extreme and unprecedented incitement by the Israeli right and racist instructions from the Israeli internal security minister [Gilad Erdan] and the director of the Israel Prison Service," prisoners told the commission.
Meanwhile, Palestinian women held at HaSharon prison are protesting the prison authorities' decision to turn on surveillance cameras in the prison yard earlier this month, after a visit by Erdan.
The women are refusing to go out to the yard, the only outdoor area they are permitted to use, until the surveillance cameras are covered again.
The cameras were installed years ago but were shut down after prisoner protests.
The women at HaSharon are threatening to escalate their protests, including a hunger strike, if the cameras are not turned off.
Hunger strikes
Palestinian prisoner Omran al-Khatib, 60, has been on hunger strike for more than 50 days in protest of his solitary confinement at the Ramle prison, according to Gaza-based human rights group Al Mezan.

He's one of several Palestinian prisoners who have launched hunger strikes in recent weeks.

Al-Khatib, from Jabaliya refugee camp in the Gaza Strip, has been detained since 1997 and was sentenced to life in prison. Quds News Network reported that al-Khatib is also demanding early release.

Meanwhile, Khader Adnan, who previously undertook two prolonged hunger strikes – 66 days in 2012 and 55 days in 2015 – has been on hunger strike for more than three weeks to protest his latest arbitrary detention by Israel.

Adnan, 40, was arrested on 11 December, and has been held in administrative detention since.

Jawad Jawarish, 36, has also been on hunger strike since mid-September in protest of his transfer from Ashkelon prison to Hadarim, where he is being held in solitary confinement.

Jawarish, from the occupied West Bank city of Bethlehem, was transferred multiple times this year, according to Al Mezan. A picture of Jawarish circulated on social media after he launched his hunger strike:

The frequent transfer of prisoners is a form of abuse, as they are transported in tiny metal cages with arms and legs chained over long journeys in a vehicle known as the bosta.

Ismail Eliyan, 27, also from Bethlehem, launched a hunger strike on 19 September, to protest his detention without charge or trial since November last year.

He has been arrested four times since 2008.

"Al Mezan voices concern for the safety of hunger strikers and calls for persons held in detention by Israel to be treated in accordance with international law," the group stated, noting that there has been a sharp increase in administrative detention orders, which allow Palestinians to be held indefinitely without charge or trial.

In August alone, there were 100 administrative detention orders, 41 of them new and the rest renewals.
Imprisoned writers and human rights defenders
Israel released Palestinian poet Dareen Tatour from prison on 20 September.

Tatour was convicted for "incitement to violence" and "support of terrorist organizations" in May, and sentenced to five months on 31 July.

"I got my freedom and I will continue to write and I will not stop. All this suffering was because of a poem. It is unfortunate that they imprisoned me for writing a poem," Tatour said after her release, according to Wattan TV.

Tatour, 36, is from the Arab village of Reineh near Nazareth.

She was first arrested in October 2015 over social media posts and a poem called "Resist, My People, Resist Them." She has mostly lived under house arrest since then and has been barred from using the internet.

During her trial, Tatour spent three months in prison and was due to serve only the remaining two months after her conviction.

Writers freedom group PEN International welcomed Tatour's release.

PEN International supported Tatour for years and "considers that she was targeted for peacefully exercising her right to free expression through poetry and activism."

Meanwhile, Israeli occupation soldiers arrested Palestinian writer and journalist Israa Khader Lafi on Wednesday from her home in the occupied West Bank city of Hebron.

Lafi is a journalist and scholar who trained as an electrical engineer. She has also helped produce television programs.

Meanwhile, Amnesty International released an urgent call to release Ayman Nasser, the legal coordinator for prisoners rights group Addameer, who was detained by occupation forces on 9 September.

Nasser, 48, was issued an administrative detention order shortly after, and will be held without charge or trial for at least six months.

Halima Nasser, Ayman's wife, told Amnesty that he has numerous health issues including inflammation in his colon and severe back pain due to a herniated disk in the lower back and is in need of constant medical treatment.

Israel exploits prisoners' right to treatment as a tool of torture, by delaying medical examinations and surgeries and using inappropriate medications, the Palestinian Prisoners Club has stated.
Tags