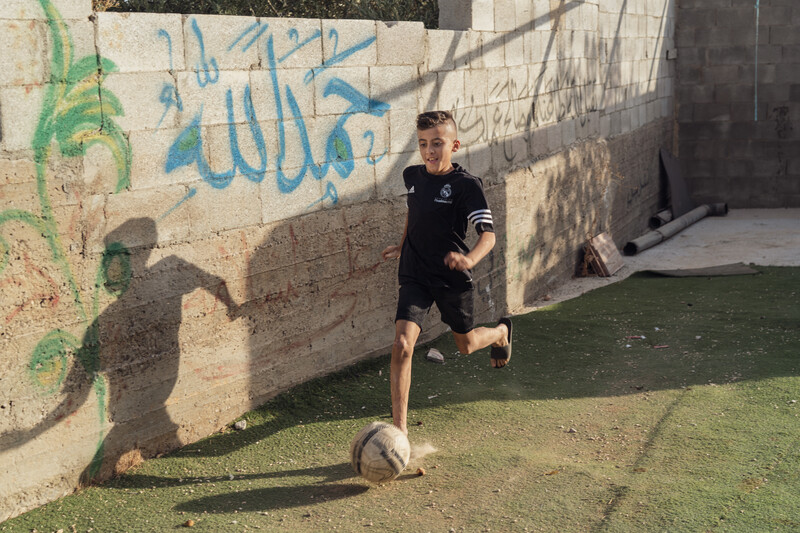 Ahmad Dawabsheh does not like to look back.
He has good reason. The 12-year-old survived one of the worst settler attacks in recent years when his family's home in the village of Duma in the occupied West Bank district of Nablus was firebombed by Israeli settlers in 2015.
Ahmad's 18-month-old brother Ali was burned to death.
His father Saad died a week later from his injuries. Riham, Ahmad's mother, died a month after that.
Ahmad was 4 at the time. He sustained severe burns all over his body.
And the attack still casts a dark shadow over life in the village.
According to Nasser Dawabsheh, 48, the uncle who is now raising Ahmad, relations between the villagers in Duma and the settlers surrounding them have only gotten worse – and since 2015 the village has been attacked at least a dozen more times.
As for Ahmad, he is trying to put it behind him.
"The attack doesn't affect me anymore because I don't allow myself to think about it," Ahmad told The Electronic Intifada, sitting on a sofa chair in his uncle's home. He attempts to twirl a football in between his fingers, catching it before it falls to the ground.
Ahmad still has burn scars across the right side of his face and across his body. He has had years of reconstructive surgery and skin grafts, and his treatment is far from over.
Every six months, he must undergo laser skin treatment for the scars, along with hair restoration surgeries and more skin grafts. The family receives special military permission to access this treatment at an Israeli hospital.
"We don't feel happy going there [inside Israel]," Nasser said. "But it is only Israeli hospitals that have the medical equipment, so we have no other choice."
As tensions soar across the occupied West Bank – the United Nations finding that 2022 has been the "deadliest year" for Palestinians in the West Bank since it started counting fatalities in 2005 – the Dawabsheh family is left to fend for themselves.
"We are terrified something like this could happen again," Nasser told The Electronic Intifada. "There's no authority here that can protect us from them. We only have God."
"Testament to violence"
The Dawabsheh family's home still stands as it was, blackened with ash and dotted with Ahmad's parents' blankets and belongings in the room where they sustained the burns that would eventually kill them. On one of the walls, someone has scribbled: "We will never forgive."
"We decided to leave the home this way to act as a proof and testament to the violence these settlers have inflicted on us," Nasser said.
The ringleader of the attack was then 21-year-old Amiram Ben-Uliel, who was at the time living in a bus in the Adei Ad settlement outpost, which overlooks Duma.
He was allegedly part of the "hilltop youth," an extremist and religious-nationalist group of Israeli settlers who agitate for a Jewish theocracy from which gentiles – non-Jews – are expelled.
While all Israeli settlements in the Palestinian territory are considered illegal under international law, the Israeli government only considers outposts illegal. It nonetheless provides them with state funded protection and access to water and electricity.
They are often retroactively legalized and the new Israeli coalition government has reportedly pledged to confer legal status on all remaining outposts in its first 60 days in power.
The hilltop youth are fiercely anti-Palestinian. They are accused of being behind the so-called price tag attacks, in which settlers target Palestinians and their properties in revenge for outposts being demolished by the Israeli military.
Ben-Uliel was represented by the lawyer Itamar Ben-Gvir, now the ultra-right leader of the Otzma Yehudit (Jewish Power) party who is set to become national security minister, a newly created position, in Benjamin Netanyahu's latest and most extreme coalition government.
According to prosecutors, Ben-Uliel began his journey that night from Yishuv Hadaat, a nearby settler outpost.
He staked out homes in Duma to attack, first throwing a Molotov cocktail into an empty house. He then moved on to the Dawabsheh family's home.
One Molotov was thrown through the Dawabsheh's bedroom window while the family was asleep. Ben-Uliel also spray-painted "Revenge" and "Long Live King Messiah" on the outside of the home before the attack.
The indictment claims that Ben-Uliel acted alone in the attack, with one unidentified suspect, who was a minor at the time, striking a plea deal that saw him convicted only as an accessory. However, eyewitnesses claim they saw at least two masked men fleeing from the scene that night.
In 2020, an Israeli court issued a triple life sentence against Ben-Uliel who had been convicted on three counts of murder and two counts of attempted murder. The Shin Bet, an Israeli spying agency, at the time said the ruling was "an important milestone in the battle against Jewish terror."
Still attacking
But the rare sentencing of a Jewish settler for crimes committed against Palestinians has done little to comfort the Dawabsheh family.
"It wasn't enough," Nasser said, standing outside the charred remains of the family's home. "It will never bring back the dead. And it wasn't the act of one person. If it wasn't for the government and army supporting these settlers then they would never have come to burn our family alive."
It is Israel's government and the occupation itself that should be on trial, Nasser said. "Not just one settler."
The court had also fined Ben-Uliel just under $75,000, which was to be given as compensation to Ahmad. Nasser says the family has still not received any money.
"These settlers are still attacking us," Nasser told The Electronic Intifada. "And they are still taking our land. Nothing has changed."
Just a week after Ahmad's family was targeted in an arson attack, another Palestinian family's home near Duma was also attacked with Molotov cocktails. No injuries were reported in that attack.
Nablus, in particular, has seen a sharp increase in coordinated and armed settler attacks over the past few months, under Israeli army protection. This is due in part to Palestinian armed resistance operations against Israeli soldiers and settlers in Nablus and other West Bank cities, as well as the arrival of the annual olive harvest season in which many Palestinians are permitted to access their lands near Israeli settlements and outposts, and which is often accompanied by a spike in settler assaults.
According to the UN, there have been nearly 800 settler attacks against Palestinians and their property so far this year. At least 175 Palestinians have been killed by the Israeli army in the West Bank and Gaza during 2022.
Duma has had its share of this increase in settler violence. On 16 June, a car near Duma was set on by settlers armed with metal batons. They smashed the car's windshield and a side window and pepper-sprayed the two men inside.
On the same day, a couple with their 3-year-old daughter and 1-month-old infant, were also attacked by settlers who were standing beside an Israeli military jeep. The settlers kicked their car, smashed one of the windows and a front headlight with a baton, and pepper-sprayed the couple and their baby.
Rights to the land
Regardless of the recent uptick, settler attacks are a normal reality in villages around Nablus, shaping everyone's lives. But it was not always like this.
Satira, Ahmad's 61-year-old grandmother, was born and raised in Duma.
"There was freedom and safety back when I was younger," she told The Electronic Intifada. "We could leave our doors open and venture to the mountains without any fear."
Now, however, most homes have installed thick metal bars across their windows, while some have completely shielded their windows with iron plates, fearful of future arson attacks.
"The attack in 2015 showed us how far these settlers were willing to go to erase us from this land," Satira said. "They are willing to kill us and even burn us alive."
But young Ahmad has not allowed this tragedy to define him. He told The Electronic Intifada he has big dreams of becoming a professional football player.
And if that does not work out then "I will become a doctor," he said.
Throughout the interview, Ahmad intermittently jumped up, dribbling and kicking a football.
He is a hardcore fan of Real Madrid, the erstwhile team of Cristiano Ronaldo, regarded as one of the greatest football players of all time. Ahmad met Ronaldo in Spain in 2016, several months after the devastating attack.
When a guest arrived, Ahmad immediately asked him what football team he supported. "Barcelona," the guest replied. Ahmad rolled his eyes.
Later, when the adhan, or the Muslim call to prayer, blared from the loudspeakers of the village mosque, the guest asked Ahmad to bring him a prayer mat.
Ahmad quickly retorted, to laughter from Nasser and Satira: "I don't get prayer mats for Barcelona supporters."
Still the boy is traumatized, according to his uncle. Nasser told The Electronic Intifada that Ahmad still gets nervous and anxious when tensions rise with settlers.
"He is still a child after all," Nasser said.
But Ahmad promptly interrupted.
"I'm not a child!" he said. "And I am not scared of them [the settlers]. They have guns but we are the ones with the rights to this land. So what is there to be scared of?"
Jaclynn Ashly is a freelance journalist.
Tags