A campaigner for US presidential hopeful Ted Cruz has praised the Israeli accused of killing Palestinian baby Ali Dawabsha.
Cruz, now seeking the Republican nomination in the US presidential race, has declined to distance himself from Victor Vancier, a convicted bomber fond of making racist comments on the Internet.
Vancier's praise of the man alleged to have killed Ali and his parents Riham and Saad has been published since he established a campaign called Jews For Cruz.
Vancier has also suggested his group is providing financial support to Israeli extremists accused of attacks on Palestinians.
The Ted Cruz for President campaign did not reply to multiple email and phone requests asking if Cruz would distance himself from Vancier and his organization.
As part of his Jewish Task Force Vancier has been running a campaign called Jews for Cruz since 2013. He announced a "Ted Cruz blitz" of publicity Sunday, and his group regularly republishes Cruz campaign ads on YouTube, adding JTF and Jews For Cruz logos.
Vancier (also known as Chaim ben Pesach) spent five and a half years in federal prison after executing a Jewish Defense League bombing campaign in the 1970s and 1980s.
But the passage of time has not dimmed his enthusiasm for violent extremism.
In a video published Sunday Vancier said that an Israeli accused of a July firebomb attack which burnt to death the three members of the Dawabsha family near Nablus was a "Jewish hero."
"Ted Cruz is the best"
In the same video he questioned the motives of Israel for accusing "Israeli Jewish patriots" of carrying out the firebombing to "avenge the hundreds of acts of Arab Muslim Nazi terrorism."
Vancier claimed that the main suspect, Amiram Ben-Uliel, has been "falsely accused."
The Jewish Defense League was founded in New York in 1968 by Rabbi Meir Kahane, whose manifesto called for all Palestinians to be expelled from the "Land of Israel."
Kahane reportedly once called Vancier "the most dangerous Jew alive today" and (according to prosecutors) picked him as his chosen sucessor to lead the JDL.
Vancier is considered extreme even by the Israeli government, which (according to his supporters in the JDL UK) banned him from settling there in 1996.
In one recent YouTube video Vancier said: "on Israel and Iran, Ted Cruz is the best."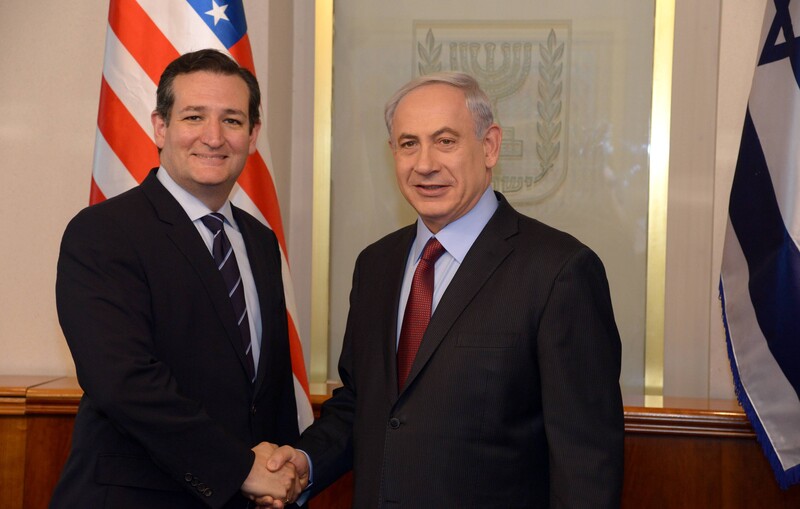 Cruz staunchly opposed the six-power agreement with Iran earlier this year to curtail its nuclear energy program.
At a speech to the Republican Jewish Coalition in December, Cruz promised to begin the process of moving the US embassy from Tel Aviv to Jerusalem on "the very first day in office" (other candidates have made similar pledges).
He conceded that the Palestinian-led boycott, divestment and sanctions movement is gaining "more and more momentum behind it" and threatened that any university that supports it "will find its federal funds stripped away."
Vancier is dismissive of the other Republican candidates, and views them as soft on immigration: "you can't trust these establishment whores," he says in the same video.
This contempt extends to frontrunner Donald Trump, who Vancier sees as lukewarm on Israel and a media distraction. Polls say Cruz is currently the number-two contender for the Republican nomination.
But Vancier himself claimed recently that JTF has close ties to the Cruz campaign. He said that JTF is "meeting with some of the top people who literally speak to him [Cruz] almost every day and who are among his most important supporters."
Although stating that some of these supporters held political office, Vancier declined to name them "because, you know, we're controversial."
"Prisoner of Zion"
Vancier's specialty since coming out of prison has been long racist rants – such as the one endorsing the accused killer of the Dawabshas.
Once broadcast on New York City public access TV, these are now mostly posted to YouTube.
In a recent video he called Palestinians "Muslim Nazi terrorists" and "Arab, Jew-hating beast[s]."
The accused killer of the Dawabshe family, 21-year-old extremist Amiram Ben-Uliel, was finally charged for the murders on Sunday, despite Israel's defense minister admitting as far back as September that the authorities knew who was behind the fatal attack.
In a 20 December video Vancier said that "our movement is proud to be supporting those Jewish prisoners," in reference to Israeli settlers suspected of attacks on Palestinians, likely including Ben-Uliel. "We support them, we support their families. We support them financially, and we support them in other ways," he added.
Support for the most hardcore Israeli ultra-nationalists imprisoned by Israel is a cause célèbre for Vancier, who positions himself as a Jewish dissident. He claims the Israeli government is too soft on the Palestinians.
Another recent video, posted on the JTF's Hebrew site "is dedicated to the speedy release of the hero Meir Ettinger, who is a prisoner of Zion."
Ettinger is Meir Kahane's grandson and an up-and-coming ultra-nationalist leader in his own right.
In August he was detained without charge by the Shin Bet, Israel's secret police. Even the Shin Bet – a notoriously violent organization that speciallizes in kidnapping and torturing Palestinians – has called Ettinger "a violent and dangerous ideological criminal."
Ettinger has been accused of leading Israeli settler attacks on Palestinians.
Suspected of murder
The Jewish Defense League's terror campaign in the US was aimed mostly at Soviet, Palestinian and other Arab targets. The group also criticized Jewish organizations it viewed as soft on Israel, as well as engaged in internecine warfare within the Kahanist movement.
It was during this period that Victor Vancier was most active, finally going to jail in 1987.
The JDL is suspected by FBI investigators to be behind the murder of Alex Odeh, a Palestinian American staffer with the American-Arab Anti-Discrimination Committee.
Odeh's California office was fatally targeted by a bomb in 1985. No one was ever charged with the assassination, and some of the suspected killers are still at large after fleeing to Israel.
In 2001, the JDL was listed in the FBI's annual terrorism report.
Today there is little in the way of formally organized JDL activity in the US. But the group has not been banned in the UK, Canada or France.
France's Ligue de Défense Juive is a particularly virulent branch of the JDL, and its actions tend to be well organized and violent.
Jews For Cruz?
Vancier and his group started their campaign long before Cruz officially began his run in March. JTF announced the launch of Jews For Cruz back in October 2013.
An entirely separate "Jews For Cruz" group was subsequently formed in 2015. Not surprisingly, this has caused some confusion; Time magazine mixed up the two groups in an article published last June.
It said that Jews For Cruz had been compelled to change its name by the Federal Elections Committee as it was not an authorized Political Action Committee.
Jonathan Brodo, the founder of this newer Jews For Cruz, told The Electronic Intifada in an email that he has "no connection to the Jewish Task Force page at all … I do not subscribe to their radical views."
Brodo said that he "would agree" with a statement on the JTF issued by the Anti-Defamation League, a pro-Israel group. That statement criticized the JTF for promoting bigotry.
Federal Election Commissions filings show that Brodo terminated his campaign group later in 2015.
JewsForCruz.com and JewsForCruz.org both redirect to jtf.org.
It remains a mystery why the Cruz campaign should be so reluctant to take the opportunity to distance itself from a convicted bomber whose views are too extreme even for some of Israel's most stalwart supporters.
Tags