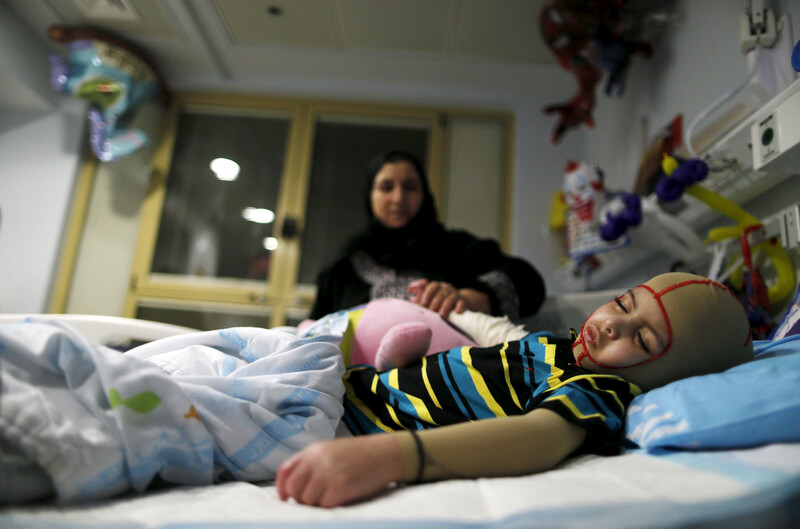 Two Israeli Jewish citizens have been charged in the arson attack that killed three members of the Dawabsha family last summer.
Israeli prosecutors charged 21-year-old Amiram Ben-Uliel with three counts of murder. Ben-Uliel was also charged with attempted murder for trying to set fire to another house.
Prosecutors also charged a minor with accessory to murder. He reportedly helped plan the attack but did not show up to execute it.
On 31 July, a firebomb was thrown into the Dawabsha family home in the occupied West Bank village of Duma, killing 18-month-old baby Ali and fatally injuring his parents Riham and Saad.
Ali's 4-year-old brother Ahmad, who suffered severe burns, is the only survivor and was only recently released from hospital to a rehabilitation facility.
Ahmad, who has only just begun to learn to walk again, has not yet been told what happened to his parents and baby brother.
Israeli prosecutors also charged Yinon Reuveni with setting fire to the Church of the Multiplication of the Loaves and Fishes last June. In Christian tradition, the Galilee church sits at the site where Jesus performed the miracle of the feeding of the five thousand.
Over the last month, Israel arrested several Jewish suspects in connection with attacks against Palestinians.
Israel's Shin Bet secret police denied many of them access to lawyers for the maximum three weeks while attempting to extract confessions.
According to the indictment filed on Sunday, Ben-Uliel committed the Duma attack in retaliation for the slaying of Malachai Rosenfeld in June.
Rosenfeld, 26, was fatally injured during a drive-by shooting near an Israeli settlement built in the West Bank in violation of international law.
Three Palestinian armed groups reportedly issued competing claims of responsibility for the attack, although the assailants evaded capture.
Ben-Uliel eventually confessed to the attack in Duma and even reenacted it for the Shin Bet after several weeks of interrogation and, according to his lawyer, torture.
Premeditated
On 1 January, Haaretz reported that Israel's Attorney General Yehuda Weinstein personally approved the use of torture against suspects in the Duma case.
According to the indictment, Ben-Uliel and the minor who allegedly assisted him considered several villages before selecting Duma as their target.
The indictment also asserts that the two planned to kill people in their beds in the nearby Palestinian village of Majdal.
Despite eyewitness accounts that multiple perpetrators fled the crime scene, Ben-Uliel confessed to carrying out the attack on the Dawabsha home alone, after his accomplice failed to show up.
In the dark hours of the morning of 31 July, Ben-Uliel searched for a home that was occupied, but mistakenly firebombed an empty house first, according to the indictment.
Then he found the Dawabsha home. He prepared his firebomb, spray-painted "Vengeance" and "Long live the Messiah" on the walls, and then threw the bomb into the house.
Ben-Uliel's family has maintained his innocence.
His wife, Oriyan, claims that Ben-Uliel was home with her the night of the Duma attack. "I saw how they beat him mercilessly right in front of me, and confiscated cameras so there wouldn't be any proof," she told media on Sunday.
Oriyan has herself previously been charged in several so-called "price tag" attacks on Palestinians and their property, according to Israeli media.
Ben-Uliel was reportedly part of the so-called Hilltop Youth movement and lived on various Israeli settlements and outposts before moving to Jerusalem with his wife and their baby shortly after the Duma attack.
Incitement
Israeli leaders have condemned the Duma attack as an aberration, but a network of rabbis, many living in government-financed settlements in the occupied West Bank, regularly incites violence against Palestinians.
Last month, the Israeli high court blocked a petition calling on the attorney general to prosecute the authors of Torat Hamelech (The King's Torah).
The notorious book, by Yitzhak Shapira and Yosef Elitzur, spiritual leaders of the settler movement, is a guide on when it is permissible to kill non-Jews.
The authors write that "There is cause to hurt children and infants if it is clear that they will grow up to harm us, and in such a situation, the strike should be directed specifically at them."
Israeli leaders, including Prime Minister Benjamin Netanyahu, have themselves frequently incited violent revenge against Palestinians.
Sole survivor
Israel's investigation into the Dawabsha triple murder has taken an unusually long time, especially compared to the swift arrests of Palestinians accused of attacks on Israelis.
Dozens of Palestinians have simply been shot dead on the spot, or left to bleed to death without medical care, in what human rights groups and international monitors have condemned as extrajudicial executions.
Even the relatives of Palestinians Israel suspects of violence often have their homes demolished merely on the basis of accusations against a family member. Destroying the homes of relatives of accused Palestinians has been condemned by the UN and human rights groups as collective punishment that is illegal under international law.
Israeli Jews are exempt from such practices.
By contrast, Israeli defense minister Moshe Yaalon announced in September that Israel knew who had committed the fatal attack in Duma, but no arrests were made until late November and early December.
Hussein Dawabsha, whose son was killed in the Duma attack, has stayed close to his grandson Ahmad during his recovery, often spending the night with the boy after other visitors go home.
Right now Ahmad thinks his parents are alive and are just busy refurbishing their torched home so they can welcome him back there.
Dawabsha told the Times of Israel that he dreads telling Ahmad the truth and will only do so after the young child has regained some of his strength.
When asked if he was happy the suspects were arrested, Hussein Dawabsha responded: "What do you want from a man who lost his family? They burned my family. You want me to be happy? What do I have to be happy for?"
Ali Abunimah contributed research.
Tags