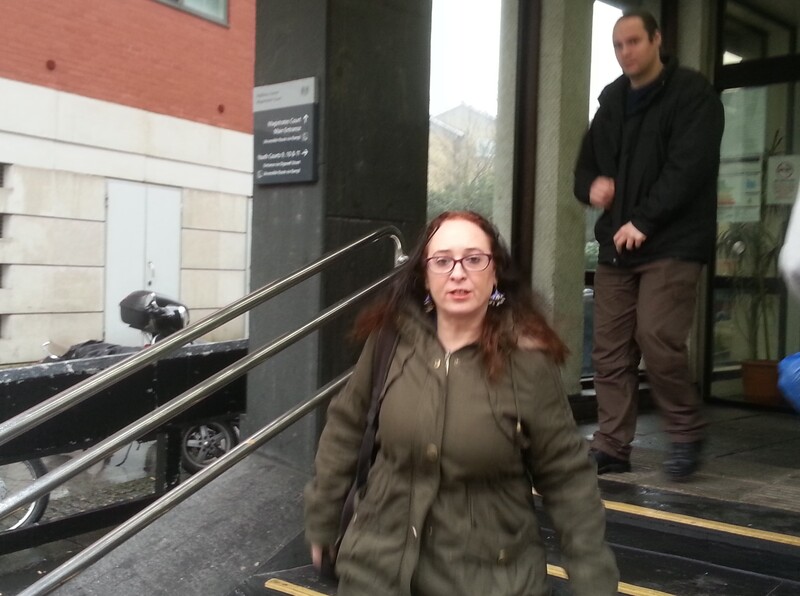 Roberta Moore, the leader of the Jewish Defence League UK, last week had a conviction for assault and possession of an offensive weapon overturned on appeal.

A second JDL activist did not appeal his conviction for assault during the same September 2014 disruption of a Palestine solidarity event. In February, Robert De Jonge changed his plea to guilty and was in March sentenced to community service and a fine.

In September, he assaulted Andy Simons, an organizer of a Palestine literary festival in Haringey, north London. A group of right-wing Zionist activists in the audience invaded the stage, attempting to disrupt the event.

The reversal came as government prosecutors faced criticism for not taking the cases seriously enough. The appeal judge described the prosecution's case as a "shambles."

At Wood Green Crown Court on 19 June the judge, Edward Jenkins QC, ruled that prosecutors had not shown evidence that Moore had not acted in self-defense while spraying Simons and bookseller Simon Assaf in the face with red paint.

The judge criticized prosecutors for losing phone camera footage, describing their case as "the usual shambles of the Crown Prosecution Service." The videos in question are easily accessible online, one of which is below.

The only video evidence in court on the day of the appeal was from a DVD prepared by the defense, apparently by Moore herself.

Campaigners involved in the festival expressed disappointment at the verdict, and fear that the JDL extremists could strike again at other events.

Prosecution witness Paul Scott said the verdict was a "travesty of justice" and that the group had clearly planned the disruption in advance.

Leaving the court room Friday, De Jonge threatened Scott with the taunt "I've still got the metal bar, Paul." Simons and Scott said De Jonge must have used a metal bar rolled up in paper in the assault, although the police never found it.

According to a transcript of a police interview read out during the appeal, Moore asked herself during the incident, "should I kick the shit out them" or just spray them.

Investigating police said that De Jonge was Moore's boyfriend. But during the appeal, Moore described him as her flat mate.
Jewish extremist network
Information about Moore that came out in court during the course of the one-day appeal provided insight into her background and into the global networks of Kahanists, the movement of ultra-right-wing Zionist extremists who follow the teaching of the late Rabbi Meir Kahane, the founder of the original JDL.
An investigation by The Electronic Intifada has uncovered evidence that the UK branch of the movement is ideologically led by the most radical violent extremist wing of this movement, the so-called Jewish Task Force (JTF).
Moore also appears to have have funded her legal defense thanks, at least in part, to donations raised from JTF supporters.
Moore is an ex-leader of the English Defence League, a violent anti-Muslim street gang. She founded its so-called Jewish division, but later fell out with the group, and started her own Jewish Defence League UK.
The EDL's focus on hatred against Muslims has led it to some strange alliances and down a different path from the older generation of British neo-Nazis and rightwing extremists. Groups like the British National Party and the National Front have a history of anti-Semitism and have included Holocaust deniers.
From its inception in 2009, the EDL's street demonstrations against mosques often included Israeli flags along with the flags of the UK and England. While for many in the EDL grassroots this was likely a simplistic anti-Muslim provocation, there is no doubt that EDL leaders have expressed ideological sympathy for Israel.
In a 2010 interview with the Israeli newspaper Haaretz EDL financier, founder and ideological leader Alan Ayling expressed support for Israel.
Still at that point using the alias Alan Lake, Ayling said: "I don't understand why Gaza was given to the Arabs. I would have said that it's my land and that's that." In 2010, Ayling posted a manifesto online which called for Muslims to be rounded up into "Islamic enclaves" and for "liberal twits" such as Prime Minister David Cameron to be forced inside on pain of execution.
In the same interview, speaking alongside Ayling, Moore expressed support for the same eliminationist solution for the "problem" of the Palestinians as her hero Kahane: "I would put them on buses and let them choose [anywhere] from Pakistan to Morocco. They have enough places to go to."
In his 1981 book They Must Go, Kahane outlined a detailed manifesto for removing all Palestinians from all of the "Land of Israel" (Israel, Gaza and the West Bank). He wrote: "The transfer shall be effected peacefully, if possible, but if the Arab still refuses, then forcibly and without compensation. The Arabs who are transferred shall be taken to the Lebanese or Jordanian borders or to the area separating Israel and Egypt" (page 253).
Ayling later lost his lucrative IT job in the City, after his real identity was exposed in the press.
Breivik links
The mainstream British press had taken an interest in Ayling in the wake of the July 2011 attack in Norway by far-right anti-Muslim extremist Anders Behring Breivik. Questions were being asked about links between the two men, and Norwegian police sought to interview him "to find out if he may have been an ideological source of inspiration to Breivik," Reuters reported.
While EDL leaders tried to publicly distance themselves from Breivik, Moore was not so coy, later defending him on Facebook. She wrote that Breivik's 77 victims, officer workers and young Labor Party activists, "were NOT innocent."
Joel Yossi, a former comrade of Moore's in the "Jewish division," was more explicit, telling EDL News, "I support Breivik" and The Guardian that: "I have wrote [sic] letters to him in prison and he seems he is in high spirits."
In June 2011, Moore left the EDL amid mutual recriminations. While she seems to have remained close to Tommy Robinson, then the EDL leader, others in the EDL leadership seemed to be unhappy about her attempt to forge links with the Jewish Task Force, a small extremist American group run by the JDL's convicted master bomber, Victor Vancier.
Moore, for her part, accused her enemies within the EDL of being anti-Semites and neo-Nazis. (Robinson is reportedly planning a "holiday" in Israel next month.)
After her exit, Moore established the Jewish Defence League UK.
Moore and De Jonge now run the JDL UK website and social media accounts, including a Facebook account still named "English Defence League Jewish Division (EDL)".
Documents at Companies House show that a private limited company called "EDL English Defence League Ltd" was incorporated in December 2010. In February 2013, the same company was renamed "Jewish Defence League (JDL) UK Ltd." Roberta Moore is listed as director under the same Golders Green, London, address she still lived at as of the magistrate's court hearing in February.
Roberta Moore
According to her defense testimony during the appeal, Roberta Hancock Moore was born in Rio de Janeiro in 1972. She was educated in Brazil, but her family moved to Israel where she studied her last school year.
She studied agriculture outside of Tel Aviv and took holidays in Brazil. After this she joined the Israeli army and spent time learning "combat skills." She later moved to the UK.

Moore was in the Territorial Army for four years, the UK's reserve force, which generally trains on weekends. She works in London's financial district as a commodities trader.

Taking the stand during the appeal, Simon Assaf, who Moore had sprayed in the face with "Farbgel" red paint, said that he had spoken to her in Arabic during the stage invasion and she had replied in English claiming her mother is Lebanese.

I later asked Moore on Twitter to clarify this, since the JDL UK represents itself as the defender of Jews and Moore portrayed herself as a Jewish victim. (De Jonge, a Christian Zionist, wore a crucifix to the magistrate's court in February.)

While she replied ambiguously, the JDL UK Twitter account later claimed that her mother is a Lebanese Jew: While there are of course Lebanese Jews as there are other Arab Jews, there are also right-wing Christian elements in Lebanon that identify with Israel.

Ambiguous answers like this have led to rumors for years among anti-EDL groups that Moore is not Jewish. The more mainstream Zionist movement in the UK has publicly rejected her, including the Community Security Trust, and right-wing Zionist newspaper The Jewish Chronicle has written critical articles.

Moore's activities seem to have won her more enemies than friends.
Violent racism
Regardless of Moore's personal identity, there is no doubt about the violently racist views that she and De Jonge hold.
According to the anti-fascist blog EDL News, while justifying her attempts to link the EDL with the JTF in February 2011, she wrote: "We are taking to the streets, we are TERRORISING those who are the real terrorists. We are raising awareness which, sometimes does not turn out that peaceful, but hey shit happens! Doesn't it?"
After she finally left the EDL in June 2011, she claimed it was because the EDL had not been able to contain anti-Semitic neo-Nazi elements. But a Facebook screenshot published by EDL News shows that in 2010 Moore justified the presence of neo-Nazis at EDL demonstrations.
"Some people are useful, even if they are useful idiots," she wrote, "we need numbers too … I do not mind their racist or nazi views, as long as they don't say them IN PUBLIC!!"
On Muslims, EDL News quotes her saying: "burn the Quran, burn the Hadiths and ban Islam from the face of the Earth" and "It's not bad to kill bad people who are not really people but evil beings in the body of humans."
Posts by the admins of the Facebook page run by De Jonge and Moore (which is linked to the @JDL_UK Twitter account) express virulent bigotry, including anti-Black racism, white supremacy in the form of the Confederate flag, transphobia, homophobia, as well as Islamophobia and violent anti-Arab racism, including death threats against children.
In one photo collage of Palestinian children, some of whom appear to be holding guns, the poster comments "Shoot all terrorists, regardless of age."
Perhaps surprisingly, the posts also include at least one anti-Semitic comment. One recent post calls the leader of pro-Israel lobby group the Board of Deputies of British Jews "another dumb Brit-Yid" after he expressed a desire to meet with Muslims.
Update, 3 July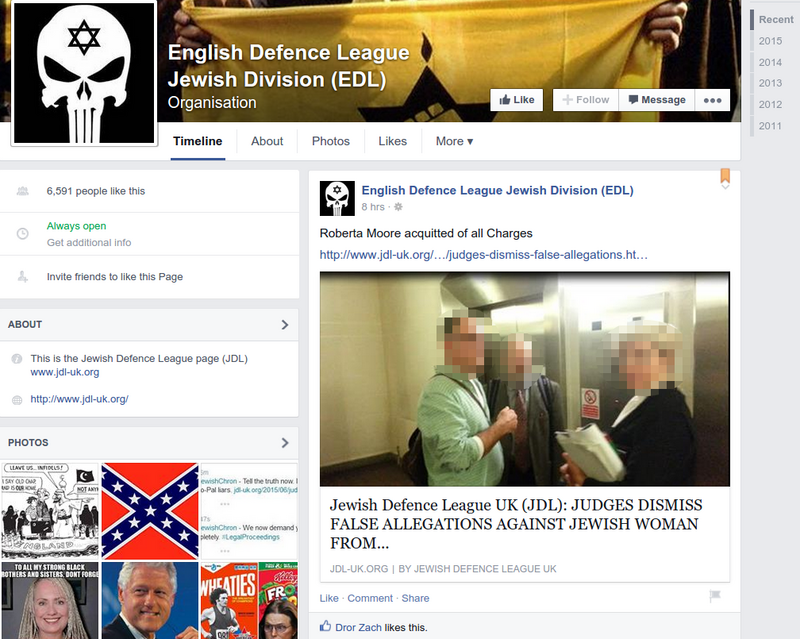 The JDL UK's Facebook page is no longer accessible. According to the JDL UK Twitter account, Facebook took the page down soon after this article was originally published. Consequentially, the links to examples of JDL UK bigotry on Facebook are no longer working, but here are links to screenshots: anti-Black racism, Confederate flag, transphobia, homophobia, death threats against Palestinian children and anti-Semitism. All screenshots taken 26 June.
The JDL's master bomber
The source of this bigotry becomes clear after looking into JDL UK's ideological inspiration. Victor Vancier, who took the Hebrew name Chaim ben Pesach, is perhaps the most extreme Kahanist activist anywhere today. An examination of the websites, social media and forum postings of both shows an extremely similar ideology of hate.
The JDL UK website even describes Vancier as "a Jewish hero."
The late Robert I. Friedman wrote a book on Kahane and the JDL, The False Prophet (Faber and Faber, 1990). According to Friedman, Vancier joined Kahane's Jewish Defense League in New York from high school.
Kahane personally enlisted him to hound internal enemies out of the JDL: "Victor, I don't care what it takes," he reportedly said. Vancier was a willing accomplice; Kahane reportedly once described him as "the most dangerous Jew alive today."
He's so dangerous that he is banned from entering Israel, even under the "Law of Return" which entitles almost any Jew in the world to Israeli citizenship.
Kahane too spent time in Israeli jails, and Kach, the branch of the JDL which he founded in Israel, was banned as a terrorist organization.
Vancier's long trail of bombing attacks ultimately led to a 10-year sentence in 1987. He had led a campaign of fire, tear gas and pipe bomb attacks against Russian diplomatic and civilian targets in New York and Washington (as well as in internecine attack on JDL dissidents). During the trial, prosecutors described him as Kahane's hand-picked choice as JDL national chair.
But Irv Rubin, a West Coast JDL leader, tried to publicly distance the group from its more militant image. The JDL's website would later describe Vancier as a "coward and inveterate liar." (This was little more than a public relations exercise, however, and Rubin would ultimately die in prison while awaiting trial for a conspiracy to blow up a mosque and the office of an elected representative of Lebanese descent.)
Vancier too uses racist slurs against Black people and against Jews he considers enemies. One 1999 JTF newsletter, for instance, describes a Jewish politician as a "kike" and an alleged robber as a "vicious black animal."
Last year, Vancier was interviewed by homophobic clergyman Pastor James David Manning, describing the preacher as "one of the great voices of truth in our generation."
Vancier also endorsed Breivik's mass-slaughter of civilians, claiming that "this was the hand of God. This was justice, what happened in Norway."
When Moore left the EDL she defended Vancier in a blog post: "Chaim ben Pesach is no terrorist."
Bomber links
The ideological affinities between JDL UK and Vancier are clear, but the links seem to go further.
Robert De Jonge posts on Facebook under the name "Robert Batholomew" and on the JTF's web forum as "Spiraling Leopard." He used the JTF's forum to raise funds for Moore's legal defense, and after her acquittal thanked forum user "eb22" for his or her "generous donation."
In May, De Jonge started a forum thread denouncing a former comrade for allegedly insulting Vancier. Vancier himself posted responding to De Jonge "thank you so much for your courageous and brilliant answers."
No politics please
Government prosecutors raised almost none of these facts during the trial. The fact that Moore presents herself as the leader of the UK branch of a group that was once listed by the FBI as a terrorist organization was not part of the prosecution case at all.
One can all too easily imagine the response of the state if a Muslim organization had invaded the stage at a pro-Israel event. It would likely have been treated as a terrorism case, with all the harsh punishments that usually follow.
The Crown Prosecution Service barrister acting at the appeal declined to comment when asked about criticisms that the CPS has not taken the case seriously.
Instead, Moore only ever faced the prospect of community service and a fine. Now, even that has been overturned.
Roberta Moore did not reply to an email requesting comment on many of the issues raised in this article.
Tags