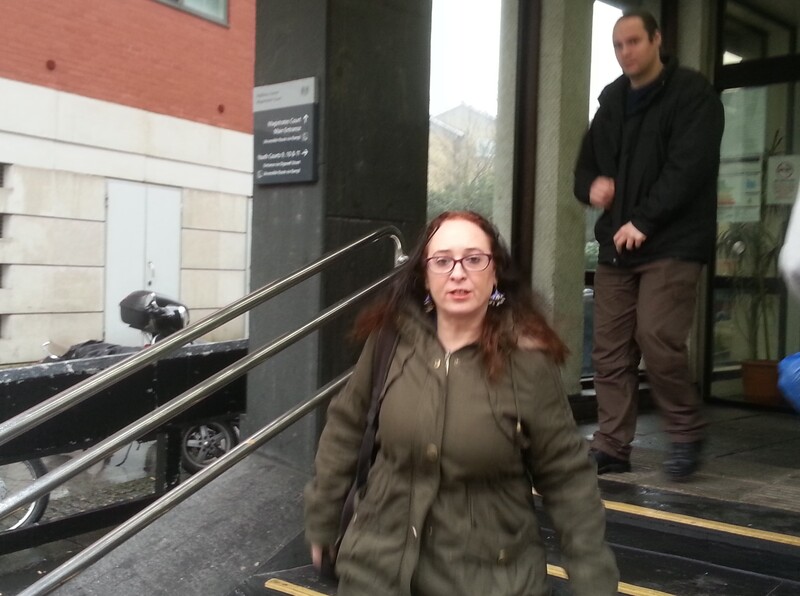 Two thugs affiliated with the Jewish Defence League UK were sentenced Monday to 150 hours of community service each and £1,140 ($1,700) in fines between them.

Roberta Moore and Robert De Jonge assaulted two people at a Palestine literary festival in London in September.

Last month a judge found Moore guilty on two counts of assault, and one count of possession of an offensive weapon. De Jonge was found guilty of assault.

In addition to the unpaid work, the two must pay compensation to their victims: Andy Simons, an organizer of the festival, and Simon Assaf, who had been running a socialist bookstall that day.

The video below was presented as evidence during the two-day trial in February.

The relatively light sentence raises questions about the limited scope of the Crown Prosecution Service's case against the two. A custodial sentence was never likely for a first offense of common assault that caused no lasting physical injury.

But a violent assault by armed extremists invading the platform at a cultural/political event organized by those they see as their enemies raises serious questions about radicalization and prevention of religious extremism.

It is impossible to imagine that, had there been a similar incident involving extremist Muslims assaulting their ideological enemies, officers from Prevent – the UK government's Islam-obsessed "anti-terrorism" unit – would not have been brought in.

The fact that the two pro-Israel extremists identify themselves as JDL was never raised by prosecutors during the two-day trial. This is despite the fact that JDL was classified by the FBI in a 2000/2001 report as a terrorist group.
Pre-planning
De Jonge's lawyer claimed at Monday's sentencing that he had "no political affiliation" and was merely reacting to events of the day.

This claim is severely undermined by footage posted to YouTube in 2012 of De Jonge and Moore taunting and threatening Palestine solidarity protesters. In this video, De Jonge waves a yellow Jewish Defense League flag and wears a coat with "Jewish Task Force" (JTF) emblazoned on the back:

De Jonge and Moore also appear to run the JDL UK website, posting a bizarre rant about their trial and conviction.

The JTF is another Zionist extremist group, headed by Victor Vancier. Once the leading figure in the JDL in the US, Vancier waged a violent bombing campaign in New York and Washington in the 1980s and subsequently served five and a half years in federal prison.

The magistrate said "there was some element of pre-planning" proved by the can of spray paint that Moore had used to assault her two victims.

A prosecution lawyer stated Monday that De Jonge too used a weapon to assault Andy Simons, visible in the video above. The lawyer said this was thought to be a metal bar disguised under a rolled-up newspaper – although conceded that police never found a bar.

The magistrate agreed a weapon had been used, although there appeared to be no evidence it was more than a rolled-up newspaper.

De Jonge, currently unemployed, received a twelve-month community order – a total of 150 unpaid hours work – and must pay £360 ($540) in compensation and court costs.
"Not a political activist"
Moore represented herself in court. She said she would appeal the conviction. She disputed several points in a pre-trial report and stated that she is "not a member of the EDL [English Defence League] or the Jewish Task Force."
The Electronic Intifada understands from a witness for the prosecution that the pre-trial report mentioned her membership of the JDL. Moore did not dispute that.
In the 2012 video above, Moore is clearly heard to taunt protesters with the Hebrew slogan "Kahane chai" – "Kahane lives." Meir Kahane was the founder of the JDL, a violent racist who advocated that all Palestinians should be expelled from all of historic Palestine by force. ("Kahane Chai" is also the name of a splinter group of Kach, a banned extremist group even in Israel.)
Moore also claimed she was "not a political activist" and maintained the by now slightly farcical line that she had just happened to be at the festival: "I am a Jew … [the incident] wasn't premeditated … I was attacked."
This appeared to try the magistrate's patience. Her and De Jonge's stubborn refusal to plead guilty despite clear video evidence meant he imposed community orders on both, instead of a fine alone.
Moore confirmed she is employed, so the magistrate granted prosecutors' request for costs of £620 ($925) and ordered she pay £50 ($75) to each of her victims and £60 ($90) towards victim support groups, in addition to the unpaid work.
If De Jonge and Moore fail to complete their community order they could face re-sentencing.
Correction: this article previously stated that Vancier's first name is Vincent; in fact it is Victor.
Tags