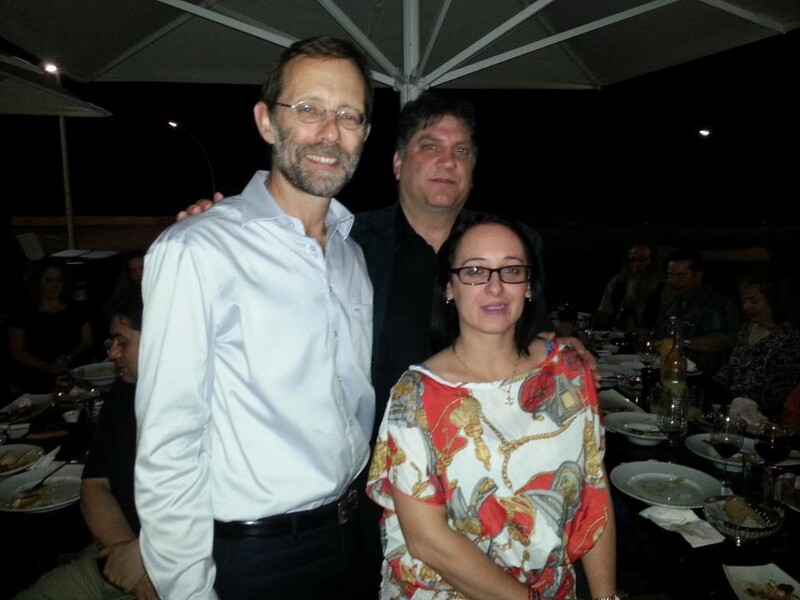 Two Jewish Defence League UK thugs were today found guilty of assault after they attacked a panel at a Palestine literary festival in September.
Roberta Moore was convicted of two counts of assault and one count of possession of an offensive weapon. Her accomplice Robert De Jonge was convicted of assault.
Both initially pleaded not guilty to all charges, but De Jonge on Thursday changed his plea to guilty for reason of recklessness.
De Jonge argued he had only meant to cause a "distraction" when he rushed the stage and assaulted Andy Simons, the chairperson of the panel and an organizer with Haringey Justice for Palestinians.
But district judge Julia Newton ruled today that De Jonge had acted with full intent to cause injury.
The other man assaulted by Moore was Simon Assaf, who had been invited to the festival to run a stall for Bookmarks, the socialist bookshop. Moore sprayed the two men in the face with "Farb gel" spray paint, which the judge ruled was used in a way consistent with an offensive weapon.
The two were released on bail until sentencing on condition they did not attend any event involving Haringey Justice for Palestinians. Sentencing will take place 23 March. The hearing this week took place over two days.
Fascist thuggery
Victim Andy Simons reacted with relief today. The attack briefly hospitalized him and meant he had to miss the rest of the festival on 20 September 2014.

Simons, 62, a retired British Library professor, told The Electronic Intifada that the attack had taken an emotional toll, leaving him afraid to do further pro-Palestinian charity work.

But he said he felt he had little choice but to testify in court this week, despite feeling intimidated by the two thugs. Moore and De Jonge visibly smirked through much of Simons' testimony, recounting the assaults.

Simons said today: "This was fascist, Zionist thuggery … they're driven, they're messianic, it's their own strange jihad. A prison sentence, if they get one, will be like a badge in scouts or girl guides. If I didn't help the prosecution, when they do it next time there wouldn't be a record – and there probably will be a next time."

Although Roberta Moore has a previous conviction for fraud, neither of the two have any prior convictions for assault – a relevant factor the judge said she would take into account when deciding between a fine or a custodial sentence.

The Electronic Intifada understands that Moore and De Jonge have engaged in such attacks before, but that in the past witnesses have been too intimidated to testify.
The JDL UK
Founded by the ultra-racist rabbi Meir Kahane in New York in 1968, the Jewish Defense League has been termed by the FBI a violent terrorist organization. Kahane was later elected to the Israeli parliament, founding the Kach party, which was banned as a terror group even in Israel.
Irv Rubin, JDL leader from the late 1980s until his arrest in December 2001, died in prison in 2002 while awaiting trial for planning a series of bombings against a mosque and the office of Representative Darrell Issa, who is of Lebanese descent.
In 1985, with Rubin as JDL's West Coast leader and national director, Alex Odeh, a Palestinian-American civil rights leader with the American-Arab Anti-Discrimination Committee was murdered by explosion after a bomb was planted in his office.
The prime suspects in the case belonged to the JDL, but fled to the Israeli colony of Kiryat Arba near the Palestinian city of Hebron (a hot-spot for Kahanist violence).
The Jewish Defence League UK initially appears to have no direct lineage from the US organization. However, the group's website clearly aligns it ideologically with the JDL, Kahane himself and especially with convicted bomber Victor Vancier, who Kahane appointed JDL head in New York in 1984 (he was later made East Coast boss).
Vancier (aka Chaim ben Pesach) spent five and a half years in federal prison for no less than eighteen bombings in New York and Washington in the late 1980s.
Due to this legacy of violence, the JDL UK website dubs Vancier "a Jewish hero."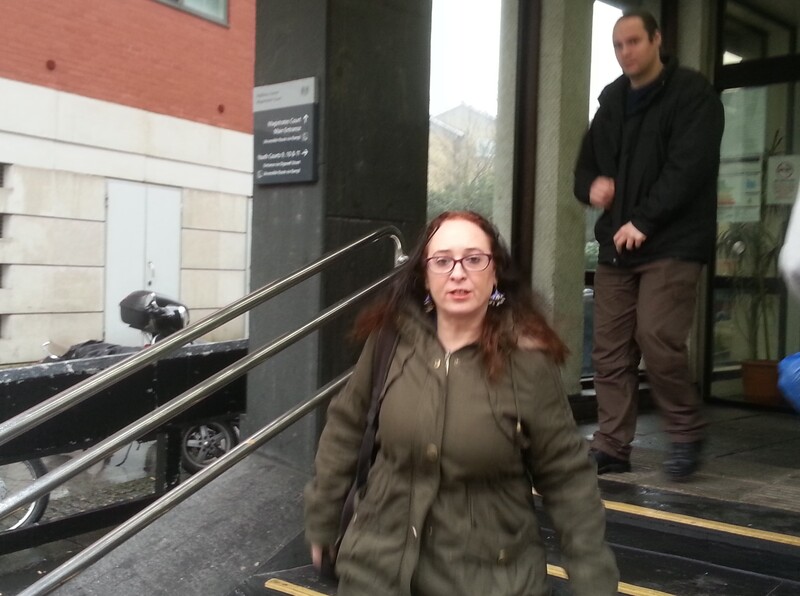 Roberta Moore was formerly a member of the racist anti-Muslim street gang the English Defence League, which has always been extremely pro-Israel.
The Brazilian-born fascist infamously founded the EDL's supposed "Jewish division" before she left in 2011 claiming to have suddenly discovered the presence of anti-Semites in the far-right group. Other accounts say she was kicked out for being too extreme for even the EDL.
From then on, she started identifying her group as "JDL UK." In 2012, Moore expressed support for Norwegian killer Anders Behring Breivik, the extremist who in July 2011 massacred dozens of people in the name of protecting Europe's Christian identity from an imagined Muslim takeover.
Moore and De Jonge live together at a flat in Golders Green, north London. They are a fairly regular presence at Palestine solidarity protests where they harass, intimidate and attack peaceful campaigners.
De Jonge, who wore a crucifix necklace to court, appears to be a Christian Zionist. Extreme anti-Muslim and anti-Arab racism clearly drives them both. De Jonge goes by several different aliases, including "Robert Bartholomeus" or (on Facebook) "Robert Bartholomew."
Dangerous
Moore and De Jonge appear to have a lot of enemies even within the right-wing Zionist movement. The extent to which they really are a "league" is questionable. However, the agenda of extreme violence and racism is clear. Will they one day be facing terrorism charges in the UK? Who has been responsible for their radicalization?
The JDL UK website boasts a photo of Moore visiting Kahane's grave in Jerusalem and another of her armed, visiting a shooting course "at the counter terrorist unit in [an Israeli settlement in] Hebron." During his testimony to the court, De Jonge said that Moore had been in "two different armies, so I know that she can defend herself."
Perhaps most concerning is the photo at the top of this article: Moore meeting Moshe Feiglin during her trip to Israel (along with Meir Weinstein of the JDL Canada). Feiglin is the deputy speaker of the Knesset, Israel's parliament. During Israel's summer 2014 war on Gaza he published a genocidal plan for the total destruction of the Palestinian people in Gaza.
The August Facebook post called for the "conquest of the entire Gaza Strip, and annihilation of all fighting forces and their supporters."
Moore refused to comment when asked by The Electronic Intifada outside Highbury Corner Magistrates' Court Thursday what she had discussed with Feiglin.
Editor's note: This article initially stated that Irv Rubin was "JDL leader" in 1985. The text above has been clarified to state that he was West Coast leader and "national director." There was much internecine strife over who really led the JDL after Kahane departed for Israel to establish Kach. According to Robert I. Freidman's important account of Kahane and JDL The False Prophet (Faber and Faber, 1990), "Kahane's legacy of violence … ultimately turned the JDL into a fratricidal movement, in which its members spend more time plotting against each other than against their gentile enemies" (229).
Corrections: This article previously included two further suspected aliases for Robert De Jonge. It is now thought that these were more likely to have been used by a different person in the JDL orbit, so have been removed from the text above pending further research. The article also previously stated that Vancier's first name is Vincent; in fact it is Victor.
Tags