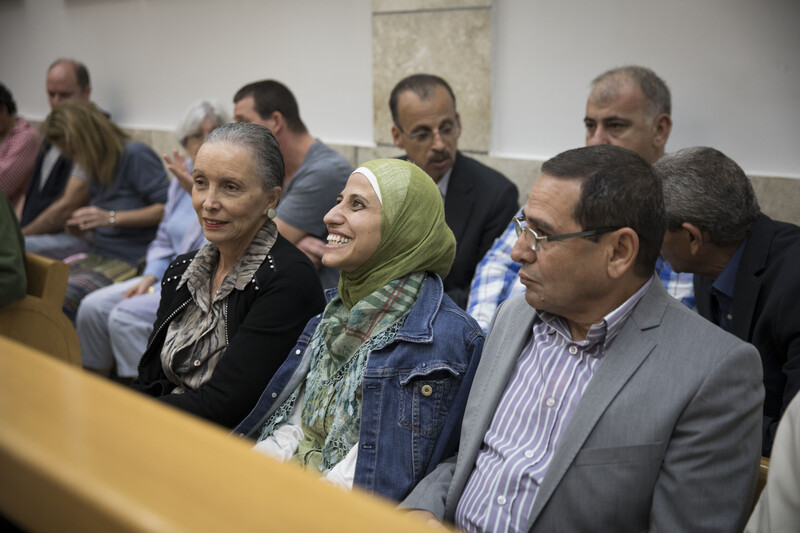 In 1985, Mahmoud Darwish wrote an essay called "The Madness of Being Palestinian."
After reflecting on the attacks against Palestinian refugee camps in Lebanon, he concluded that a Palestinian can only do one thing: "to become more Palestinian, a Palestinian until homeland or liberty, a Palestinian until death."
Thirty years later, when the poet and photographer Dareen Tatour was seized from her home, interrogated, imprisoned and put on trial for "incitement to violence" and "support of a terror organization," her only crime was just that: becoming more Palestinian in her words and her poems.
On 3 May, a verdict in this hollow charade of a trial is scheduled to be handed down by Adi Bambiliya-Einstein, a judge in the Nazareth magistrates court.
Human rights observers and free speech advocates around the world will be watching closely to see if the state of Israel will convict an innocent Palestinian poet against all evidence and in stark violation of international law.
Jennifer Clement, the president of PEN International, who visited Tatour and her family in Reineh – near Nazareth – last October, has reiterated the free expression group's unwavering position.
"Dareen Tatour has been targeted for her poetry and peaceful activism," Clement said. "We call for the charges against her to be dropped and for her immediate release."
Despite such prominent expressions of global and local solidarity that have buoyed Tatour's spirits, her outlook on the verdict remains bleak. Speaking from the confines of her home where she remains under house arrest, she relayed a pessimistic message: "There is no hope and no justice in the Israeli courts."
The proceedings of the last few months do not inspire confidence. State prosecutor Alina Hardak's closing arguments on 18 February, as well as her 43-page summary submitted to the court, demonstrate a disturbing eagerness to pursue a conviction based on emotional manipulation, distortion and slander.
The fact that the judge has countenanced this steady recitation of falsehoods and half-truths for two and a half years does not bode well.
Case built on distortion
The most obvious flaw in the case is the lack of any evidence that Tatour provoked an act of violence or that her work contains "a direct call for violence."
Instead of presenting proof, Hardak has instead resorted to vilifying Tatour and systematically demonizing three key words she uses in her work: qawim, intifada, and shahid.
Though the word qawim – "resist" – implies many forms of struggle, including nonviolent struggle, Hardak has incorrectly maintained that the word constitutes a direct appeal for violent resistance. The prosecutor has also incorrectly claimed that the word intifada, which means a "shaking off" or an "uprising" can only imply violence and terrorism.
While these two misreadings are maddening enough, it is Hardak's misinterpretation of the word shahid, or "martyr," that has transformed the lengthy proceedings into a bizarre display of vindictive incompetence.
Within the context of Palestinian literature, culture and politics, the word shahid signifies all of those who have died in the struggle or as a consequence of the occupation, most especially the innocent victims.
Ignoring this incontrovertible fact – as if Google didn't exist at all – the prosecution has relentlessly promulgated the racist Israeli misconception that the word shahid is a codeword for terrorist or suicide attacker.
This malicious misinterpretation has led the prosecutor to miss the point of "Resist, My People, Resist Them," Tatour's fiery anti-occupation poem written in reaction to the extrajudicial execution of the Palestinian student Hadil Hashlamoun and the burning of two Palestinian children, Muhammad Abu Khudair and Ali Dawabsha.
The line at the center of the indictment – "follow the caravan of martyrs" – functions as a figurative invitation for readers to remain mindful of the victims, not as an explicit invitation to martyrdom.
The twisting of the concept of the martyr is also central to the charge related to the "I am the next martyr" meme that Dareen posted on Facebook after Israeli soldiers and guards shot the young Palestinian Israa Abed in Afula – a city in present-day Israel – during October 2015.
The widely used meme is akin to the popular "Je suis Charlie" or "I can't breathe" memes expressing solidarity with victims of violence, yet the prosecution ludicrously contends that Tatour posted it to encourage suicide attacks.
Propaganda and delusion
Though Israeli authorities quickly exonerated Israa Abed of any attempt to carry out an attack, police witnesses in Tatour's hearings repeatedly called Abed "the terrorist who was in Afula" in order to falsely associate Tatour with terrorism.
In her written summary and oral arguments, Hardak, the prosecutor, slanderously insists that at the time of her post Tatour knew that "she [Abed] came to Afula to attack Jews," even though Tatour in all her interrogations explained that she didn't believe the false accusations against Abed.
By the end of the hearings, not a single fact was left standing. When the defense team and the international solidarity campaign began to focus on Tatour's right to freedom of expression, Hardak switched tactics mid-trial and started to deny that the poem "Resist, My People, Resist Them" was even a poem and that Tatour was a poet at all.
In her entire summary, Hardak carefully avoids calling Tatour a poet, or calling the poem cited in full in the indictment a poem, referring to it only as "a text" or "selected words."
Still maintaining that Tatour was "influential" and that her words had a "real possibility of legitimizing and encouraging acts of violence or terror," Hardak writes that Tatour was invited "to present" at public events, studiously avoiding the fact she was invited to recite her poetry.
As we review such records of propaganda and delusion, it is clear that the trial of Dareen Tatour is not about the madness of being Palestinian, but rather the madness of being Israel. This is the madness of a state that is consistently lenient on convicted Israeli terrorists but that is willing to persecute nonviolent expressions of Palestinian protest.
This is the madness of a state that deploys snipers to target unarmed protesters, and then claims that the snipers are merely defending a "border."
This is the madness of a state based on the foundational denial of the indigenous people who have made it a central aspect of their identity to resist their own erasure.
No matter what the verdict is on 3 May, we can be sure that the spectacle of intractable insanity will only end when the Palestinian people, who refuse to be obliterated or silenced, will achieve full, equal rights.
For her part, Dareen Tatour is busy writing a book about her ordeal called My Dangerous Poem. Hopefully – if activists around the world exert enough pressure – she will be able to finish, publish and publicize this book as a free woman.
Kim Jensen is a Baltimore-based writer, poet and activist. Her books include a novel, The Woman I Left Behind, and two collections of poems, Bread Alone and The Only Thing that Matters. She is professor of English and women's studies at the Community College of Baltimore County. Yoav Haifawi is an anti-Zionist activist and maintains the blogs Free Haifa and Free Haifa Extra.
Tags