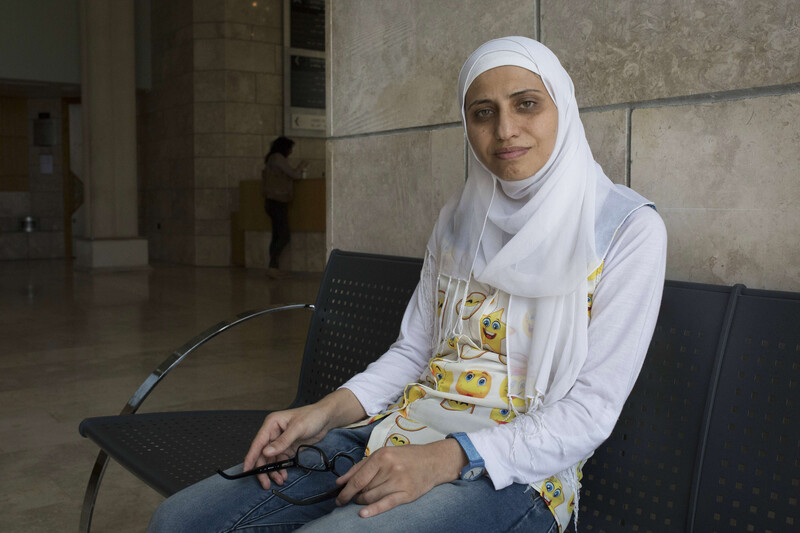 Israel's state prosecutors last week wrapped up their case against the Palestinian poet Dareen Tatour, who is facing a possible eight years in prison for alleged incitement and support for a terrorist organization based on a few social media posts.
An Israeli citizen, 34-year-old Tatour has already spent 11 months in confinement, in both prison and under house arrest.
On 6 September, the prosecuting attorneys called their final witness, a policeman who was present during four out of her five interrogations, to testify.
During the defense's cross-examination of officer Samer Khalil it emerged that interrogating officers had violated protocol by failing to accurately transcribe their interrogations, according to writer and activist Yoav Haifawi, who was in court last week.
They also denied Tatour her right to read a transcript of her testimony before signing it, and, perhaps most significantly, attempted to pressure her to confess to breaking Israeli law.
Haifawi told The Electronic Intifada that Tatour's lawyer, Abed Fahoum, showed the court a video recording of Tatour's interrogation. The recording showed three officers shouting at Tatour and demanding that she admit to inciting violence against Israeli Jews. Haifawi said the footage also showed Tatour denying the allegations.
"In the video three men were terrifying her and shouting at her and trying to force her to say things," said Haifawi. "They were trying to force her to say things that she didn't want to say, to admit that she acted against the law."
But these episodes were left out of the transcript that she was later ordered to sign.
On the stand, the officer explained to the court that he omitted it from the transcript because he had just been "explaining" the questions to her, Haifawi recounted.
"Her lawyer proved that what was written on the paper didn't actually happen in the interrogation room," Haifawi said.
Haifawi said the footage also shows Tatour asking to read the transcript before signing it. She is told by Khalil that she "doesn't need to read it," and that if she has any objections she can complain later.
Legitimate protest
Since she was first arrested on 11 October 2015, Tatour has maintained her innocence, arguing that her poem and other social media activity are legitimate forms of protest against the crimes of the Israeli occupation and settler violence.
After obtaining an English translation of the indictment against Tatour, the literary group PEN International issued a press release last week calling on the Israeli government to drop all the charges against her.
PEN notes that Tatour is one of some 400 Palestinians who have been arrested for their social media activity since October 2015.
The two charges of incitement and support of a so-called terrorist organization stem from a total of a handful of posts on social media sites YouTube and Facebook.
On 4 October 2015, according to the indictment – an English translation of which has been seen by The Electronic Intifada – Tatour posted a YouTube video, which shows a series of images of protesters accompanied by a recording of her poem. The indictment describes the protesters as "masked individuals throwing stones and Molotov cocktails at the security forces and various disturbances." Her poem is titled "Resist, my people, resist them."
At the time of her arrest, the video had been viewed a total of 153 times, according to the indictment.
The state's evidence that she supports Islamic Jihad, which Israel considers a terrorist organization, is based on a Facebook status on 4 October 2015 in which she wrote "The Islamic Jihad movement declares in a statement the continuation of the Intifada across the West Bank… continuation means expansion… That is, to all Palestine… And we have to begin inside the Green Line… To the victory of al-Aqsa and we declare it a general Intifada… #Resist."
The final offending social media activity occurred on 9 October 2015, when Israeli police fired on Israa Abed, a Palestinian citizen of Israel, while her hands were up. Tatour changed her profile picture to a photograph with the words, "I am the next shaheed." (The indictment used the Arabic word for martyr, shaheed.)
Tatour was scheduled to take the stand last week, but the Nazareth court failed to find an appropriate Arabic to Hebrew translator. Her testimony was postponed until November, when her trial will pick back up and her defense will present its case.
New translation
As the trial has slowly progressed, the prosecution has focused its argument on proving that Tatour herself posted the video, status and profile picture to her social media accounts. Prosecutors even called on her brother and her best friend to testify that the Facebook page under question was operated by Tatour.
But Tatour has never denied responsibility for the posts. Her testimony and defense will focus on her right to speech and protest.
"I've never seen the prosecution as obstinate as it has been in Dareen's case," Fahoum told The Electronic Intifada earlier this year. "I believe that they aim to use her to intimidate and silence all Palestinians."
Ahead of last week's hearing, writer Tariq al-Haydar translated a new poem Tatour wrote from prison last November on the day she received the indictment.
Tags