"Get up shahida, get up," my son Muhammad said to his sister Nadine early on Friday as he tried to wake her up. He used the Arabic word usually translated to English as "martyr" after he playfully put the mattress over her.
It's a word children in Gaza have heard too often.
For more than a month now, Muhammad and hundreds of thousands of other children here have been locked in their homes, watching scenes of Palestinian men, women and children torn to pieces on their TV screens — that is if they were lucky enough to be spared witnessing such scenes with their own eyes, or like 448 other children, end up dead.
Tens of thousands more children have been forced to flee with their families, seeking temporary shelter — as we did for some time — with relatives, or in dozens of schools run by UNRWA, the UN agency for Palestine refugees.
As we gathered for breakfast, Muhammad sat at the table and told me "Germany will donate 11 million euros for Gaza." I was surprised to hear him telling me such news — he's only eight years old.
Later, Muhammad went with me to a nearby mosque for the Friday sermon. As we walked down to the mosque, he asked, "are there warplanes overhead, dad?" I bent down, smiled and touched his head. "Don't worry," I reassured him, "there's a truce now."
A temporary ceasefire between Israel and Palestinian resistance groups was renewed on Thursday night for another five days to allow time for indirect negotiations in Cairo to produce a permanent ceasefire.
After just a few steps we heard the sound of an Israeli drone. "Hey, there's a zananeh," Muhammad said, using the name Palestinians in Gaza give to the unmanned Israeli aircraft that are constantly overhead. We continued our walk and attended the sermon.
Explosions and drones
In the early days of the current Israeli assault on Gaza, which were also the beginning of the Muslim fasting month of Ramadan, Muhammad used to come with me to the mosque with the sound of explosions around us and drones above us.
As we walked out of the mosque on Friday, we heard a sound like a bomb. Muhammad looked at me and said, "Hey, there is a bombing." I smiled at him and said, "it was not, my son."
While we were on our way home, Muhammad said, "Every two years we have a war. Now it is 2014 and back in 2012 there was a war too." Muhammad would only have been a toddler during Israel's massive assault at the end of 2008.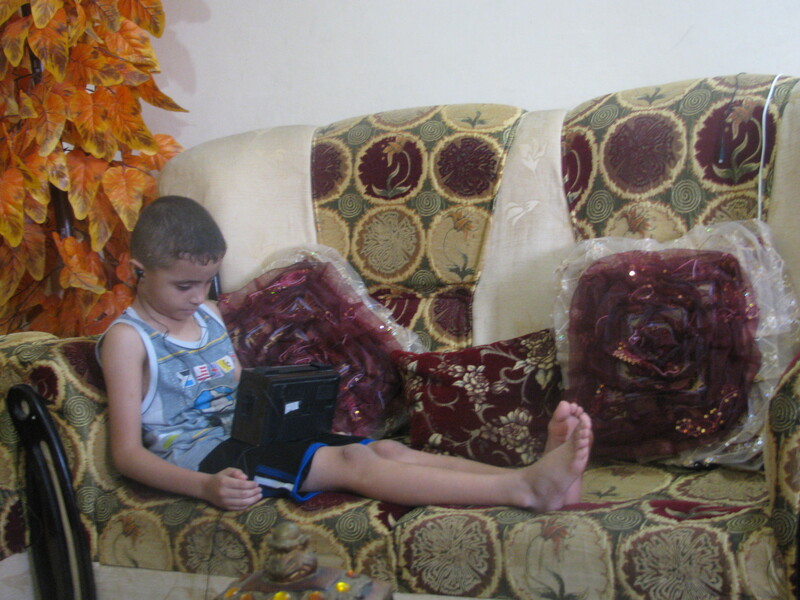 As he spoke, I contemplated what an old man this child had been forced to become. I thought about what kind of generation of children Israel's attacks are creating that has seen and experienced so much fear and violence at such a young age.
Friday, being the day off in Gaza, we were planning to have a special meal like most families do. As we got ready, Muhammad held a radio in his lap, put on his headphones and started listening to the news.
"Dad," he cried, "a UN vehicle, just hit by Israeli bullets."
But this was an incident reportedly in the West Bank, not in Gaza. Muhammad was listening attentively anyway, for any sign that the attacks were starting again, until a few minutes later when he asked me for a few shekels to go and buy batteries for the radio.
As he removed the plastic cover to take the batteries out, he noted that during the last war in November 2012 the electricity situation was better. "Now we only have three to six hours of electricity each day," he said.
Summer of horror
As I write this diary, I am thinking about the children all over the Gaza Strip.
Early July was the beginning of their summer holiday from school. But this was hardly much of a holiday as children endured unspeakable fear and horror.
The new school year is supposed to start at the beginning of September and Muhammad will enter the third grade, having achieved very high marks last year.
"If the war continues, school probably won't start until December," Muhammad said as we sat down for lunch.
Every child's future in Gaza is uncertain from one day to the next.
Rami Almeghari is a journalist and university lecturer based in the Gaza Strip.
Tags