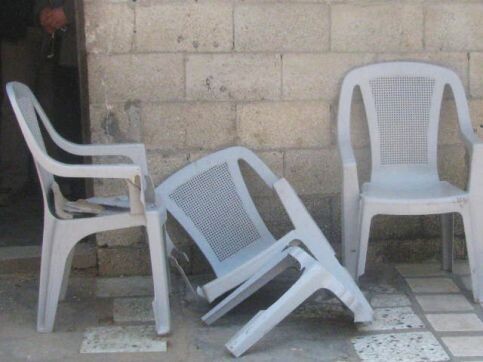 Around midday last Friday, Ibrahim Qdeih was chatting with his daughters and wife about preparations underway for his daughter Nidal's wedding later this month. Those plans would be forever disrupted after an Israeli missile hit their house, taking the lives of Ibrahim's wife, Najah, and daughter, Nidal.

"I was set to go to the Friday sermon [at the mosque] and it was about 12:15pm, when my daughter Nidal was talking to me about the final touches for her wedding party. By then, electricity was cut off and my wife Najah and my daughters Nidal, Neda and Fida, all moved to rest a bit on these chairs," Qdeih explained, standing near a crater left by the fatal missile strike next to his modest, rural home in al-Faraheen, east of Khan Younis in the southern Gaza Strip.

The bereaved father added "After we talked, I took my son to the Friday sermon at a nearby mosque. While in the middle of the road, we heard a large explosion but we went on walking, for I didn't expect it was my home. As we arrived at the mosque, someone told me that my house was struck by a missile. Then I rushed back along with my son to the house."

As the two arrived, Ibrahim's 43-year-old brother, Fathi, along with Ibrahim's neighbor, Mansi, were trying to aid Ibrahim's wounded daughters, Neda and Fida. Najah and Nidal did not survive the strike. Neda is currently in critical condition and is being treated at al-Nasser hospital, while Fida's injuries are moderate.

Fathi was the first to arrive at the gruesome scene.

"As I was walking down just few meters away from my brother's house, just near this palm tree, I was shocked by the explosion and saw some pillars of smoke rising up from Ibrahim's house," Fathi said while surrounded by family in Ibrahim's three-room home.

"Then I pushed the door to see what happened. It was horrible, it was horrible — Najah's face was smashed and stained with blood, while Nidal's abdomen was ripped open with blood covering all over her body."

Nidal's fiance, 24-year-old Jihad al-Qarra, was waiting anxiously for their wedding day before the missile hit. Al-Qarra teared up when he entered the room where luggage lay, stuffed in preparation for a wedding that will never happen.
"Just four hours before Nidal was killed, I was taking part in the funeral procession for my cousin Abdallah, who was also killed by an Israeli drone the day before," al-Qarra, a university graduate and farmer, said. "It was a very difficult moment for me when I heard Nidal was killed. Nidal was a very quiet, simple and kind girl who I really loved for the past six months and I wanted her to be my life partner."

Asad al-Najjar, Ibrahim's brother-in-law, vented his anger over the loss of his sister and niece.

"This is a catastrophe," al-Najjar said. "Where is the UN Security Council, where are the rights groups and others who are concerned about the protection of civilians in the time of war? It is really the climax of atrocities! This is an unbearable situation where people can never feel safe inside their homes. How come such helpless women are struck by missiles, killed and wounded inside their home?"

In the half-meter-wide crater left by the strike, Najah and Ibrahim's 12-year-old son, Ahmad, began collecting small pieces of shrapnel. "I am collecting these small pieces for remembrance," the boy said before being overcome by emotion.

The Qdeih family were not the only to suffer casualties last week as the Israeli military bombed across the Gaza Strip. According to Adham Abu Silmia, spokesperson for the ambulance service in Gaza, the Israeli army targeted civilian homes and even medical centers such as the Hijazi clinic in northern Gaza.

"Eighteen persons, including three children, two women and two elderly men have been killed either by air strikes or artillery fire," Abu Silmia explained. "And 67 other persons have been wounded, including forty women, children and elderly and two ambulance crew members."

Abu Silmia added that four of the wounded, including an elderly farmer in northern Gaza, had limbs amputated due to the drone or artillery fire.

Israeli army spokesperson Arieh Shaliqar, asked to comment on the deaths of Najah and Nidal Qdeih in their home, said: "Please let me emphasize that the Israeli army is not interested in fighting civilians or fighting people who are uninvolved or people who are regular citizens living in the Gaza Strip or in any other place. Our enemy is the Hamas terrorist organization, which keeps on sending rockets on the Israeli home front."

In the wake of last week's strikes, several Gaza-based armed factions, topped by the ruling Hamas party, declared a unilateral ceasefire in Gaza. Israel threatened to collectively punish Gaza in the event of additional rocket fire from Gaza.

Last Thursday, Israel stepped up attacks on the Gaza Strip after Hamas' military wing fired an anti-tank rocket on a school bus in southern Israel, critically wounding a 16-year-old boy and the bus driver. Hamas said the strike was in retaliation for Israel's 1 April extrajudicial killing of three Hamas members in Gaza.

The latest violence follows weeks of escalation of violence between Gaza and Israel, which Israeli analysts say has been fueled and instigated by Israel.

In Cairo, Arab League chief Amr Mousa signaled the possibility that he would request the United Nations consider imposing a no-fly zone over Gaza to prevent further Israeli air strikes.

Meanwhile, in Gaza, there will be one less wedding celebration this month. And during this reporter's time in al-Faraheen with the Qdeih family, the Israeli drones — or unmanned aerial vehicles — overhead signaled the end of the interview.

"Let's leave the house right now; the drone is overhead and I think this is enough," Fathi Qdeih said.

Rami Almeghari is a journalist and university lecturer based in the Gaza Strip.