Riham al-Kheisy and Yahya Hijazi are a young engaged couple from the eastern Gaza City neighborhood of Shujaiya, which has been devastated in heavy Israeli bombardments.
Al-Kheisy's one-story family home was completely destroyed, while Hijazi's suffered less serious damage.
Both are now sheltering at the al-Bahrain school run by UNRWA, the UN agency for Palestine refugees, in the western Gaza City neighborhood of Tal al-Hawa. Like a few hundred thousand others in Gaza, they remain displaced.
Al-Kheisy spends most of her time near her fiancé. Tuesday, the day The Electronic Intifada met them, was supposed to be their wedding day.
"This is such a tough situation. This is the second time our wedding has been postponed since April," al-Kheisy told The Electronic Intifada. "We have been engaged for a year and a half but the ongoing war has hijacked the moment of our lifetime."
It was one more day in their lives, but it was supposed to have been a special day. Al-Kheisy looked glum, but smiled when Hijazi said to her, "Be steadfast my dear," quoting a line from a well-known song honoring Yasser Arafat, the late leader of the Palestine Liberation Organization.
"All our belongings for the wedding party were destroyed as my family and I fled our house near the Israel-Gaza border fence, east of Shujaiya," al-Kheisy said.
"Instead of being with my groom in our own nest, we are here, unable even to move around in this shelter," she added. "I just hope the situation will get better soon and the current ceasefire talks will come out with a concrete result."
On Wednesday night a three-day truce agreed by Israel and Hamas expired without an agreement for a permanent ceasefire, but both sides agreed to an extension for five more days to allow the Egyptian-brokered talks to continue.
Al-Kheisy said that some of their neighbors staying in adjacent classrooms wanted to hold a wedding ceremony for the young couple, but others objected as many families are grieving for loved ones killed or injured in Israeli attacks.
Celebrating a wedding during in a time of mourning is usually seen as disrespectful, but under the circumstances some view it as a sign of steadfastness — that life goes on despite Israel's best efforts to disrupt it.
Since Israel's escalated attacks on Gaza began on 7 July, 1,965 people have been killed in Gaza and 10,000 injured. The homes of at least 100,000 people have been severely damaged or destroyed.
Determined
Hijazi told The Electronic Intifada that though his house was spared serious damage, the carpet factory where he worked was completely destroyed.
"My whole life seems to have been scattered with this war," he said. "But I feel comfortable, as being in this shelter has made me and my fiancée closer and more determined to defend what remains of our lives."
Hussam al-Harazin, another Shujaiya resident and father, told The Electronic Intifada that the disastrous situation in Gaza was unprecedented in scope. His own house had been moderately damaged due to shelling, he said.
"I spend most of the time moving from this classroom to the school's playground," al-Harazin said. "I do not know where to go in this small place. I am concerned that our stay here could create some health problems for our children."
Al-Harazin, a Palestinian Authority civil servant, pointed to a pool of sewage in front of the classroom in which he is sheltering.
The al-Bahrain school, like everywhere else in Gaza, suffers from critical shortages of water for washing, drinking and sanitation due to what experts have called a "water disaster" caused by the Israeli bombardment.
"Imprisoned"
Just near to al-Harazin's classroom, the al-Aiwa family of eleven take shelter. Sisters Suad, 16, and Nisrin, 18, spend most of the time in front of the classroom with sheets suspended around the door to provide a little privacy and allow them to feel at ease in Gaza's conservative community.
The young women said that they felt "imprisoned" in the school and because they were on the ground floor, with many stories above them, they feel like they may be constantly watched.
Subhi Foura, a man in his sixties, sat in front of another classroom where he was staying with thirteen members of his family.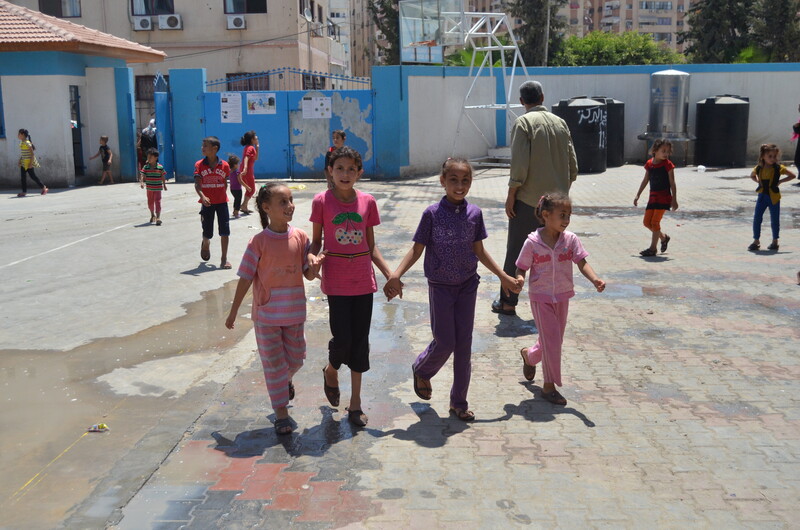 "Life here is terribly bad," Foura said. "When I want to wash for prayer, I feel disgusted as sometimes the bathrooms are dirty. My wife Nasra has some health complications that force her to use the bathroom quite often."
"During this ceasefire she has being going back to our damaged home in Shujaiya from morning until afternoon in order to take her medicine and feel more comfortable as the situation in the school is quite improper," he said.
"We want an end to this situation, yet we look forward to better conditions and the lifting of the Israeli blockade so that our Gaza is not attacked again," Foura added.
Education at risk
Mahmoud al-Wadiya, an eleven-year-old boy from Shujaiya, was playing with other children in the school's playground, where UNRWA staff had organized activities.
"The Israelis deprived us of our joy during Eid al-Fitr," Mahmoud said, referring to the holiday marking the end of the fasting month of Ramadan. "We are trying to have some fun playing our favorite games."
Mahmoud and tens of thousands of other children are about to welcome a new school year, due to start in two weeks, but the majority of UNRWA schools in Gaza are crowded with displaced persons.
"Once there is a lasting ceasefire in the region, we plan to start the school year as regularly as every year," Adnan Abu Hasna, the UNRWA spokesperson in Gaza, told The Electronic Intifada.
"Only a few thousand families will remain sheltered in a number of our schools. However, if the war situation persists, we will have to keep the status quo as it is. Normally, during time of war, children will not be able to go to schools," Abu Hasna said.
He added that UNRWA began on Monday large-scale food aid distribution across the entire Gaza Strip. Ration offices began delivering emergency food aid packages including 30 kilograms of flour and 10 kilograms of rice to every household in Gaza, whether or not they were registered as refugees.
Asked about the services UNRWA provides for people sheltering in its schools, Abu Hasna said that the agency provides meals, blankets, electricity, potable water and activity programs for children.
"I have no problem staying here for the rest of my life, until the people's demands are met," Hussam al-Harazin said, despite his complaints about the poor conditions.
"What we are demanding is very legitimate and basic: to live in dignity. Enough is enough, and we are not ready to face another war, though that may come in in the near future if the status quo of siege continues."
For now, the lives of everyone in the al-Bahrain school are on hold as they wait to see if the ongoing talks will produce a ceasefire that allows them to start rebuilding their lives.
Rami Almeghari is a journalist and university lecturer based in the Gaza Strip.
Tags