Today I woke up, like everyone else in Gaza, to a new day of Israeli attacks on our tiny coastal territory.
I put a cup of coffee on the window sill and lit a cigarette. My children Aseel, Munir, Nadine and Muhammad, their cousin, Rawan, 12, and my wife were all still sleeping in the living room of our home in Maghazi refugee camp in central Gaza. It feels safer to us than the bedrooms that overlook the street.
"Sleeping in the living room is hard on me, especially since we sleep on mats instead of beds," my wife, Umm Munir, told me the night before. It's especially hard for her as she lives with spinal cancer for which she's been treated over many long years on arduous trips to Cairo. "I've been feeling tired, and so are the children. I'm thinking that we should sleep on the bed," she said. I knew what she meant as I too have been feeling the exhaustion of working under the relentless Israeli attacks.
I sipped my coffee and smoked my cigarette as the children and my wife were getting up.
"Why do you insist on sleeping here with us, my niece," I said to Rawan on the first night of the airstrikes. "No one is safe, my dear, so maybe you had better go upstairs and be with your sisters and brother and your parents?"
"Uncle, I am afraid than an airstrike could hit our home, especially because it has a cement roof," Rawan, whose family lives in the upstairs apartment, replied. "I want to say here," she asserted, and since then she has spent every night on the floor with us.
Rawan knows — because she sees the TV that is kept alight in our home with a generator — that entire families have been buried in their homes, bombed by Israel, over the past week.
But she did not have to see that on TV this morning. As the family woke up, pillars of smoke climbed into the sky right next to our home, the result of new airstrikes by Israeli jets.
Instead of saying "good morning dad," the children rushed to the window to watch the smoke go up. This time, the Israelis had bombed a field, on the Abu Midain family farm between Maghazi and al-Bureij refugee camps.
Another day of strikes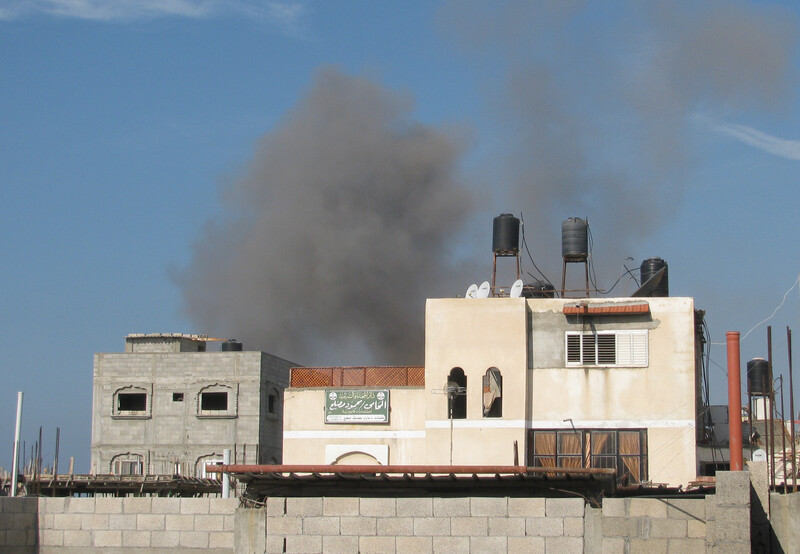 So our new day was one more day of Israeli airstrikes, but now closer to home. And though most people stay indoors, seeking safety — schools and most business are closed — I have managed to maintain my responsibility as a journalist, reporting from occupied Gaza Strip.
But it seemed to me that on this day the message of the Israeli bombs was that my only responsibility should be as a father taking care of his children. So instead of going out to report, I stayed home to give more comfort to my family.
Since early this morning we counted more than ten loud Israeli airstrikes nearby. At one point I went out of the house to see some young men and children watching the pillars of smoke. Abruptly, one more big air strike ripped through overhead and myself and many others in the street near my home rushed for safety. I huddled in the corner of my brother's grocery store for safety.
"Hey, why did you run," one young neighbor, a man of about 20, challenged. "We need to take care, and not allow them to kills us wantonly." The young man seemed fatalistic. "Any of us could be martyrs," he said, even though all of us were civilians. There really is no safe place to go.
For children in Gaza, including mine, there has been no school for a week. My son Munir, 13, started to take private maths lessons recently, after I was disappointed with his performance in that subject. "Now maybe he'll be unable to concentrate even in his stronger subjects like Arabic," I thought to myself as an airstrike boomed in the background. These are the worries that parents in Gaza have.
"Aseel, I have just come back from school and we had a great gym class. Hurry up, it's time to go school," Munir teased his 11-year old sister. I was amazed that my children, like tens of thousands of others in the territory, have definitely missed their school desks.
Since early this morning, I also thought about what I could do to continue reporting. How could I go out and move around to find a new story to report on under the devastating bombing? I felt concerned and worried in a way that I had not felt since the Israeli assault started. I felt death was near. And the truth is, it is always near.
Gaza's children
Today, by the way, is International Children's Day. The Palestinian children of Gaza, like mine, are held hostage inside their homes or near their homes, many in the dark, while, I imagine, other children around the world must have heard some nice music, watched a cartoon or attended a special children's show. Or they might just have been playing outdoors, something so simple that is unthinkable for Gaza's children today.
The sky above Gaza's children is filled with smoke from the bombs and the televisions — when they work — are filled with pictures of children just like them, but injured and dead.
"Two bombs dad, two bombs," my six-year-old son Muhammad exclaimed with fright, while a neighbor fixed my generator that had chosen today to break down. Let's hope tomorrow morning starts a little brighter for everyone in Gaza.
Rami Almeghari is a journalist and university lecturer based in the Gaza Strip.
Tags