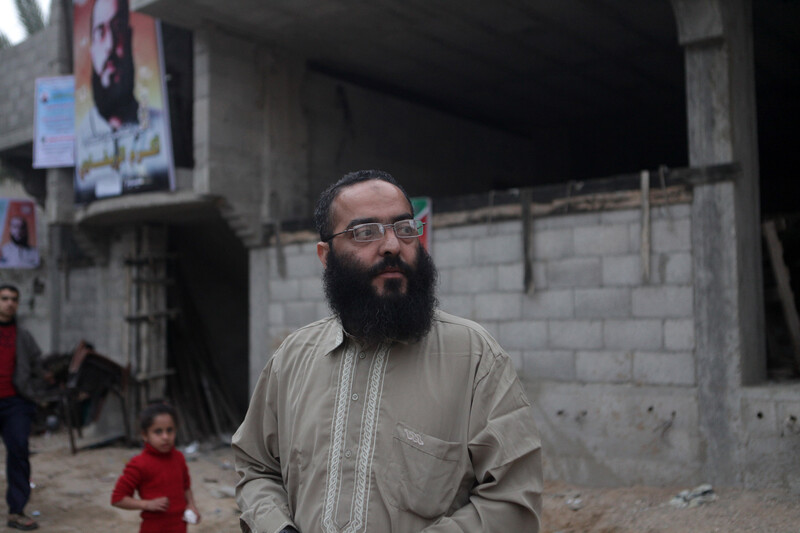 Akram Rikhawi had not seen his daughter Rewan since she was two. So when an 11-year-old girl showed up in the same room as him, he had to do a double-take. "Hey, you are Rewan, aren't you?" he asked.
At long last, Rikhawi is back in his family's home in the Keir neighborhood of Rafah, a city near Gaza's border with Egypt. He has been released by Israel after going on and off a hunger strike since April 2012. In total, he spent 104 days refusing food.
"I am now only thinking of one main thing, rejoicing with my family, especially my children," he said. "Can you imagine, so far I cannot differentiate between my children's names or ages? I will try now to compensate myself and them for the years of loss and I hope to live as normally as any father in this world."
Rikhawi has eight offspring and also cares for his late brother's five children.
Saddest moment
During his near-decade behind Israeli bars, Rikhawi was only allowed one visit by his mother and his wife. The saddest moment of his imprisonment was when he heard of his mother's death. "I did not know she died until one month afterwards, when I learned about her death through a local radio program," he said.
After being arrested in June 2004, Rikhawi was sentenced to nine years imprisonment by Israel's military courts.
His arrest took place after he was stopped at a checkpoint, while driving from Gaza City to Rafah.
"Israeli soldiers stopped the car and called me by my name: 'Akram Rikhawi, get out, Akram Rikhawi, get out.' They transferred me right away to an interrogation center in Ashkelon prison [in southern Israel]."
"Psychological pressure"
For the next six weeks, he was questioned about student union activities at the Islamic University of Gaza. (Rikhawi holds a degree in Islamic studies and Arabic.)
"They put me under a great deal of psychological pressure by sometimes insulting me verbally with very rude terms and trying to dehumanize me as if I was an animal, not a human being."
Despite suffering from asthma and other health problems, he did not receive proper medical treatment. In January 2005, he was transferred to Soroka hospital in the Naqab (Negev) desert. "By then, I was in a coma for 10 days," he said.
Rikhawi alleged that was injected with a substance by a doctor. "I began later to suffer from other health complications due to that medicine, including diabetes and high blood pressure, as well as some problems with my eyes. I had four small operations on my eyes."
Later in 2005, Rikhawi was taken to Ramleh prison hospital, which is known as "the slaughterhouse" to Palestinians because of the inhumanity of its staff.
Health complications
"As my suffering increased, the dream of freedom grew more and more in me. My health complications, the maltreatment inside the prison, and the fact I was away from my children and family were the reasons behind my decision to go on a hunger strike. I was determined to either live with dignity or die peacefully."
Rikhawi was inspired to refuse food by Khader Adnan, who starved himself for 66 days last year before securing a pledge from Israel that it would release him. Rikhawi began a hunger strike on the day that Adnan ended his.
Since his recent return to Gaza, Rikhawi has had a constant stream of visitors. His daughter Rewan said she is looking forward to things quietening down, so that she can begin to get acquainted with her father. "It is a marvelous feeling that I finally have my dad," she said.
His eldest daughter, Yasmine, recalled how her father's absence was deeply painful. "When I got married, I needed him near me so badly. The only connection between us was by post as he sent me some very affectionate words of congratulations, mixed with great fatherly emotions."
Looking towards the future, Rikhawi said, "I have a special dream that I want to tell you about. I dream of praying in al-Aqsa mosque in Jerusalem before I am laid to final rest."
Rami Almeghari is a journalist and university lecturer based in the Gaza Strip.
Tags