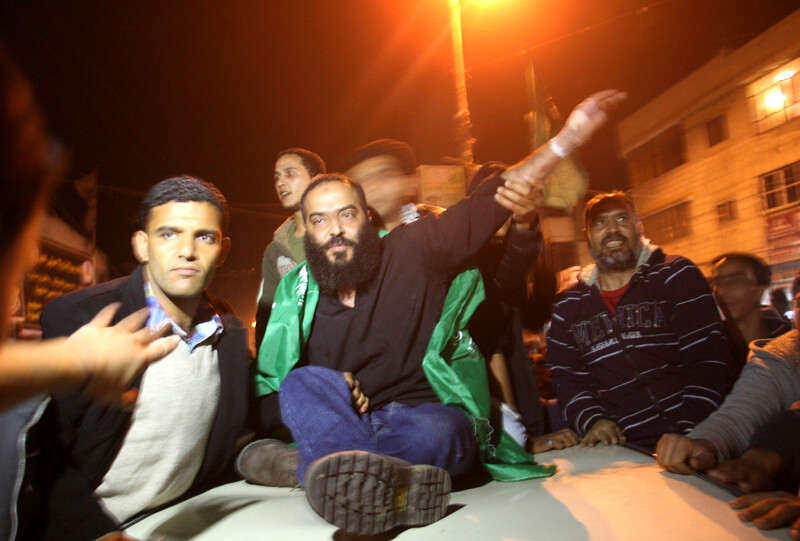 Akram Rikhawi finally tasted freedom today after Israel released him from nearly a decade of imprisonment. Rikhawi had gone on and off hunger strike since last April in protest of the medical neglect of Palestinian political prisoners held in Israeli prisons and after his request for early release was rejected.
Rikhawi had recently renewed his hunger strike after Israel didn't release him on 25 January 2013, as was the agreement that in July of last year ended Rikhawi's refusal of food for 100 days. Rikhawi was originally sentenced to imprisonment until late June 2013.
Rikhawi was arrested in June 2004 as and sentenced to nine years in prison by Israel's military courts. Rikhawi is the father of eight children and also cares for his late brother's five children.
According to the Palestinian human rights and prisoner advocacy group Addameer, Rikhawi was:
held in Ramleh prison medical center since his arrest, as he suffers from many chronic conditions, including asthma. Prior to his arrest, Akram received injections of Kenacort to treat his asthma, but following his arrest, the Israeli Prison Service (IPS) did not allow Akram to take this injection. Instead, it was replaced with injections of cortisone, which is most likely the cause of severe complications, resulting in additional chronic illnesses such as diabetes and osteoporosis, from which Akram now suffers. Akram underwent surgery in his left eye while in prison due to deterioration of his eye lenses and glaucoma. He also suffers from high cholesterol, kidney problems, and immune deficiency.
Dire warning on hunger strikers
Meanwhile human rights group Amnesty International issued an urgent action alert today concerning the deteriorating health of Jafar Azzidine and Tarek Qa'adan. The two have been on hunger strike since 28 November 2012 in protest of their detention without charge or trial, a practice known as administrative detention, since their arrests in the West Bank earlier that month.
Amnesty stated:
Their lawyer visited them on 31 January and told Amnesty International: "Ja'far and Tareq are taking only water. Last week both were taken to a hospital for eight hours and underwent medical checks. I was with them in the hospital and spoke to the doctors who told me their health is in a very critical state. They agreed to one injection of vitamins and other substances to decrease the risk of losing their lives. Both detainees were moved back to the Ramleh prison."
Meanwhile, Palestinian activists and solidarity campaigners in Amman, Jordan staged a video-recorded event in solidarity with Samer Issawi, who has been on partial hunger strike for nearly 200 days. Participants in the action each held a paper representing one of the days of Issawi's strike, and an Arabic-language slogan of their choice, according to organizers of the action.
Tags