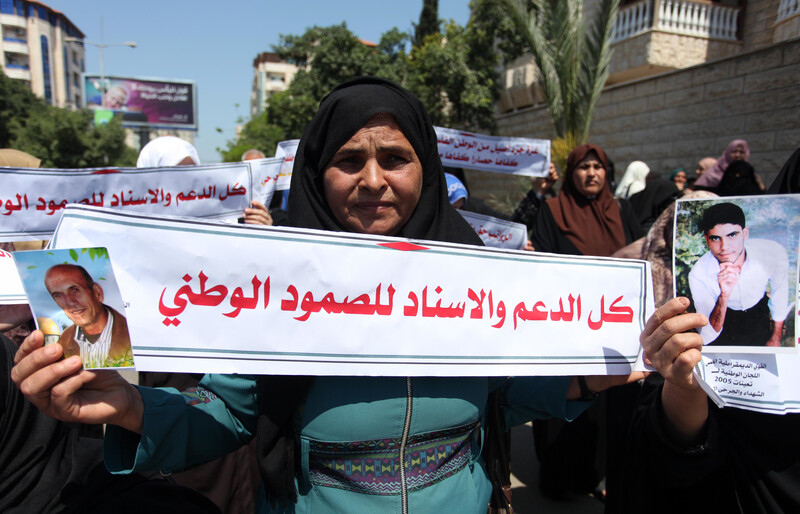 Zuheir al-Hour takes care of his two brothers, who have been paralyzed since contracting a spinal disease in their childhood. Both rely on ventilators to breathe. Maintaining those devices costs Zuheir around $70 per month.
Lately, he has struggled to find that sum. An official with Gaza's health ministry, his salary has dropped considerably in recent years because of decisions taken at the Palestinian Authority's headquarters in the occupied West Bank.
As he did not have enough money in his bank account, Zuheir recently had to sell furniture and borrow from neighbors. That was the only way he could meet the needs of his brothers, 40-year-old Muhammad and 39-year-old Abdallah.
"If the situation continues like this, my brothers will die slowly," said Zuheir, who is 54.
The PA's decisions have resulted in Zuheir's monthly pay of $800 dropping substantially.
As well as caring for his brothers, he supports his wife and five children. He is also trying to pay back a $25,000 loan he took two years ago so that he could build a home. After the bank deducted part of his wages to repay that loan, he had less than $150 in his account during April.
"Most of the food we eat now is canned food," he said. "What matters most is providing medication for my brothers."
Divisions persist
Gaza's people have suffered considerably as a result of divisions between the main Palestinian political parties, Fatah and Hamas.
Last year, the Fatah-dominated PA slashed the wages paid to public sector employees in Gaza. The cuts were imposed amid reports that a new administrative body was being formed in Gaza, where Hamas has been in charge for more than a decade.
A reconciliation deal was reached later in 2017 between Hamas and Fatah. It contained commitments on paying workers.
Yet the divisions have persisted.
Earlier this year, the PA suspended salary payments to around 20,000 of Gaza's public sector employees.
Mahmoud Abbas, the PA's leader, stated in March that Gaza had been subjected to "national, legal and financial measures." His comments were made after the convoy of Rami Hamdallah, the PA's prime minister, was bombed while he visited Gaza.
Abbas accused Hamas of being behind that attack.
Abbas "playing with our lives"
But Abbas appeared to do something of a U-turn on 4 May. In a surprise announcement, he said that the full wages for Gaza's public sector workers would be paid the next day.
Zuheir al-Hour was delighted by the announcement – but not for long. Like thousands of others, he went to an ATM following Abbas' announcement only to discover that his wages had been withheld.
"It seems we are victims of a political maneuver," Zuheir said. "Abbas is playing with our lives. He promised us our wages and we got nothing."
Abbas made his announcement at a meeting of the Palestinian National Council, a key decision-making body within the Palestine Liberation Organization (PLO). Abbas heads both the PA and the PLO.
Hussam al-Dajani, a political science professor at Gaza's al-Ummah University, argued that Abbas gave his commitment as part of efforts to remain in a leadership position. "He deceived everyone," al-Dajani said.
By breaking promises, the PA has forced many families in Gaza to take painful steps.
Twenty-year-old Mohammed Majdi had to leave his engineering course at the Islamic University of Gaza because his family cannot afford the tuition fees.
His father officially has a salary of $850 per month. Wage cuts and repayments on a bank loan have left him with around $200 per month.
"I only have enough to buy food for the family," Mohammed's father said. "Paying for Mohammed's studies is impossible at the moment."
"We are the victims"
Wesam Zaqoul was scheduled to marry Khalil al-Sinwar during April. Financial difficulties have led the couple to postpone the wedding.
"I was hoping that my dream of marrying the man I love would soon come true," said 24-year-old Wesam. "But here you have to wait a long time before dreams come true. I don't have any choice than to wait."
Khalil, who is 26, has been unable to find a steady job since graduating in pharmacy from Al-Azhar University. He makes a small income by selling cigarettes and drinks in Jabaliya refugee camp in northern Gaza.
Three of Khalil's brothers are public sector employees. They had offered to help pay the costs of the wedding.
Adham, his eldest brother at age 33, said that the wage cuts mean "we're not able to afford the wedding expenses."
"Abbas thinks he is punishing Hamas [through the wage cuts]," Adham added. "But we are the ones affected. We are the victims."
Sarah Algherbawi is a freelance writer and translator from Gaza.
Tags