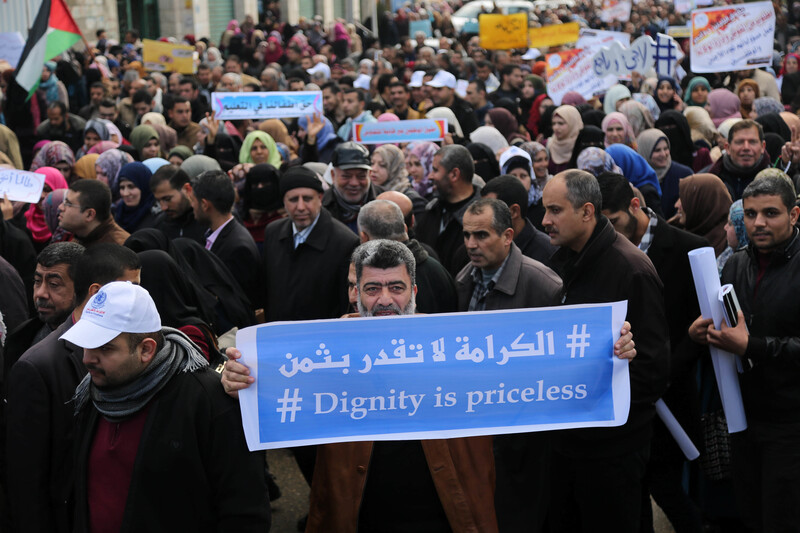 Decisions taken in Washington are causing a dilemma for Ghassan Abu el-Qomsan and his family.
His twin sons Wasim and Ibrahim are planning to get married in a joint ceremony this May. It is uncertain whether the wedding will go ahead. Ghassan fears he will not be able to pay for the celebrations.
Ghassan teaches in a school run by UNRWA, the UN agency for Palestine refugees. He fears that his pay may soon be cut because the agency has been plunged into a financial crisis.
The crisis was exacerbated by Donald Trump's administration in the US, which has withheld more than half of a $125 million payment it was scheduled to give UNRWA during January.
"I don't know what to do," Ghassan, a 48-year-old resident of the Jabaliya refugee camp in northern Gaza, said. "Should I postpone the wedding of my sons? If my salary is reduced, I'll not be able to pay the full bill for the wedding."
Ghassan's son Wasim said he has been "living in a state of stress" since the Trump administration announced it was withholding aid to UNRWA. "I've been engaged for a year now," Wasim, 24, said. "I'm afraid that I will not be able to get married this year."
Abbas Abu Nada, 27, undertakes computer maintenance work for UNRWA.
As his father was killed in a car crash in 2015, Abu Nada is now the breadwinner for 11 family members.
His contract with the agency is temporary, but until recently he had hopes of being made a long-term employee. The US aid cuts have destroyed such hopes.
"I have started searching for new jobs," he said. "My family needs me."
More than a third of UNRWA's 30,000 employees work in Gaza.
Painful measures
The aid cuts have already forced UNRWA to take painful measures. Matthias Schmale, who heads the agency in Gaza, stated that it has found enough money to ensure that staff are paid until June. Yet the agency is unable to give new teachers long-term jobs and to renew the contracts of staff employed on a temporary basis.
Schmale warned that the consequences of the financial crisis could be far-reaching. "UNRWA is a factor of stability in the region," he said. "If we decrease our services, this may lead to an explosion."
In total, UNRWA runs 267 schools and 21 primary health facilities in Gaza. It also provides food aid to around 1 million people in Gaza, half of the strip's population.
Responding to its financial crisis, UNRWA began a fundraising campaign in January. The agency wishes to collect $500 million, it announced when the campaign was launched in Gaza.
Many people in Gaza think that the US is unlikely to release the aid it is freezing.
"We expect more decreases in American support in the coming years, especially because the current presidency is taking clear steps for the advantage of Israel," said Esam Odwan, who heads the refugee department for Hamas.
The aid reductions are taking place at a time when the situation of people in Gaza is generally precarious.
More than 40,000 public sector employees in Gaza have seen their pay fall sharply over the past few years because of cuts imposed by the Palestinian Authority, which is based in the occupied West Bank.
A commitment was made to ensure that 50 percent of those employees' salaries would be paid under the reconciliation deal clinched between Hamas and its rival Fatah in Cairo during October 2017.
"I feel helpless"
Yet the employees complain that they are still not being paid. A union representing the employees has set up a tent in Gaza City to demand that the situation be rectified.
Nashat al-Sinwar, 47, goes to the protest tent each day.
Nashat had been supporting nine family members through his work as a police officer with the Hamas-led administration in Gaza. His 12-year-old son Ameer has osteoporosis.
"I'm not able to afford medication for my son," said Nashat, whose debts are rising. "I'm afraid of losing him. I feel helpless."
Yousef Hijazi, 39, is part of the traffic police. He continues to work eight hours per day, without being paid.
"At the end of the day, I don't have money to buy food for my family," the father of four said. "Many days, we only have bread and water."
"I never expected to live in such way," Hijazi added. "I can handle this situation, but my children are too small to understand why their father can't meet their needs and wants."
He has not been able to repay debts to a local supermarket. Because he is not receiving a salary, the store has stopped allowing him to have goods on credit.
There is a widespread suspicion that the people of Gaza are deliberately being made to suffer.
Mustafa al-Sawaf, a political analyst with the newspaper Felesteen, argues that Israel and its allies wish to make Hamas give up its resistance activities. By refusing to pay salaries, the Palestinian Authority has been helping Israel realize that objective.
"Starving people will not be able to revolt," he said. "Israel and the US want to starve us."
Sarah Algherbawi is a freelance writer and translator from Gaza.
Tags