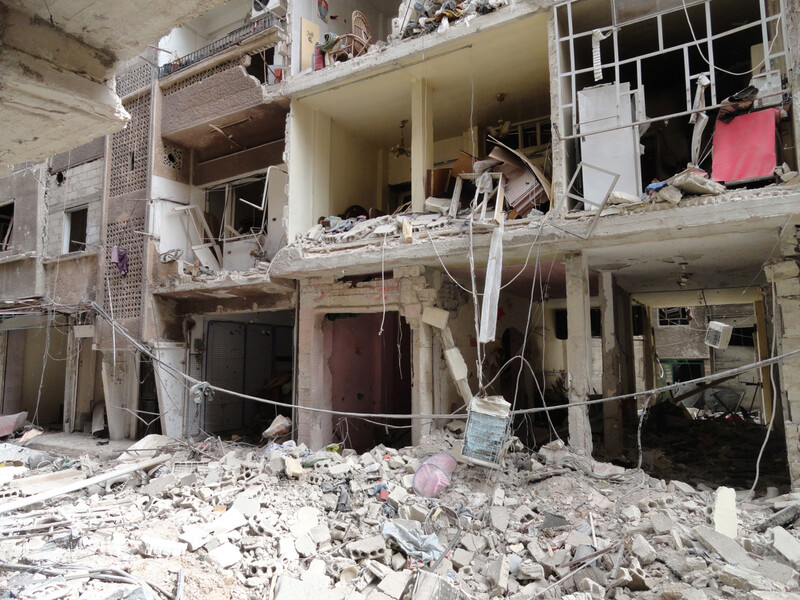 At least one Palestinian refugee was reported killed on Tuesday as Syrian government forces bombed Yarmouk camp south of the capital of Damascus.
The monitoring project Action Group for Palestinians in Syria stated that Ahmad Safwan Kalash was killed by explosive barrel bombing that began in the camp at dawn.
The group also reported extensive destruction of buildings and property in the camp.
Video by Rami al-Sayyed, who has previously photographed the daily hardship in the camp, appears to show emergency workers responding to the site of a strike at dawn yesterday:
Another video uploaded to a different YouTube account shows an injured person being carried out of a destroyed building:
Action Group for Palestinians in Syria tweeted these photos of damage in the camp on Tuesday:
United Nations Secretary-General Ban Ki-moon condemned government shelling and aerial bombardment of the camp last month.
During a Security Council meeting, Syria's envoy to the UN denied that government forces were targeting civilians. He said that only 1,000 people remained in Yarmouk, among them only "terrorists" and some male citizens. The envoy's remarks were met with protests in the camp.
Islamic State
Tuesday's bombing brings the number of Palestinian refugees killed in Yarmouk since the beginning of the month to at least 14, according to the Action Group's statistics.
The organization says that 1,093 Palestinians have died in Yarmouk since the beginning of the Syria war in March 2011. The victims include 176 refugees who starved to death as a result of a siege enforced by the government and allied groups.
The situation in Yarmouk has disrupted the distribution of life-saving humanitarian assistance.
UNRWA, the United Nations agency for Palestine refugees, was able to distribute food aid in Yarmouk on only 131 days last year.
The agency was forced to suspend aid distribution in the camp after the entry of Islamic State — the militia known also as ISIS or ISIL — in April.
Activists told Al-Jazeera that a repeat of the dozens of starvation deaths in winter 2013-2014 was avoided in recent months partly because of community gardening initiatives in the camp.
Al-Jazeera reported:
In besieged Yarmouk, gardening is a matter of life or death. In June 2014, a government shell killed three men just outside one of the neighborhood gardens. At least two people have been shot and killed by snipers while foraging for wild greens. And anyone providing food, water or medical care is especially at risk of being assassinated, kidnapped by armed groups or disappeared by the government. In the first three months of 2015, as fighters from ISIL and Jahbat al-Nusra were infiltrating the camp and preparing to take over, at least 10 nonviolent activists were killed.
A Palestinian official told Agence France Presse on Tuesday that the Islamic State was trying to retake camp positions they had lost in clashes that broke out after the militia infiltrated Yarmouk at the beginning of April.
" 'There is intermittent fighting between Palestinian factions and [Islamic State] and [Jabhat al-Nusra] which are trying to retake positions in the center of Yarmouk,'" said Khaled Abdel Majid, head of the Palestinian Popular Struggle Front, described by AFP as "close to Syria's regime."
Abdel Majid also told the Jordanian newspaper al-Ghad on Saturday that fewer than 7,000 refugees remained in the camp, and that more may be forced out in coming days.
An estimated 18,000 refugees, including approximately 3,500 children, remained in Yarmouk prior to Islamic State's takeover of parts of the camp early last month.
Yarmouk was once home to 150,000 Palestinian refugees and Syrian nationals but most residents fled in late 2012 after rebel forces entered the camp, including al-Qaida's branch in Syria, Jabhat al-Nusra. The government and allied forces began to prevent access to Yarmouk in July 2013.
Residents have not had reliable electricity since then, as the main supply was cut, according to UNRWA.
Funding shortage
Abd al-Majid told al-Ghad that the Palestinian Authority had collected $6.4 million to support the camp but that the money had not yet been distributed.
More than 95 percent of the estimated 480,000 Palestinian refugees remaining in Syria rely on assistance from UNRWA to meet their basic needs.
UNRWA warned last week that this aid will soon run out because of "chronic underfunding" — only 21 percent of the funds needed for this year have been secured.
Funding shortages have forced UNRWA to suspend monthly cash assistance for housing to Palestinian refugees from Syria living in Lebanon.
"Starting July 2015, more than 43,000 Palestine refugees from Syria in Lebanon who receive monthly cash assistance of US $100 per family towards housing will no longer receive this vital support. This will have a devastating impact on people who had already been forced to endure an intolerable existence," UNRWA spokesperson Chris Gunness stated.
UNRWA's director in Lebanon, Matthias Schmale, stated that Palestinian refugees who fled Syria to that country are "particularly vulnerable, as they have very few alternatives for service provision and suffer from restrictions on their access to the job market."
Those without legal status "are at risk of detention, abuse and deportation," he added.
"We might see more and more Palestine refugees fleeing this harsh reality and trying to make their way across the Mediterranean to reach Europe," Schmale said.
Palestinian refugees fleeing Syria and Lebanon have been among the record number of victims who have drowned in the Mediterranean in a bid to reach Europe.
Tags