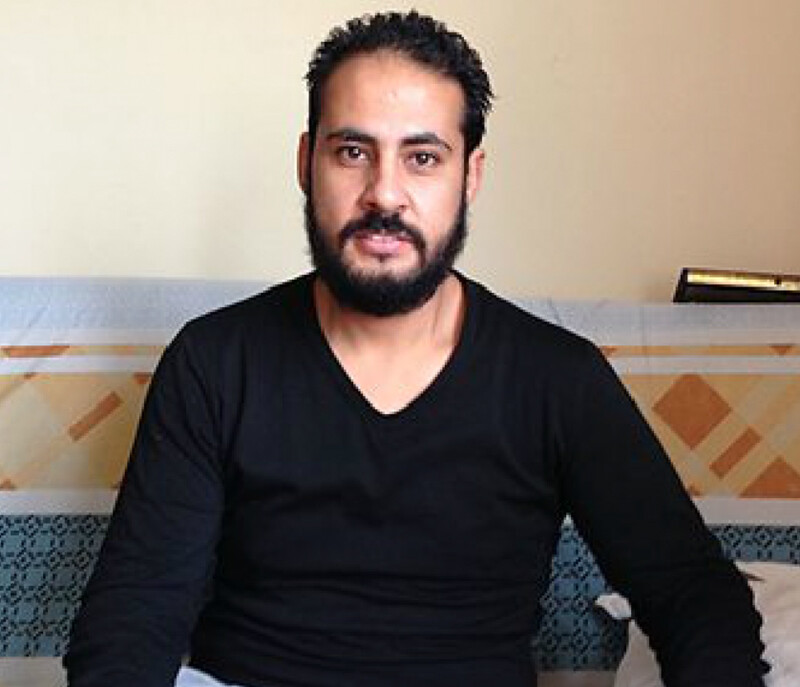 The painful stories of Palestinians who survived shipwrecks in the Mediterranean Sea while attempting to flee Gaza and Syria for Europe can be heard on two recent BBC broadcasts.
Shukri al-Assouli was one of only less than a dozen out of an estimated five hundred migrants to be found by rescue workers four days after their ship was deliberately rammed and capsized by suspected traffickers last September.
He lost his wife and two young daughters, aged four and nine months old, in the tragedy, al-Assouli told Matthew Bannister, host of BBC World Service's Outlook radio program (the interview can be heard here). Bannister interviewed al-Assouli in Athens, where he is seeking asylum in a third country.
Al-Assouli said that "There were many reasons that led me to leave Gaza. Things were very bad given the three Israeli wars we had in less than five years … The recent war had traumatized my wife and children."
The young man also sought medical treatment for a shrapnel wound from Israeli fire which he suffered in 2004. He hoped to reach Germany with the help of smugglers in Egypt, to whom he and his wife each paid $2,000 in their bid to reach Europe.
The couple disembarked with their young daughters at a port near Alexandria and were transferred to a smaller boat at sea. Al-Assouli estimates that 450 to 500 people were put on a boat that probably had capacity for only 150 people.
Al-Assouli told the BBC that he believes there were more than one hundred children among the migrants, many of whom were from Syria and Gaza.
"Screaming for their lives"
Soon the small boat was rammed. "People were screaming for their lives," al-Assouli said. His wife and daughters were submerged.
"It was instant," he said. "As soon as we were hit, I realized they weren't with me."
Al-Assouli was thrown off the boat at the moment of impact. He said that 150 to 200 passengers survived the initial crash. People with life jackets tried to help those without. "We formed circles and held hands to keep each other close to each other," he recounted.
"I only started seeing corpses on the second day. By the third day most people were hallucinating," he said.
"It was very strange in the sea," he added. "There were even small fish pecking our legs. There was no food or water. It was extremely cold and the only thing that got us through this thirst and hunger was God's will."
Al-Assouli was rescued after four days in the water. He suffered pneumonia, dehydration and his skin had gone scaly. He was hospitalized for four days.
"I'm constantly thinking about what happened. I'm thinking about my life in Gaza before I left … about my wife and children and how I miss them," he told the BBC.
"I don't have any regrets. Had I stayed in Gaza, I could have been killed in any other way. My wife and children could have died in a rocket attack, or could have died in a car accident. What's written by God will happen."
"Most lethal route"
The BBC World Service program The Documentary recently profiled another Palestinian family who survived a migrant boat shipwreck in the Mediterranean in October 2013.
In the 55-minute episode titled "Surviving the Most Lethal Route in the World," members of the Alroosan family — Palestinians who were living in Damascus until their home was shelled in 2012 — describe their lives in Europe one year after being rescued at sea.
The family was exceptional because all four members were among the shipwreck's 147 survivors.
Less fortunate were their fellow passengers, the Hazima family from the Khan al-Sheikh village near Damascus.
The Documentary presenter Nuala McGovern's interview with a government spokesperson at the Maltese migrant center where survivors were being held was disrupted by the anguished sobs of Ref'at Hazima, who had been told his two young sons were lost.
He and his wife have not been able to find closure because their sons were never found.
"They used to love the sea so much; it turned out their death was in the sea," Ref'at Hazima told McGovern about his sons, Mohammed, 9, and Ahmad, 12.
The heart-wrenching documentary can be heard via the player below.
Deadliest year
As Nuala McGovern explains in The Documentary, there were 3,419 migrant deaths in the Mediterranean last year. It was the worst year on record for migrant deaths, according to the International Organization for Migration, which put the worldwide migrant death toll for 2014 at more than 5,000 people.
Meanwhile, European governments are stepping up their efforts to keep migrants out, Britain going so far to say it would no longer support Mediterranean rescue missions — what critics are calling a "Let Them Drown" policy.
"The measures they have been taking to keep people out are getting more severe, and financially they spend more and more money on building the fortress Europe," Amnesty International expert Franziska Vilmar told the Global Post last month.
Yet there is no let up in the pressures that are compelling people to take such perilous journeys.
There are 3.8 million Syrians now registered as refugees with UNHCR, the United Nations refugee agency.
That doesn't include the approximately 280,000 Palestinian refugees internally displaced within Syria, or the 80,000 Palestinians in Syria who have fled to nearby countries.
According to UNRWA, the UN agency for Palestine refugees, there are approximately 15,000 Palestinian refugees from Syria recorded in Jordan and a further 44,000 in Lebanon, where the authorities are imposing onerous restrictions on them.
"Tragic consequences"
"All of this forces the already vulnerable Palestinian population to take life-threatening risks, such as attempting to escape by boat on the Mediterranean, often with tragic consequences," UNRWA spokesperson Chris Gunness recently told The Electronic Intifada.
The situation is no better in Gaza, under severe closure and blockade since 2007, and where 40 percent of the population — and 70 percent of youth — are unemployed.
Gaza's industrial infrastructure was badly damaged during Israel's rampage last summer — during which more than 2,200 Palestinians were killed and entire neighborhoods were razed. And severe restrictions on the importation of reconstruction materials mean economic conditions will only deteriorate further.
The worsening situations in Gaza and Syria, coupled with increasing immigration restrictions in Europe, all but guarantee a repeat of the traumas suffered by Shukri al-Assouli, the Alroosan family and by Ref'at Hazima and his wife.
Tags