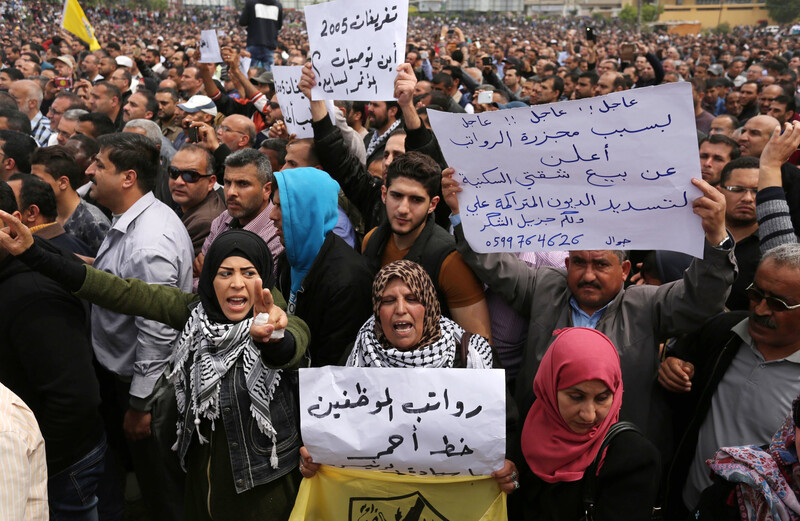 Majid Abed Rabbu nearly fainted when he saw his bank balance. He only had $2 in his account.
He did not know how he would buy medicine for his wife – who has been diagnosed with cancer – or support his three sons in university. "If things continue like this, my family and I will die slowly," Abed Rabbu, a resident of al-Shati refugee camp in occupied Gaza, said.
Abed Rabbu is an employee of the Palestinian Authority. In the past few months, the PA has drastically cut the salaries of its Gaza employees. Families numbering in the tens of thousands have faced increased hardship as a result.
Most of the PA's employees in Gaza have seen their wages fall by 30 percent, but some have complained of reductions as high as 70 percent.
The timing of the cut is proving difficult for Ismail Ahmad, a father of five who also lives in al-Shati camp. He had recently finished paying back a loan taken to cover previous debts he had incurred and to buy some furniture for his home.
Ahmad was shocked to find out in early April that his pay had been considerably reduced. "I thought we would finally have some relief, that I could buy school uniforms for my children and take them on a trip," he said. "Because of the cut, all our dreams of having a more comfortable life have been blown away."
The cuts were introduced following reports intended to form a new administrative body in Gaza.
The Palestinian Center for Human Rights warned in March that the establishment of the new body would widen divisions between Hamas and its rival Fatah in the occupied West Bank and increase Gaza's isolation. Although the two parties had undertaken to set up a "national unity government" in 2014, disagreement between them meant that the West Bank-based government did not take responsibility for Gaza.
"Victims of political game"
It is widely believed in Gaza that the pay cuts – which some people are calling a "wage massacre" – were introduced as punishment for Hamas' decision to form a new administrative body. That is despite the fact that some PA officials presented the cuts as a response to decreases in foreign aid for the West Bank and Gaza.
"We are victims of a political game between two factions," said Mahmoud al-Tattary from Jabaliya refugee camp in Gaza. "One wants to reject Gaza, the other wants to separate it [from the rest of Palestine]."
Al-Tattary is among a number of PA employees who undertook a hunger strike in protest of the wage cuts.
Wages paid by the PA have been a vital source of revenue in Gaza. The rate of unemployment in Gaza – subjected to an Israeli economic blockade and three successive military offensives in the last decade – is the highest on earth, according to World Bank data published almost two years ago.
The Palestinian Central Bureau of Statistics has calculated that the rate of unemployment in Gaza was close to 42 percent during 2016, compared to 18 percent for the West Bank.
The situation facing PA employees was precarious before the cuts were imposed. Moeen Rajab, an economics professor at Al-Azhar University in Gaza, cited estimates that 90 percent of such employees were in debt. "The PA's decision is the start; there are more cuts to come," he said.
Furthermore, the cuts indicate that the Palestinian Authority is willing to isolate Gaza even more than it has been until now. The PA, based in the West Bank, had continued paying salaries to its staff in Gaza, even though they have not been assigned formal tasks since 2007. In that year, Hamas, which won parliamentary elections the previous year, took charge of the internal administration of Gaza, which was then subjected to an Israeli siege.
"Disastrous"
In late April this year, the Tel Aviv newspaper Haaretz reported that the PA had stopped paying for electricity which Israel supplies to Gaza. Gaza's sole power plant shut down as a result, and the chronic electricity shortage has become acute, with power outages lasting 12 hours or more each day.
The European Union has also signaled that it will cease funding the salaries of PA employees in Gaza later this year, redirecting the money involved to other aid projects.
Saed Abu al-Laban, a PA employee in the Khan Younis area of Gaza, said that he is struggling to pay his family's bills now that his wages have been reduced. "I can't bear to see my children going hungry," he said.
Mariam al-Araj has three sons on the PA payroll. "I'm afraid that my sons will not be able to buy enough food for their children after their salaries have fallen," she said. "I don't want to see one of my grandsons crying because he cannot eat his favorite food."
Another PA employee, Said Lubbad, has two children in primary school.
"This is disastrous," he said. "I'm already spending 40 percent of my wages on rent and I barely meet my wife and kids' requirements. If things continue as they are, I fear that I won't be able to look after [my kids] when they grow up."
Hamza Abu Eltarabesh is a journalist and writer from Gaza.
Tags