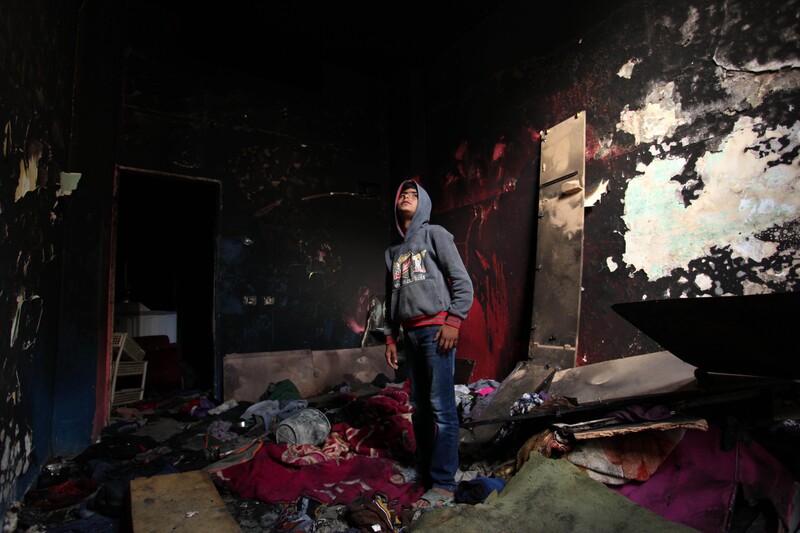 When a candle caused a fire that killed three young children at a house in Gaza, it seemed like the kind of horrible misfortune that could happen anywhere.
But candles in Beach refugee camp, where the recent fire occurred, are lit not for mood but necessity. And in Gaza, where rolling power cuts leave people without electricity for 12 hours a day, that need is great.
And growing.
In early April, Gaza's sole electricity plant stopped operating. The power plant, which was targeted by Israeli airstrikes as far back as 2006, suffered further extensive damage in the 2014 Israeli military assault that Gaza's authorities, with an Israeli-imposed blockade in force, have been unable to repair.
On 8 April, it ran out of fuel. For some in the impoverished coastal enclave, that now means no electricity for 20 hours a day.
For the Abu al-Hindi family it meant tragedy.
"I die a million times"
On 6 May, the family of seven had enjoyed a long Friday fishing at the beach. Home, tired, hungry, and with no power supply, Nidaa, 32, lit a candle in the dark bedroom her five children shared and went to the kitchen to prepare dinner.
"When we came back [home], the power was off," said Nidaa. "I lit a candle in the bedroom. Then I went to make macaroni and prepare milk for Nasser [a 6-month-old baby]."
Four of the children children stayed in the bedroom. Ali, 6, went out with his mother. Then the screaming started.
Nidaa ran to the bedroom, but could only reach Muhannad, 8.
"I pulled him from his legs. But I couldn't reach the others."
Neighbors tried to help. Before emergency response crews could arrive, residents in the area smashed a hole in the wall to get to the children.
"We tried, but we failed," said Mahmoud Alyan, a neighbor.
Muhannad suffered severe burns and remains in critical condition. Yusra, 3, Rahaf, 2, and Nasser were lost to the flames.
Muhammad Abu al-Hindi, 38, the children's father, was not at home when the fire started. He remains in shock and has been reticent about talking to the media.
This reporter caught up with him for a brief moment. "I keep seeing my children burning," he said. "And every time I die a million times. I still can't believe it."
Nidaa can't understand how the fire started. With 12 hours of power cuts a day, sometimes as many as 20, she said, candles were their only source of light and were used daily.
"I always put the candles out of reach of the children," said Nidaa. She is now praying for Muhannad, who is being treated at an Israeli hospital near Tel Aviv. She cried when she remembered that she never finished dinner.
"My children died hungry," she said.
High costs
The Abu al-Hindi tragedy is just one of a growing trend of home fire accidents, a previously uncommon phenomenon, resulting directly from power outages and the use of alternative means of lighting. According to Al Mezan Center for Human Rights, 29 people in Gaza have died in home fires since 2010, 24 of them children.
Palestinians in Gaza have suffered widespread power outages ever since Israel first targeted the Strip's sole power plant in 2006.
The plant used to provide 30 percent of Gaza's electricity needs, the remainder coming from Egypt and Israel. The United Nations monitoring group OCHA stated last year that just 45 percent of Gaza's electricity needs were being met.
Along with the electricity network, Gaza's water and sewage infrastructure has also been badly damaged and Israel has refused to allow the entry of materials required to carry out critical repairs. The damage is so extensive that the UN has warned that Gaza could become uninhabitable by 2020.
The closure of the plant on 8 April happened when the Gaza energy authority could no longer afford higher fuel prices. These have risen since January after the finance ministry in the Ramallah-based Palestinian Authority in the occupied West Bank gradually began lifting exemptions on fuel taxes previously granted to Gaza's power plant, "significantly increasing the cost of fuel," according to OCHA.
This means that the difficulty in delivering power throughout Gaza has been exacerbated by the political rivalry between the Fatah-dominated PA and the Hamas-run authorities in Gaza.
A last goodbye
All of this would have been known to mourners at the funeral for the three Abu al-Hindi children.
The funeral was attended not only by the whole neighborhood but also members of the Qassam Brigades, the armed wing of Hamas.
Opinion is split as to why those fighters were there, but talk is rife. Some suggest the brigades are flexing their muscles to send a signal to Israel. Others say they are responding to popular criticism over the way Hamas has handled the electricity crisis.
Their presence was not the only departure from the norm. Contrary to custom, where in cases of severe physical damage the bodies of the deceased would have remained fully covered, Nidaa insisted on seeing her children one last time.
Then the three small bodies were wrapped in Palestinian flags, with their names written in red ink. Family, relatives, friends, neighbours and fighters carried the children to their final resting place.
Hamza Abu Eltarabesh is a journalist from Gaza.
Tags