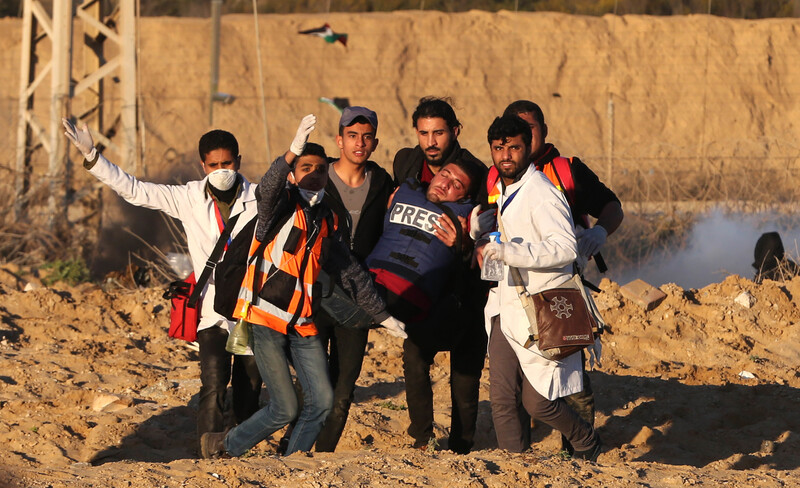 When Sami Mushtaha and Reem Abu Hassira presented the 20 January edition of "Youth Hour," a programme on Al-Quds TV about the problems and hopes of young people in Gaza, they did not expect that they too would soon feel the despondency they had been reporting on for four years.
The episode would be their last. The very next month, Al-Quds TV announced that it was shuttering its doors, unable to service a $7 million debt.
After two years of "Youth Hour," Mushtaha, 26, and Abu Hassira, 28, had suddenly joined the large ranks of Gaza's unemployed.
"Most of our programs discussed the concerns of Palestinian youth in Gaza," Mushtaha, who had planned to get married this year, told The Electronic Intifada. "Unfortunately we became breaking news with the closure of the channel."
Mushtaha, who used to earn $600 a month is still searching for another job. To make matters worse, during 2018, the 50 employees working for the channel in Gaza didn't receive full salaries because of the financial crisis.
Abu Hassira, a mother of two, is still reeling from the shock.
"We signed our termination papers on 20 February. Since then, I've not been able to look for another job."
A slew of closures
"The channel gave me and the crew great experience, and it was my real start in the media after years of volunteering. Closing it was a collective tomb for our dreams."
Al-Quds TV was launched in 2008 in Beirut.
Closure came after years of restructuring attempts, said Emad al-Efranji, the station's manager, but not enough to service a debt that Hamas representatives in Lebanon, the main supporters of the station, were also unable and unwilling to alleviate.
But Al-Quds TV is just one of several media organizations that have closed in recent months and years.
It was the second TV channel to close after Al-Kitab in 2017. Both of these channels were affiliated to Hamas, but media affiliated to other parties have also suffered.
Ma'an – seen as close to Fatah – shuttered its offices in Gaza in May, Npaa Press, affiliated with Islamic Jihad, effectively closed in January 2019 though a formal announcement has yet to be made, and the private Hona al-Quds, ended operations in April 2016.
Nevertheless, media aligned with Hamas have fared the worst.
The Hamas-affiiliated Palestinian Information Center has had to dramatically curtail its operations, closing its physical office and slashing salaries for remaining employees by 50 percent, while Alresalah newspaper has ended its print version and undergone a series of terminations to survive.
Hamas' Al-Aqsa channel was also about to close its doors in December 2018 before Ismail Haniyeh, a leading member of Hamas, intervened to secure funding.
In all, said Salama Marouf, head of the Gaza government's media office, some 15 local media outlets have closed their doors over the past two years, leaving more than 250 people unemployed.
Those that remain employed, he said, face continued political and financial uncertainty and their survival cannot be assured.
Targeting the media
Some are seeing a deliberate campaign by Israel and others to weaken Palestinian media and shut down any alternative narrative.
"Targeting media outlets is part of the political conflict. The Israeli occupation and the US administration are fighting our media because they support the historical rights of Palestinians. Politics has led to decreasing funds for these media outlets," Emad al-Efranji, the station manager at Al-Quds TV, said.
Palestinian media have also been directly in the line of fire. Israeli soldiers have repeatedly targeted journalists as they go about their work, whether during the Great March of Return protests or in other contexts. It has done so frequently and over so many years that the New York-based Committee to Protect Journalists calls it "part of a pattern."
Al-Quds TV, meanwhile, saw it headquarters destroyed during Israel's major offensive on Gaza in 2012 when Israel bombed a building that housed international and local media organizations.
Seven staff members were wounded in the attack, including Khader al-Zahar, a camera operator, who had to have a leg amputated as a result of injuries sustained in the bombardment.
Palestinian media also suffer restrictions and repression from the Palestinian authorities, whether in the occupied West Bank or the Gaza Strip.
In its annual report on press freedoms in 2018, the Palestinian Center for Development and Media Freedoms (MADA) found Israel the worst offender by far with 455 violations including the killing, wounding and arrests of journalists, destruction of buildings housing media institutions and the confiscation and destruction of equipment.
But the West Bank-based Palestinian Authority was also guilty of 88 violations, according to MADA, and Hamas in Gaza of 41, with both administrations similarly engaged in the detention, assault and intimidation of journalists, as well as the deletion and censorship of material.
Still, it is the financial situation in Gaza that is having the most lasting effect on Palestinian media there.
Becoming the story
Data from the Palestinain Central Bureau of Statistics suggest that journalism graduates, at 45 percent, face the highest rate of unemployment among those who complete the university courses available.
Moreover, according to Tahseen al-Astal, deputy head of the Palestinian Journalists' Syndicate, all media outlets in Gaza are suffering and most have slashed salaries by 50 percent or more.
Analysts, meanwhile, see the financial crisis in the industry as one caused in large part by increasing tensions in the region, not least for media reliant on or affiliated with one political faction or another.
Iran's current struggles in particular are seen as crucial. With Tehran suffering renewed US-imposed sanctions and the war in Syria taking priority over Palestinians, anyone relying on Iranian funds have suffered, said Hussam al-Dajani, a politics professor at Gaza's al-Ummah University.
"This is a factional crisis, not a general Palestinian one," al-Dajani told The Electronic Intifada.
Indeed, while some outlets affiliated to other factions have closed, PA-sponsored media organizations have fared better, according to Rami al-Shrafi of the Palestinian Journalists' Syndicate, though both Ma'an and Palestine TV have had to engage in a similar round of cost-cutting measures.
Mustafa al-Sawaf, a former editor of the Felesteen newspaper, a daily affiliated with Hamas, suggested that the crisis of funding showed that Palestinian factions do not prioritize their media very highly.
"Iran suffers from a severe financial crisis, affecting those who rely on Tehran for funding. And the first thing those affected Palestinian factions sacrificed were their media outlets," al-Sawaf, a close observer of Islamist movements, said.
Whatever the causes, more and more journalists are becoming unemployed. And with journalism as popular a subject as ever to study, according to Raed Abu Rabei, a dean at the media department at al-Azhar University, regional tensions at their heights and young people driven into journalism by a need to tell the Palestinian story, the industry is unlikely to recover any time soon.
Former Palestine Information Center photojournalist Majdi Fathi, 38, is now jobless after 12 years with the center, the oldest Hamas outlet and one that offered its output in eight languages.
"I have no idea what to do," he told The Electronic Intifada. "I never thought I would be among the unemployed youth."
Samah Hijazy, 26, used to be the main breadwinner for a family of seven. But since Npaa all but closed, Hijazy, who has been with the outlet since it was founded five years ago, has seen her income go from $400 to $150.
"I am very depressed," Hijazy said. "I was very proud to help my family. Now I'm not sure what to do."
Sarah Algherbawi is a freelance writer and translator from Gaza.
Tags