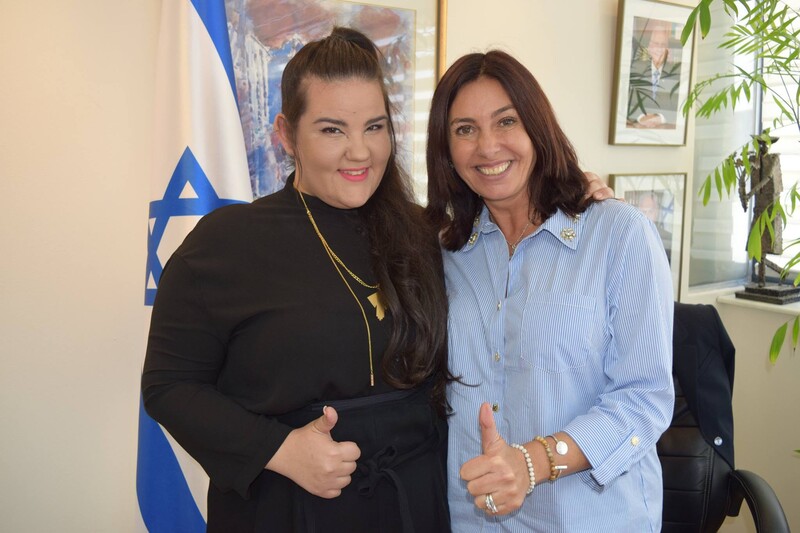 More than 140 leading international artists have backed the Palestinian call to boycott next year's Eurovision Song Contest if it is hosted by Israel.
Meanwhile more evidence has emerged of Israeli manipulation of the 2018 contest, and Eurovision organizers are demanding that Israel as next year's host guarantee freedom of expression and movement.
"Eurovision 2019 should be boycotted if it is hosted by Israel while it continues its grave, decades-old violations of Palestinian human rights," the artists state in a letter published by The Guardian on Friday.
The letter refers to how Israel massacred more than 60 Palestinians in Gaza on 14 May alone, just two days after Netta Barzilai won Eurovision 2018, securing for Israel the right to host next year's edition of the celebrated contest.
Among the signatories are former Eurovision participants from several countries, including Charlie McGettigan who won the song contest for Ireland in 1994 and Finnish Eurovision finalists Kaija Kärkinen (1991) and Kyösti Laihi (1988).
They also include composer Brian Eno, playwrights Eve Ensler and Caryl Churchill, film directors Mike Leigh and Ken Loach and Arrested Development actor Alia Shawkat.
Many of the signatories are musicians, including Norway's Moddi, Nick Seymour of Australian group Crowded House and Catalan composer Lluís Llach.
Others backing the call are Portuguese national theater artistic director Tiago Rodrigues, Italian actor, singer and playwright Moni Ovadia and French comics artist Tardi.
PACBI, the Palestinian Campaign for the Academic and Cultural Boycott of Israel, has welcomed the artists' statement:
Freedom guarantees demanded
PACBI also noted that the European Broadcasting Union, the international body that produces Eurovision, has in recent days "demanded that Israel respect freedom of expression and movement as a condition of hosting the contest."
According to the Israeli daily Haaretz, the European Broadcasting Union has demanded written guarantees from the government of Prime Minister Benjamin Netanyahu that "visitors to Israel be allowed to travel anywhere without restrictions regardless of their political opinions or sexual orientation, and that [Israeli public broadcaster] Kan have complete freedom in editing the broadcast."
"The conditions dealing with freedom of movement and expression are only placed in countries where there is concern over such matters," Haaretz reported.
Gilad Erdan, the Israeli strategic affairs minister who has been systematically blocking the entry to Israeli-controlled territories of Palestine solidarity activists or critics of Israel's human rights abuses, demanded that Netanyahu reject the conditions.
"I do not understand by what right the European Broadcasting Union has the audacity to come and make such claims and demand, contrary to the legislation of a democratic state, that a person should be granted entry to Israel even if he works all day and all night to harm Israel so that it is boycotted and isolated," Erdan stated.
Other ministers have insisted that no Eurovision rehearsals be held on the Jewish Sabbath, a condition that would make holding the competition all but impossible.
Israeli officials in charge of combating the global Palestine solidarity movement see hosting Eurovision as a "national project" and the government is spending millions of dollars to stage an event they hope will help whitewash Israel's image, especially in the wake of its recent massacres of Great March of Return protesters in Gaza.
Eurovision officials have previously expressed concern about Israel's efforts to use the song contest as part of its international propaganda campaign, including by initially insisting that it be held in Jerusalem.
But Israel backed down from that demand in June, and said that Jerusalem would be only one of several possible venues, including Tel Aviv, Haifa and Eilat.
With the possibilities reportedly narrowed down to Jerusalem and Tel Aviv, announcement of the host city is expected any day.
"We understand that the European Broadcasting Union is demanding that Israel finds a 'non-divisive' location for the 2019 Eurovision," the artists state in their letter in The Guardian – a reference to how Tel Aviv is viewed by Eurovision officials as a less controversial location than Jerusalem.
But the artists assert that the European Broadcasting Union "should cancel Israel's hosting of the contest altogether and move it to another country with a better human rights record. Injustice divides, while the pursuit of dignity and human rights unites."
Israeli influence campaign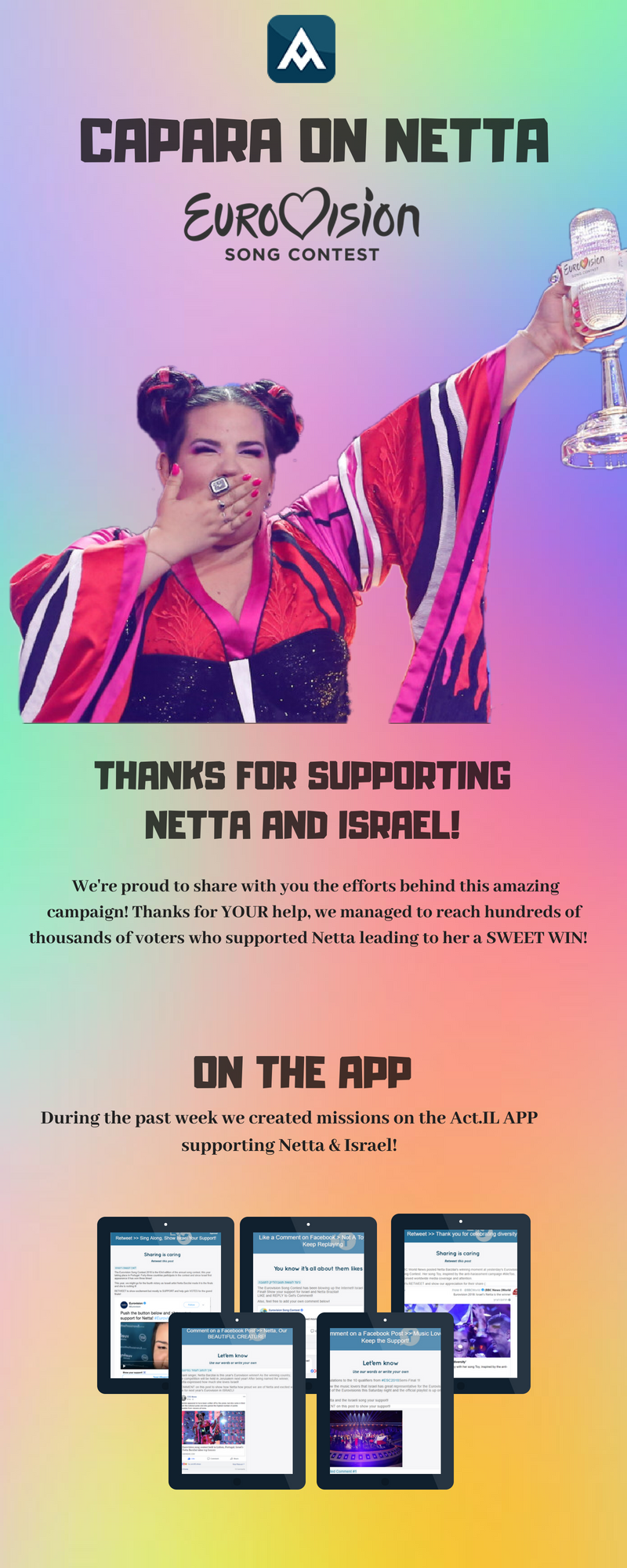 Meanwhile, more evidence has emerged about Israel's efforts to influence voting in the 2018 contest to help secure Netta Barzilai's win.
On 13 May, the day after the 2018 contest, the operators of the Act.IL app sent out an email to supporters claiming credit for reaching "hundreds of thousands of voters who supported Netta leading to her a sweet win."
The Electronic Intifada recently obtained a copy of the email.
The Israeli government-backed Act.IL app is used to launch fake grassroots social media campaigns – a tactic known as astroturfing – to make it appear that Israel has more public support than it does.
"The Act.IL app is the product of a partnership between Israeli think tanks, lobby groups and Israel's Ministry of Strategic Affairs, which poured nearly $600,000 into the project," The Electronic Intifada reported in May.
Act.IL bragged about waging its Eurovision influence campaign in cooperation with such anti-Palestinian groups as StandWithUs and the Israeli-American Council, and a social media account named after, but not apparently linked to, Israel's notorious spying and assassination agency the Mossad.
Israel has also used the Act.IL app to try to rig opinion polls about whether Eurovision in Israel should be boycotted.
Among others, Act.IL said its effort was "powered by" the Israeli-American Council, the lobby group chaired and funded by pro-Israel financier and convicted tax cheat Adam Milstein.
Last month, The Electronic Intifada exclusively revealed that Milstein is named in a censored Al Jazeera documentary as the main funder of Canary Mission, an anonymous website that smears and harasses US students and educators who advocate for Palestinian rights.
A government-backed campaign to influence the Eurovision voting public in order to serve the political interests of a pariah state is clearly unfair and runs counter to the spirit of the competition, whose rules bar participants from promoting any political causes or making political speeches or gestures.
The European Broadcasting Union did not respond to an inquiry from The Electronic Intifada.
Tags