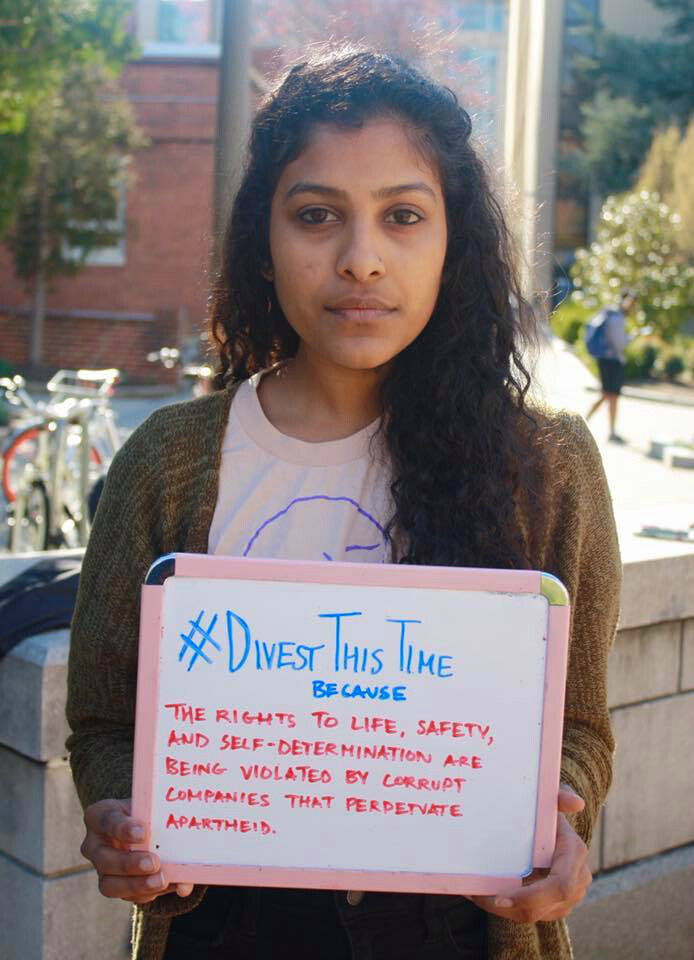 The Israeli government is encouraging its supporters to engage in a cyberbullying campaign against US students after they voted to divest from companies that profit from Israel's crimes.

Administrators of the Act.IL app began directing its users to "like" and share a Facebook page that was set up solely to threaten and bully student senators of George Washington University in Washington, DC, who had recently voted in support of the resolution.

The Facebook page smeared the divestment campaign as "anti-Semitic."

The Act.IL app is the product of a partnership between Israeli think tanks, lobby groups and Israel's Ministry of Strategic Affairs, which poured nearly $600,000 into the project, according to revealed documents.

This lobby effort was funded largely by casino billionaire Sheldon Adelson, a major donor to anti-Palestinian causes and to Donald Trump's presidential campaign.

The ministry is in charge of running a covert campaign of sabotage against BDS, the boycott, divestment and sanctions movement in support of Palestinian human rights.

The student senators' ballots were cast in secret, due to concerns that they could face retaliation if their votes were made public. The vote passed 18-6 with six abstentions on 24 April.

A similar resolution failed to pass – by one vote – last year.

The Facebook page to which the app directed its users, titled "No Secret Ballot," and an accompanying website with the same name, threatened to expose the student senators who had voted in support of the resolution.

But it seems unlikely they could really have done so, since the voting was done by paper ballot and there is no record of how each student personally voted.

"Foreign government interference in the electoral process is always concerning," Radhika Sainath, senior staff attorney at Palestine Legal, told The Electronic Intifada.

But, she added, Israel's "meddling in student democracy by bullying and threatening" college students is "just plain scary."

The Facebook page and the website were both taken offline soon after, but the app did not remove their listing of the bullying campaign and it remained as an "open mission" until it expired.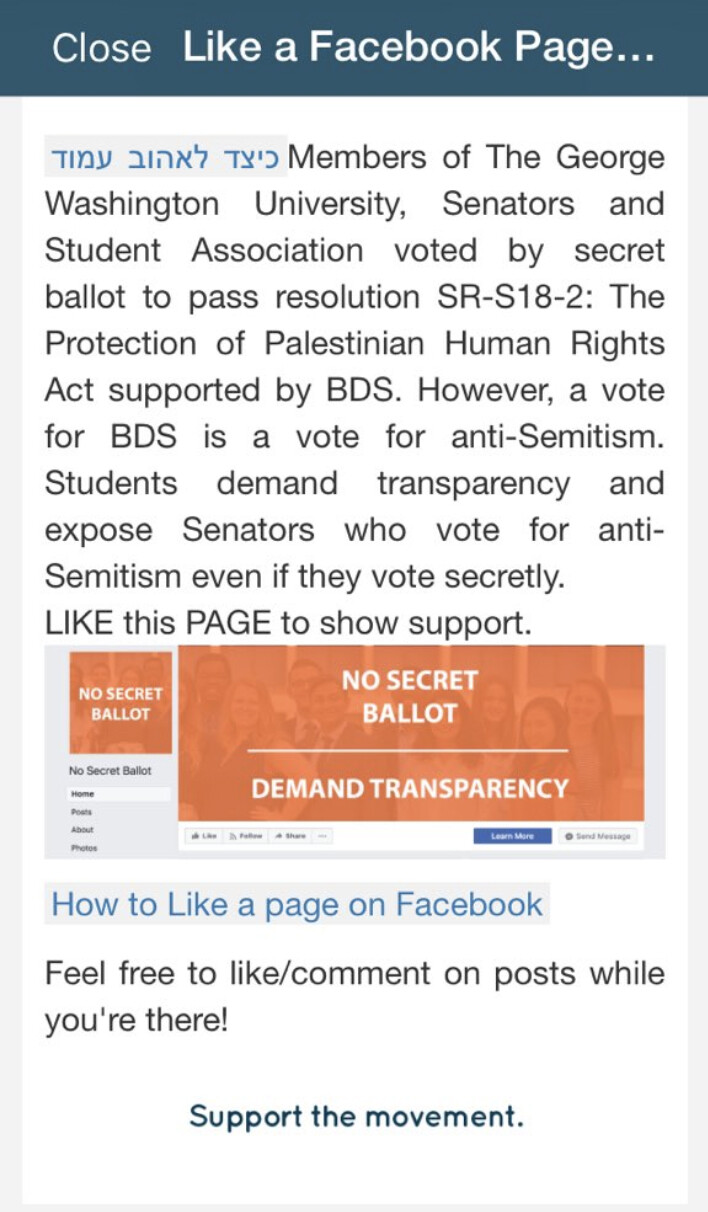 Students say that the online bullying campaign is an extension of in-person intimidation that occurred leading up to and during the voting process.
Individuals wearing bird costumes and masks, evoking the shadowy blacklisting website Canary Mission, stood outside the senate hall as students voted on the resolution, and reportedly posted signs around campus saying "SJP [Students for Justice in Palestine] you saw two of us, we saw all of you," according to Mondoweiss.
Canary Mission is an anonymous website that aims to tarnish the reputations of educators and students who speak out for Palestinian rights, and compromise their future professional careers.
University police refused to remove the harassing individuals and failed to protect students, an activist with Divest This Time at GW, a student group which promoted the divestment vote, told The Electronic Intifada.
The student did not wish to be named for fear of retaliation.
"Missions" to bully
The Act.IL app sends users on "missions" to promote Israel's image, report social media pages and accounts that support Palestinian human rights and harass activists involved in BDS campaigns.
It also encourages users to post pro-Israel talking points in the comment sections of online articles, and to harass journalists who they claim are "biased."
The app dedicated at least six separate missions to harass New Zealand pop star Lorde after she canceled her Tel Aviv gig in December.
It incentivizes the user experience with points and badges once users complete their missions – effectively turning the harassment of activists into a game.
One of the "missions" the Act.IL app assigned to Israel's propaganda foot soldiers last November, according to The Jewish Daily Forward, "was to comment on a specific post on the Facebook page of the pro-Palestinian website The Electronic Intifada."
Israel's PR operatives wanted to counter the impact of The Electronic Intifada's reporting on the Dutch government's support for a promotion by settlement-profiteering Israeli supermarket chain Shufersal.
"War room"
Israel began testing various online propaganda tools in order to counteract negative press, especially after its assaults on Gaza in 2012 and 2014. These included so-called "hackathons" – events run by the Israeli government in partnership with think tanks and Israel advocacy groups to develop online tools that inject pro-Israel content into social media while smearing BDS campaigns around the globe.
During Israel's 2014 attack on Gaza, for instance, Israeli institutions set up a "war room" of students tasked with spreading anti-Palestinian propaganda on Facebook.
Another government-backed initiative, revealed in 2012, offered students up to $2,000 to post pro-Israel propaganda online, working for five hours a week "from the comfort of home."
The Act.IL app was one the products born from these efforts, out of an ongoing project run by the Interdisciplinary Center in Herzliya, an Israeli university with strong ties to the military and its weapons development sector.
The app's manager has boasted that the Israeli army and the Shin Bet, Israel's secret police, feed the Act.IL developers information on "inciting content," saying that even those agencies "couldn't keep [up] with how fast we were getting things removed."
The strategic affairs ministry "has started to rebrand these initiatives as 'algorithmic diplomacy,'" writes Ottawa-based researcher Michael Bueckert, who has been monitoring the app over the last year.
Bueckert runs a Twitter account that tracks the app's announced "missions."
The app is classic "astroturfing," he told The Electronic Intifada, using the common term for a fake grassroots campaign.
It directs users to interact with and share social media content, and can even send emails through users' Gmail accounts to try to influence the outcome of local campaigns "in a way that appears organic and spontaneous – and deliberately in a way that hides the participation of the Israeli state or any other organizations," he said.
"A trick"
Although the app consistently interferes with local Palestine solidarity campaigns, Bueckert said, "this is the first time that I've noticed it take on this aggressive cyberbullying approach."

"What the app does is a trick," Bueckert said.

"If you're on campus, or involved in a local campaign, and you see all of these 'likes' coming in for the other side, you could be confused and assume that there's a public consensus against your campaign," when in fact it is just the same group of dedicated users of the app, he added.

Last month, the app directed users to send emails and petitions to the city council of Cambridge, Massachusetts, in an effort to thwart activist pressure on the city to drop Hewlett-Packard over that company's contracts with the Israeli military.

"These are international app users at the direction of the Israeli government, not local constituents," Bueckert tweeted at the time.

Citing "aggressive tactics by opponents" of the campaign, the activist group MassAgainstHP said in mid-April that they had to postpone their hearing in front of the city council.

Bueckert said that although online campaigns are a normal way activists can support their causes, what is new about the way that the app works is that Israel itself, with the assistance of its military and secret police, is helping to "promote and facilitate this process of online social media wars."

He told The Electronic Intifada that it was fascinating to see that there are people who are willing to be voluntarily conscripted as "agents of the Israeli government in a very real way."
Coordinated digital attacks
In addition to the defunct website to which the app directed its users, NoSecretBallot.com, another anonymous website was launched to harass and smear students involved in the George Washington University divestment campaign.
The website gw-against-antisemitism.com claims the resolution is "anti-Semitic" and "divisive," and can send an email through the site to senators opposing the vote.
Analysis by The Electronic Intifada shows that both websites are hosted by a private registrant through the same domain name provider and have identical IP addresses, a strong indication that one central organization launched and maintained both sites.
Notably, the Israel on Campus Coalition, an Israel lobby network that closely monitors the Palestine solidarity movement, appears to be involved in attacking the student supporters of divestment at George Washington University.
The ICC tweeted a link on 16 April to a petition opposing the George Washington University divestment resolution, but that tweet has since been deleted.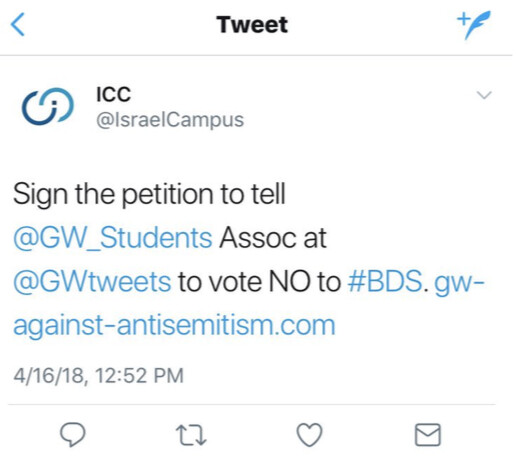 The ICC continues, however, to excoriate the outcome of the vote and smear a student senator, Brady Forrest, who had been accused of anti-Semitism due to his criticisms of Israeli policies and Jewish student organizations that back Israeli violence against Palestinians.
In an email seen by The Electronic Intifada, which addressed Forrest as "Adolf Hitler," student senators were warned against using a secret ballot during the divestment vote.
In the email imploring student senators to vote against the resolution, the sender includes a link to the gw-against-antisemitism.com website.
The email sender's address, however, is listed as tom@jvacampaigns.com. JVACampaigns.com is a website that helps organizations with "advocacy" and "strategic messaging" as well as bulk email services.
The Israel on Campus Coalition was listed as one of just 20 main clients on their website, as can be seen in the screenshot below, which was taken on 23 April:
As of 4 May, the ICC logo and name on their client roster had been removed:
ICC's partner organization, Hillel International, still appears as a client.
It is not known why the ICC was removed from the JVA Campaigns client list. The Electronic Intifada did not receive a response from the company by press time.
Meanwhile, in the past week, the Act.IL app has been directing its users to sign up to receive campaign emails from right-wing Florida senator Marco Rubio and to sign a petition opposing a BDS campaign at the City University of New York (CUNY).
The student senate at CUNY planned to vote on a system-wide divestment resolution last week.
However, that vote was postponed indefinitely after senators came under heavy pressure from Israel supporters, according to Rani al-Hindi, a member of the Palestine Solidarity Alliance at Hunter College, which is part of the CUNY system.
In mid-April, the ICC had tweeted the same link to a petition against the resolution that was promoted by the Act.IL app.
A one-page website appeared, smearing the CUNY divestment campaign as "anti-Semitic." Users could click and send pre-formulated emails in opposition to the divestment vote.
Al-Hindi told The Electronic Intifada that student senators received a deluge of these emails from Israel-aligned students, as well as individuals unaffiliated with the university system, pressuring the senators to vote against the resolution.
Students supportive of the divestment campaign had been facing routine harassment by Zionist students, al-Hindi explained.
Last month, 14 civil rights and social justice groups, including Palestine Legal and the Center for Constitutional Rights, sent a letter to 280 US universities demanding they take urgent action to protect students' free speech.
Universities must condemn the increasing harassment and intimidation tactics employed by right-wing Israel advocacy groups, including Canary Mission, the letter says.
Nora Barrows-Friedman is an associate editor of The Electronic Intifada.
Tags