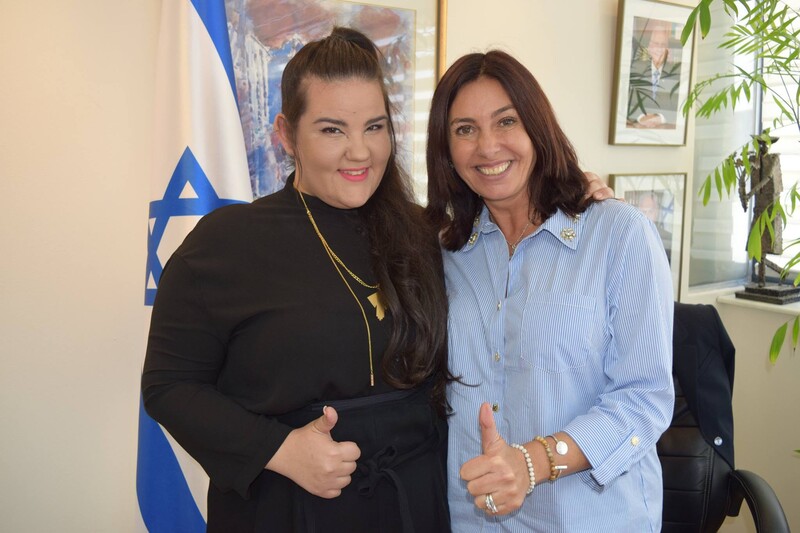 An Israeli government-backed propaganda initiative has taken credit for manipulating a poll about whether Ireland should boycott next year's Eurovision.

The apparent cheating in order to sway public opinion raises questions about whether Israel could have used similar methods to secure Netta Barzilai's victory this year in the song contest itself.

Israel's government viewed winning the contest in May, and thereby securing the right to host the 2019 event, as a priority in its effort to clean up an image that is once again spattered with the blood of Palestinians its forces have massacred in Gaza.

About 200 million people watch the annual contest, making it a coveted showcase for countries with human rights abuses they want to whitewash.

Palestinian artists and broadcasters have urged a boycott of Eurovision 2019 if Israel hosts it.

Last Friday, the Irish publication TheJournal.ie put up a reader poll asking whether Ireland's national broadcaster RTE should respect such a boycott.

There was very quickly a steady two-thirds majority in favor of a boycott.

However, the results of TheJournal.ie's poll began to suddenly and dramatically shift in Israel's favor – as of this writing, 56 percent had voted against a boycott and only 42 percent supported one.

Activists were baffled by the sudden shift, especially in a country where solidarity with Palestine is consistently strong.

The poll came as calls for a Eurovision boycott have become mainstream in Ireland, and the political party Sinn Féin was expected to easily pass a motion supporting one.

Eurovision organizers have yet to confirm that next year's contest will indeed be hosted by Israel, amid reported disquiet over its attempts to use the contest in propaganda supporting its claims to Jerusalem.
How to cheat
What happened became clear when the managers of Israel's Act.IL app took credit for manipulating TheJournal.ie's poll in Israel's favor:

Act.IL is an Israeli government-backed smartphone app that directs users to take actions online that make it appear Israel has much more grassroots support than it actually does.

This could include, for instance, liking a particular Facebook page or post, leaving pro-Israel comments on an article, or responding to a prominent personality who has made comments critical of Israel on Twitter. In this case, the instruction was to vote against a boycott of Eurovision.

Israel's use of the Act.IL app to rig the Irish poll was documented by Ottawa-based researcher Michael Bueckert, who runs the Twitter account @AntiBDSApp to track and expose the app's activities.

Bueckert pointed out that the Act.IL app did not just direct Israel supporters to participate in TheJournal.ie's poll, it also gave them instructions on how to vote more than once – in other words, how to cheat:

The Israeli embassy in Dublin then promoted the manipulated poll results as evidence of Irish public support for holding Eurovision in Israel: The Act.IL app was created through a partnership between Israel lobby groups and Israel's Ministry of Strategic Affairs, which poured nearly $600,000 into the project, according to revealed documents. The effort received significant funding from Sheldon Adelson, a major funder of anti-Palestinian causes and Donald Trump's biggest campaign donor.

The Act.IL app is classic "astroturfing," researcher Michael Bueckert previously told The Electronic Intifada, using the common term for a fake grassroots campaign.

In one recent instance, the managers of the Act.IL app directed users to engage in a cyberbullying campaign against students at George Washington University after they voted to divest from companies that profit from Israel's crimes.
Eurovision a "national project" for Israel
A recent hearing in the Knesset, Israel's parliament, confirmed the high strategic importance Israel places on Eurovision for its international propaganda efforts.
Witnesses gave evidence about how several Israeli ministries were involved in combating BDS – boycott, divestment and sanctions – campaigns around Israel's Eurovision participation, and how future plans would be executed.
"Holding the Eurovision is highly significant for Israel," Tzahi Gavrieli, of the strategic affairs ministry, told the hearing. "As a national project it must be supervised by an inter-ministerial committee, in which the foreign affairs, culture and tourism ministries will take part, as well as part of the prime minister's office and additional entities."
The strategic affairs ministry, run by Gilad Erdan, is in charge of Israel's covert efforts to combat the global BDS movement for Palestinian rights.
The activities of the highly secretive ministry have reportedly included "black ops" against human rights defenders and spying on activists around the world.
As noted, the strategic affairs ministry is involved in creating the Act.IL app.
Doubts about Israel's win
The winner of Eurovision is decided by points awarded in part by national juries of music professionals in each participating country and in part by television viewers, who vote by telephone, text message or through an app.

The official 2018 results show that Israel won the 1st semi-final with a total of 283 points, split between 167 points awarded by national juries and 116 points from televoting.

Cyprus was the runner up in that semi-final with 262 votes. Cyprus got only 89 points from national juries but beat Israel in the televoting, with 173 points. During that semi-final, Israel's televoting points tied with Austria and also lagged behind the Czech Republic and Estonia.

In the grand final, Israel came third in the jury voting, with 212 points – well behind Austria's 271 and Sweden's 253. But Israel did spectacularly well in the televoting, with 317 points, the highest score and enough to win Eurovision 2018.

Turkey's prime minister has publicly suggested Israel cheated in the contest, although he has presented no evidence to support that claim.

But Israel's cheating in the Irish newspaper poll, combined with the importance Israel's government accords to Eurovision – especially the secretive strategic affairs ministry – raises reasonable doubts about the integrity of the 2018 contest.

Israel did use the Act.IL app to promote Netta Barzilai in advance of this year's Eurovision, but any manipulation of voting in the actual contest would have had to use means that are more difficult to detect. Given Israel's willingness to use its vaunted high-tech for nefarious purposes, that is not unimaginable.

The European Broadcasting Union, the international body that produces the Eurovision Song Contest, is holding its general assembly in the Albanian capital Tirana later this month.

Members should demand an independent audit of this year's voting. And anyone involved in administering the contest with knowledge of any anomalies should come forward publicly or through trusted journalists.
Tags