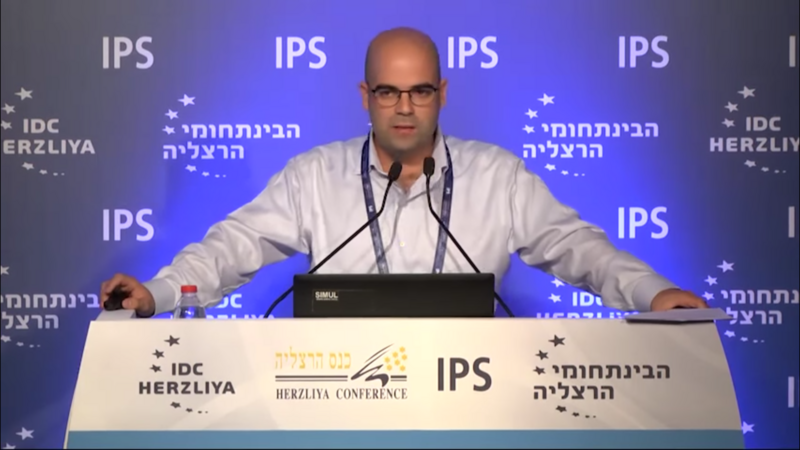 Israel secretly operates a troll army of thousands, partly funded by a government department.
The Ministry of Strategic Affairs is dedicated to a global "war" against BDS, the boycott, divestment and sanctions movement for Palestinian rights.
To conceal its involvement, the ministry has admitted to working through front groups that "do not want to expose their connection with the state."
The troll army Act.IL is one of many such groups. It focuses on spreading Israeli propaganda online.
What does it do with its million dollar budget?
Act.IL is run by a former Israeli spy who has argued that his outfit is involved in "a new kind of war."
While Act.IL publicly denies being supported by the Israeli government, the group's chief executive has admitted in Hebrew to working closely with Israeli ministries, and in English that his staff are mostly former Israeli spies.
His name is Yarden Ben Yosef. Last year, he explained his group's methods in an article for a journal aimed at Israeli diplomats. He lamented that – in Gaza that May – "the Palestinian narrative prevailed in world media over the Israeli one."
Israeli snipers had massacred more than 60 unarmed Palestinian protesters on a single day during the Great March of Return protests, injuring thousands more.
Ben Yosef advocated for "inserting ourselves" into online discussions, because readers nowadays see the comments section under articles published by websites as part of the story.
Operational links
Using sophisticated "monitoring software," he wrote, Act.IL closely watched news and social media the week before the opening of the new US embassy in Jerusalem – one of the triggers for the Palestinian protests.
Ben Yosef explained that "controlling the online media discussion became our top priority."
He claimed victory in these efforts, successfully "bumping the pro-Israeli comments to the top of the list in 85 percent of the cases."
He wrote that this strategy allows Israel to circumvent its "limited ability to influence world public opinion during crises" due to the "official identity" of government agencies.
Supposedly "grassroots" groups like Act.IL work as convenient fronts for Israel to do just that.
In a Hebrew-only interview with Forbes Israel last year, Ben Yosef made Act.IL's ongoing operational links with the state even more explicit.
"We work with the Ministry of Foreign Affairs and with the Ministry of Strategic Affairs," he admitted. Ben Yosef added that Act.IL seeks the advice of these ministries and undertakes "joint projects" with them.
He said this was done "without remuneration" – a claim undermined by funding disclosures made by the Ministry of Strategic Affairs in 2017.
What are these "joint projects" and how exactly do they work?
Messaging
The front page of Act.IL's website lays out some of its main propaganda themes: Hamas is evil, while Israel is diverse, Israel "is NOT an apartheid state," and Palestine solidarity activists are against "freedom of speech."
In other words, the aim is to smear Palestinians and their supporters, while simultaneously changing the subject and distracting from Israel's human rights abuses.
In its whitewashing, Act.IL seems to have a weakness for the cringeworthy – a trait fairly typical of such state-backed fake grassroots groups.
One slogan is titled "Israel Extreme Yourself," which Act.IL describes as "a cool and fresh way" to promote Israel through "extreme sports." The video shows young Israelis surfing, snowboarding and skydiving.
Act.IL claims "the video reached more than 250K views and over 2,000 shares" within its first 36 hours of being posted. But the video that the website links to in fact had less than 2,000 views on YouTube as of this writing.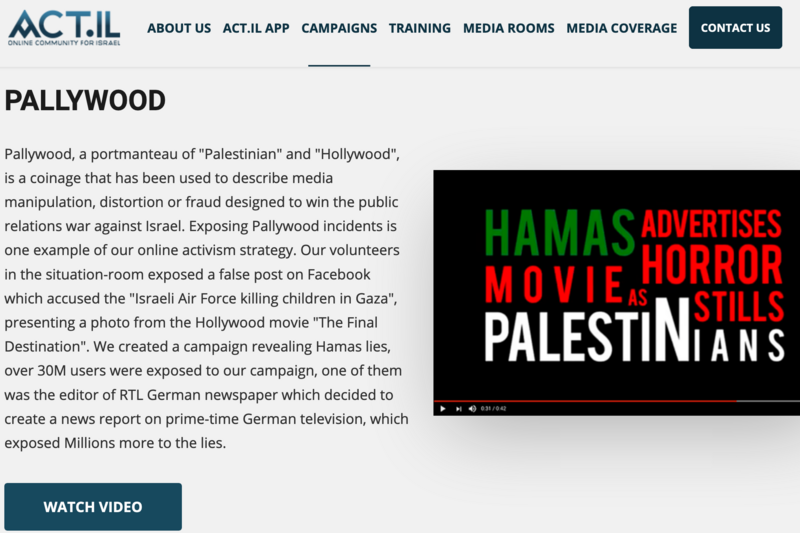 Another of its campaigns is more sinister. It involves using the common right-wing slur "Pallywood" to smear Palestinians as inherent liars.
Such racist conspiracy theories seem to inform much of Act.IL's propaganda – its chief executive Yarden Ben Yosef has also retweeted notorious Islamophobe Daniel Pipes.
Origins
Act.IL's roots lay in the Interdisciplinary Center, or IDC, in Herzliya, an Israeli university with close links to the state's intelligence agencies.
Act.IL also has close ties to the Israeli American Council – a right-wing lobby group funded by Sheldon Adelson, a billionaire casino magnate who was the top donor to Donald Trump's presidential election campaign.
The Israeli American Council is led by Adam Milstein, a real estate mogul once imprisoned for tax fraud.
Supplementing the funding from Israel's anti-BDS ministry, Adelson has also donated to Act.IL.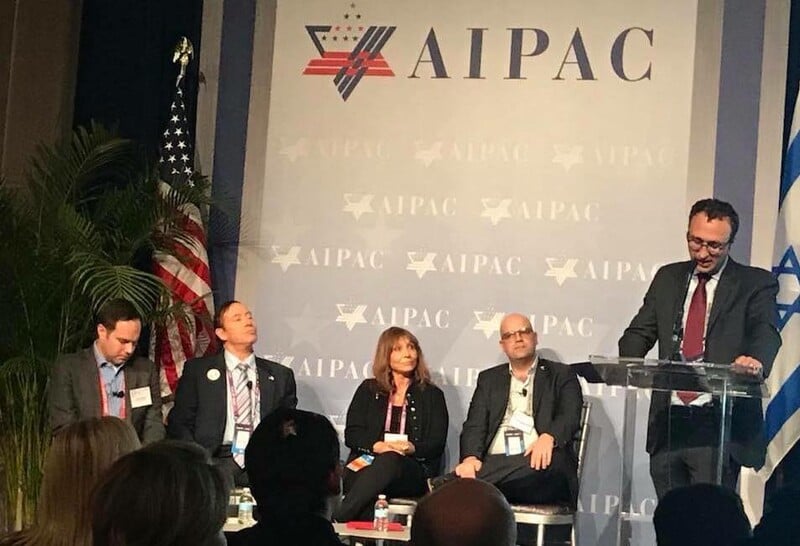 As the Act.IL website states, the idea for the app came from short term "situation rooms" that operated in Herzliya during the major Israeli attacks on Gaza in 2012 and 2014.

Each of these "situation rooms" was titled "hasbara war room" in Hebrew. Literally translated as "explanation," hasbara is a common Hebrew word for "propaganda."

As The Electronic Intifada reported at the time, the 2014 "war room" was established by Yarden Ben Yosef – then chair of the IDC student union.

It was Ben Yosef who founded Act.IL, and still works as the organization's chief executive.

A leaked Act.IL report dates the group's founding to 2015 – although the app was not formally launched until 2017.

According to his online profile, Ben Yosef was a captain in Israeli military intelligence – "in a special combat intelligence unit."

The Forward reported in 2017 that Ben Yosef spent eight years in that role, and admitted that "Act.IL's staff is largely made up of former Israeli intelligence officers."

With such ties, it's no wonder that Israel's Ministry of Strategic Affairs felt comfortable plowing large sums into Ben Yosef's project.

As The Electronic Intifada has reported, this anti-BDS ministry is staffed by "former" Israeli spies, mostly from Aman, Israel's military intelligence agency.

Led by Gilad Erdan – a prominent figure in the Likud party – the ministry is responsible for a campaign of "black ops" with a global reach.

One of Act.IL's main activities this year has been fighting the BDS campaign against the Eurovision Song Contest which took place in Tel Aviv in May.

The group repeatedly hijacked online polls gauging public support for the boycott.

In April, Irish publication TheJournal.ie conducted a poll asking readers if they supported the boycott. Although the poll initially ran in favor of the boycott, the tide turned after Act.IL directed users of its app to vote.

The poll closed with 54.3 percent against the boycott. Before Act.IL's intervention, that figure was only 38 percent.

In a private group chat on the encrypted messaging app Telegram, Act.IL then claimed "success" that its users had hijacked the poll. The screenshots above were provided by Michael Bueckert, a researcher who monitors the app and posts his findings to the @AntiBDSApp Twitter account.

In the same group chat, Act.IL also encouraged users to cheat by voting multiple times to fix the poll. "Each time you delete your cookies, you can revote," users were advised.

In February, there had been a similar incident in the UK, after Good Morning Britain, a popular TV show, asked on Twitter if viewers supported boycotting Eurovision "over Israel's human rights record."

The accompanying poll again initially ran in favor of the boycott, with 55 percent voting "yes" – as Act.IL's own screenshot proves.

So Act.IL launched a "mission" in its app directing its troll army to vote "no." (The group claimed in an internal report earlier this year to have 15,000 users completing 1,580 such "missions" each week.)

Good Morning Britain's postings to Twitter and Facebook were later deleted, but not before the Israeli intervention had successfully reversed the poll's initial result. The proportion of respondents supporting a Eurovision boycott dropped to 40 percent.

Udi Avivi, a spokesperson for Israel's embassy in London, then claimed the poll had been deleted as there had been "an inconvenient result."

Combating the cultural boycott of Israel is far from the only issue that motivates Act.IL.
Influence campaign against Corbyn
In August last year, Act.IL ran a campaign directing its troll army to make and promote comments online against the British Labour Party leader Jeremy Corbyn, accusing him of anti-Semitism.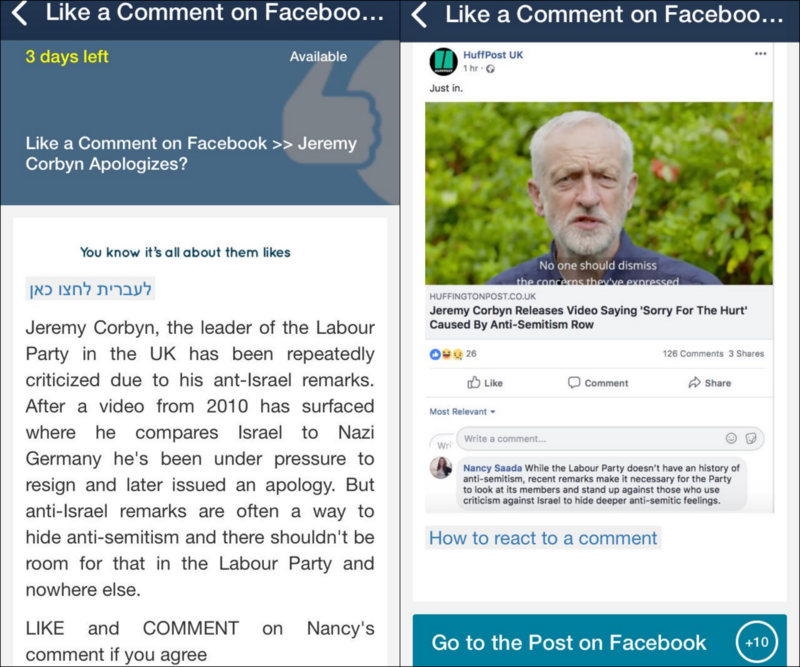 The app told users to comment on Facebook in response to a Huffington Post UK story about Corbyn's alleged "anti-Israel remarks," which it claimed were "often a way to hide anti-Semitism."

It was only one of many Israeli government efforts to derail Corbyn's route to power.

This meddling in British democracy came during the height of summer 2018's media hysteria about a supposed "crisis" of anti-Semitism in the Labour Party.

The app has made similar dishonest interventions attacking US lawmaker Ilhan Omar, including one directing users to share on Facebook a bigoted attack against her by notorious Islamophobe Brigitte Gabriel.

Starting last year 4IL – a website established by Israel's strategic affairs ministry to promote Act.IL – even runs a real-world annual conference, attended by Ben Yosef.

The event gathers "social media experts" from around the world under the Israeli government's auspices.

From the UK alone, these have included the anti-Palestinian activists David Collier and Simon Cobbs, as well as professional Israel lobbyist Luke Akehurst, who is also a right-wing activist in the Labour Party.

An Act.IL "mission" has directed users to "like and comment" on a tweet Collier had made in response to an article in The Guardian by the rock star Roger Waters, who supports the BDS movement. Collier smeared the article as "hate."
Collier spoke at this year's conference. One slide he displayed during his presentation indicated that Collier may be a little paranoid. He warned that Palestinian rights activists were using "solidarity movements," "BDS meetings" and "books."
Collier, Cobbs and Akehurst did not reply to requests for comment.
Real world harrassment
The Act.IL app has also promoted at least one of the targeted anonymous websites harassing US college students and academics campaigning for BDS.

These harassment campaigns have spilled over into real world efforts.

In The Lobby – USA, a four-part undercover documentary by Al Jazeera's investigative unit, Jacob Baime, the director of another group linked to the Ministry of Strategic Affairs explains how it set up "some anonymous website" promoted by targeted Facebook ads against "the anti-Israel people."

You can watch the relevant clip in this video.

Some such campaigns have involved defamation against BDS activists, including knowingly false allegations of sexual assault.

Funding disclosures made by the Ministry of Strategic Affairs in 2017 revealed more than $570,000 worth of funding for online ads, including to Facebook. The ads were taken out for undisclosed purposes, but it is likely they were used to promote Act.IL content.

In the undercover documentary, Baime admitted that his group "coordinates" with the ministry.

While Act.IL is big on using buzzwords about its "community" of "volunteers," in reality, the group is state-funded, and backed by rich donors from the right wing of the Israel lobby.
In one recent Hebrew-only Facebook posting Ben Yosef gives a glimpse into this reality.
The posting shows the "former" Israeli spy giving a presentation about Act.IL to a group of Israeli civil servants. Ben Yosef wrote that this would "add thousands of volunteers" for "the benefit of the state of Israel."
It is highly questionable to what extent state employees using a state funded app to spread state propaganda really are "volunteers."
The Electronic Intifada emailed Facebook and Twitter to request responses to the issues raised in this article. Facebook did not reply. A spokesperson from Twitter initially promised a response, but failed to send one.
Until Facebook, Twitter, Google and Silicon Valley's other unaccountable social media giants take the threat of Israeli meddling seriously, the online "war" against Palestinan rights looks set to continue.
With translation by Dena Shunra.
Asa Winstanley is an investigative journalist and an associate editor with The Electronic Intifada.
Tags