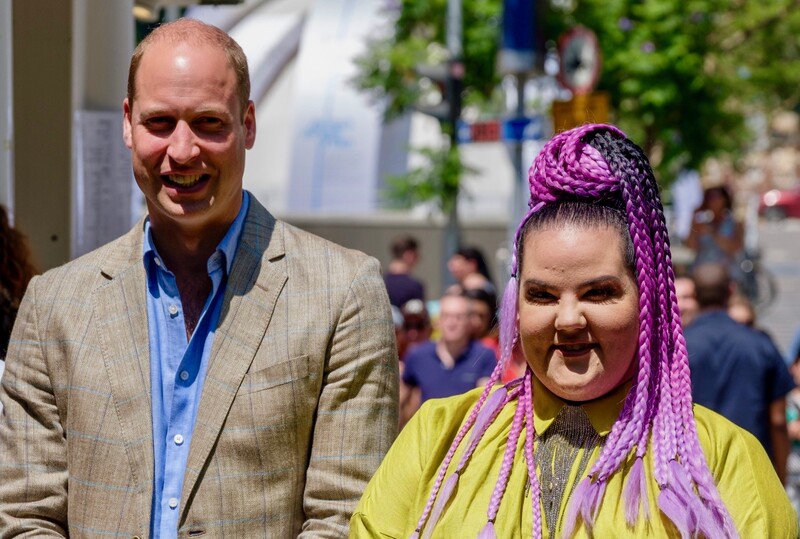 Palestinians are claiming their first win in their campaign to boycott next year's Eurovision Song Contest.

This comes as ever more international figures are speaking out in support for the right to boycott Israel.

Boycott, divestment and sanctions (BDS) activists are claiming credit for Israel dropping demands that Eurovision 2019 be held in Jerusalem.

"This marks a striking failure in Israel's PR efforts to assert its illegal claim over the city," PACBI, the Palestinian Campaign for the Academic and Cultural Boycott of Israel, said this week.

"The BDS movement sees this as the first milestone in the campaign to boycott Eurovision 2019 if it is hosted by Israel while it continues its decades-old, grave violations of Palestinian human rights."

Israel's culture minister Miri Regev initially demanded that Eurovision be held in Jerusalem or not at all.

Israeli officials in charge of combating the global Palestine solidarity movement see hosting Eurovision as a "national project" and the government is planning to invest millions of dollars to stage an event they hope will help whitewash Israel's image, especially in the wake of its recent massacres in Gaza.

But amid disquiet about Israel's politicization of Eurovision, the European Broadcasting Union, the contest's producer, delayed officially announcing Israel as the host.

Fearing it could lose the right to host the contest altogether, Israel dropped the demand that it be staged in Jerusalem.

Israel is now pitching Tel Aviv as the likely venue.

In the meantime Israel is intensifying its propaganda around Eurovision as boycott calls continue to grow.

On Wednesday, Prince William, the first member of the British royal family to undertake an official visit to Israel, staged a photo-op with Netta Barzilai, Israel's Eurovision 2018 winner.

And Israel has continued its efforts to rig public opinion by using a government-backed app to manipulate polls about whether Ireland should respect the boycott next year. But that hasn't slowed the momentum of campaigners.

In Dublin on Wednesday, celebrities and public figures gathered at the city's famous Ha'penny Bridge to add their voices to calls for a Eurovision boycott.

More than 3,600 people have supported that call by signing a petition, including previous Eurovision winner Charlie McGettigan, Irish broadcaster and former Eurovision commentator Mike Murphy and former Eurovision presenters Carrie Crowley and Doireann Ni Bhriain.

"For all sorts of cultural and historic reasons we identify deeply with the Palestinians," Crowley said. "Their treatment – or mistreatment – at the hands of the State of Israel is horrendous."

"If by boycotting a significant global television event we can draw attention to this injustice, it might help start changing the attitude and the damage being done on a daily basis," Crowley added. "I believe many Irish people feel the same way."

The leaders of the Musicians Union of Ireland and of the performing arts union Equity have also endorsed the campaign, which has received wide coverage in Irish and British media.
Occupied Territories Bill
Senator and singer Frances Black, who had already backed the call for a Eurovision boycott, is also sponsoring the Occupied Territories Bill which would outlaw trade in goods from Israeli settlements built on Palestinian land in violation of international law.
That is in line with recommendations from international law experts and human rights defenders including Amnesty International.
The popular campaign to pass the bill – which is supported by Irish trade unions and opposed by the government – gained a boost from rock legend Roger Waters as he played a concert in Dublin on Wednesday:
Filmmakers back right to boycott
Meanwhile, the intensifying efforts by Israel and its lobby to punish public support for Palestinian rights continues to backfire.
The influential trade publication The Hollywood Reporter has picked up the open letter from prominent filmmakers defending the right to boycott Israel in support of Palestinian rights.
Among the dozens of signatories, The Hollywood Reporter highlighted actors and filmmakers Viggo Mortensen, James Schamus, Ken Loach, Mike Leigh, Danny Glover and Aki Kaurismaki.
Musicians Patti Smith and Massive Attack also signed the letter.
It was prompted by the decision of Germany's Ruhrtriennale festival to cancel a scheduled performance by the acclaimed Scotland-based musicians Young Fathers because the group refused to back down from supporting Palestinian rights and BDS.
Young Fathers was targeted because last year it pulled out of Berlin's Pop-Kultur festival to protest its sponsorship by the Israeli government.
But amid growing protests over blatant censorship by Ruhrtriennale, the festival organizers backed down and reinvited the band, as well as other artists who had withdrawn in solidarity with them.
In a sign of the prevailing intolerance and defamation towards Palestinian rights advocates from German elites, Ruhrtriennale director Stefanie Carp is facing calls from politicians to resign because she reinvited Young Fathers.
The artists' letter lauds Germany's Morgenland festival for resisting similar pressure to censor artists.
In a separate statement, artists invited to Ruhrtriennale, including Laurie Anderson and Hassan Khan, confirmed they would now be participating since Young Fathers had been reinvited.
But they affirmed that they "reject the idea that institutions, in any way, should have the power to demand of artists to renounce their political principles in exchange for participating in their programs."
Tags