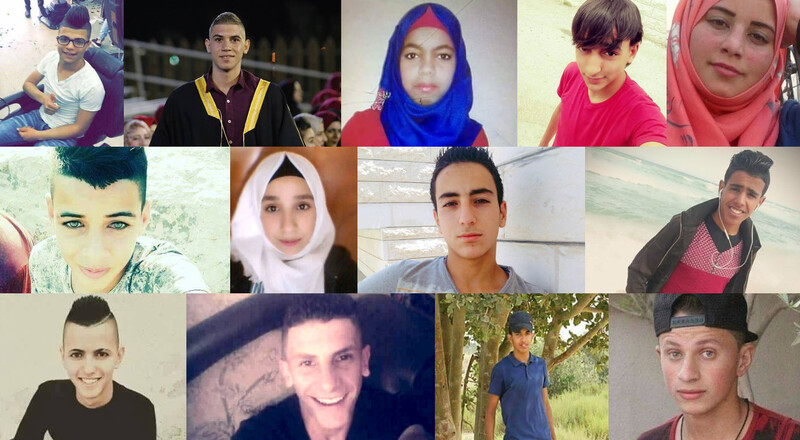 These are the Palestinian children killed by Israel in 2017.
Fourteen Palestinian boys and girls under the age of 18 were shot dead by Israeli occupation forces in the West Bank and Gaza Strip during the year.
There were 21 fewer children killed than in 2016, which was the deadliest year for Palestinian children in the occupied West Bank in the past decade.
In addition to those 14 shot and killed during 2017, a child died of wounds sustained in an Israeli drone strike years earlier.
Another was killed by Israeli ordnance while grazing livestock. A baby living in temporary shelter, his family homeless as a result of Israeli bombing, died of cold exposure.
Palestinian children also died because they were unable to secure permits to leave via the Israeli-controlled Erez checkpoint for medical treatment unavailable in the besieged Gaza Strip.
Emergency room doctors were unable to resuscitate a seriously ill 9-year-old girl in the West Bank after Israeli soldiers denied her family passage at a checkpoint; a trip that normally would take 15 minutes took her family 90 minutes after they were forced to detour and go through a different checkpoint.
No Israeli children were killed by Palestinians during the year. An Israeli woman wounded during a bus stop bombing in 2011, when she was 14, and who had never regained consciousness, died of her injures in 2017.
Qusay al-Amour, 17
Qusay al-Amour was shot by soldiers during confrontations between Israeli forces and Palestinian youths in the town of Tuqu, near the West Bank city of Bethlehem, on 16 January.
An eyewitness told the Palestinian rights group Al-Haq that Qusay, who was wearing a mask, was sitting on the ground. When he stood up, he was shot.
The moments after his shooting were recorded on video by journalist Hisham Abu Shakra.
The video shows soldiers firing at a Palestinian who had attempted to come to the aid of Qusay, lying motionless on the ground, before several soldiers run towards and grab the injured youth.
"One of the soldiers placed his knee on Qusay's throat, while trying to handcuff him but failed to turn Qusay's left hand behind his body," according to Al-Haq.
The soldiers then took Qusay by his hands and feet, while his unsupported head repeatedly hit the ground as they carried him to an army jeep at a distance of dozens of meters away from where he was shot.
A doctor at Beit Jala hospital announced that Qusay was killed after being shot by three bullets in the thigh, stomach and chest.
"Qusay did not pose an imminent threat to the lives of soldiers and as such was unlawfully killed," Al-Haq stated.
Murad Yousif Abu Ghazi, 17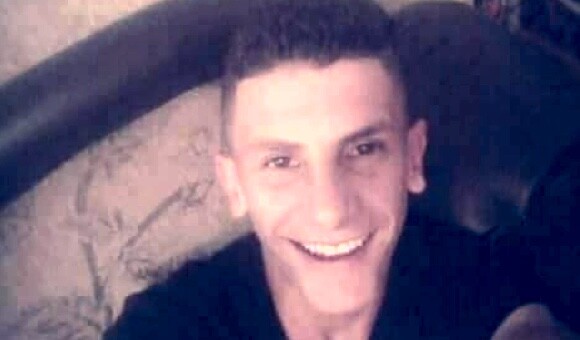 Murad Yousif Abu Ghazi was shot by Israeli forces during confrontations in Arroub refugee camp, in the southern West Bank, on 17 March.
Israeli soldiers fired live bullets at a group of teenagers who they alleged had thrown molotov cocktails at the military tower outside the camp.
"According to a preliminary inspection by the coroner, carried out under the observation of the public prosecutor, Murad was struck by a live bullet that entered the bottom left side of his shoulder," according to Defense for Children International-Palestine.
'The bullet directly hit his heart before exiting out of his chest. This resulted in Murad's death, likely within minutes of the injury, according to the coroner."
Another youth, Saif Awlad Issa, 16, was injured by a live bullet to his chest but survived.
"Military fixtures like checkpoints and watchtowers in the West Bank and the heavily surveilled 'buffer zone' along the border of Gaza are sites of frequent clashes, representing significant risks of death, injury, and arrest to children who live or pass near them frequently," Defense for Children International-Palestine stated after Murad's slaying.
Murad had lost his close friend and classmate, Omar Madi Jawabreh, the year before when the 15-year-old was shot in the chest by Israeli soldiers.
"Omar's martyrdom affected Murad deeply, it changed him," Murad's mother, Zeina, told The Electronic Intifada. "He visited Omar's grave every day and wore his necklace. He kept Omar's picture in his pocket and always visited his mother and was like a son to her."
Murad's family originally hails from Beit Jibrin, a Palestinian town ethnically cleansed by Zionist militias in 1948, located in what is today called Israel.
Arroub is one of the most frequently raided camps in the West Bank, according to UNRWA, the United Nations agency for Palestine refugees.
The whole camp participated in Murad's funeral, his friend Ahmad told The Electronic Intifada.
"Men, women and children. Everyone here loved Murad. My head will always be held high because he was my friend."
Yousif Shaaban Abu Athra, 15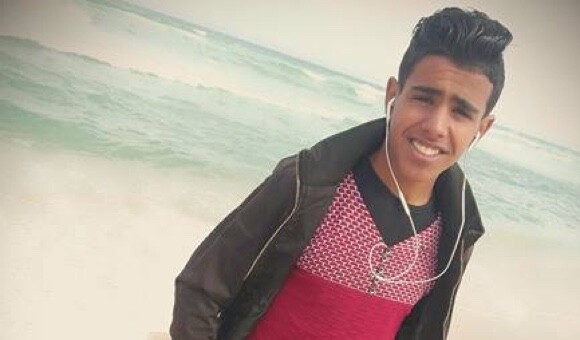 Yousif Abu Athra was killed by Israeli tank shelling when he and two adult friends approached the fence along Gaza's boundary with Israel late at night on 21 March.
An Israeli army spokesperson told media that the three were behaving in a suspicious manner, as though they were attempting to plant an explosive device, without giving further details.
The teen's father told Defense for Children International-Palestine that "his son's body was riddled with shrapnel, including injuries to his head."
The Palestine Red Crescent Society told the rights group that Yousif was already dead by the time emergency medics reached him.
Muhammad Waheed Atallah al-Ekir, 25, was seriously injured with shrapnel wounds in his chest and abdomen during the same incident.
The military frequently fires on Palestinians who enter the so-called buffer zone along Gaza's boundary with Israel.
The no-go area is understood to extend some 300 meters into Gaza's eastern and northern territory, but Palestinian human rights groups say that the zones can go as deep as 1,500 meters.
Muhammad Khatab, 17 and Jassim Nakhla, 16
Muhammad Khattab was killed when Israeli forces fired on the car he was driving near the Beit El settlement north of the West Bank city of Ramallah on 23 March.
Three other children were wounded and left comatose during the incident. One of them, Jassim Nakhla, died of his wounds on 10 April, just two days after his 16th birthday, according to Defense for Children International-Palestine.
An Israeli army spokesperson told media that the youths had thrown firebombs towards a food stand near the settlement adjacent to Jalazone refugee camp, where the boys were from.
A witness told the rights group that soldiers shot at Muhammad when he got out of his stalled car in order to push it.
When the soldiers began shooting, "Muhammad jumped back into the car to try to escape, but the car did not start, according to DCIP's source. The witness said Israeli soldiers then approached the car and opened fire on all four children … while inside the car."
Muhammad, shot twice in the torso, was declared dead upon arrival to a hospital.
The director of the emergency department at the Palestine Medical Complex told Defense for Children International-Palestine that Jassim "sustained live ammunition injuries to his head, chest, right thigh and right foot."
The shooting of the teens pierced the bubble in nearby Ramallah, the seat of the Western-backed Palestinian Authority, according to The Electronic Intifada contributor Jalal Abukhater.
"Angry protesters took to the streets of Ramallah after Muhammad's death, chanting and screaming, expecting someone to listen," he wrote at the time.
"Various groups of youths went around the city and asked the bustling restaurants and cafes of Ramallah to close in mourning."
Defense for Children International-Palestine called for an investigation into the fatal shooting.
But as Abukhater stated, the suffering of grieving families "is compounded by the knowledge that justice will never be served as long as the Israeli occupation continues to exist."
Defense for Children International-Palestine told The Electronic Intifada that one of the two surviving boys is now paralyzed in his lower body and uses a wheelchair. He is receiving therapy at a hospital in Israel and learning how to live with his injuries.
The other child cannot balance properly while standing and is unable to use his left hand because of nerve damage due to his injuries. He goes to therapy sessions at a rehabilitation center in Ramallah.
Ahmad Ghazal, 17
The killing of Ahmad Ghazal on 1 April by Israeli Border Police may amount to an extrajudicial killing, according to Defense for Children International-Palestine.
Ahmad, from the northern West Bank, had stabbed and wounded two Jewish men in Jerusalem's Old City, causing them minor injuries. After fleeing into a nearby building, he was pursued by Israeli forces who opened fire on the teen.
Video from the scene shows Border Police forces running down an alley in the Old City, past a man with blood on the back of his shirt, before more than a dozen gunshots are heard.
Another video appears to show several bullet holes in the walls where Ahmad was killed.
"Israeli forces prevented ambulances and medical personnel from entering the building for several hours, the witness said," Defense for Children International-Palestine added. "After this period, the witness saw Border Police drag the teen's body out of the building and place it in a black bag."
Ahmad had posted a photo of himself standing in front of Jerusalem's Dome of the Rock shortly before he was killed:
Fatima Hjeiji, 16
Fatima Hjeiji, from the central West Bank town of Qarawat Bani Zeid, was shot by Israeli Border Police near the Damascus Gate to the Old City of Jerusalem on 7 May.
Israeli police claimed the girl was attempting an attack on Border Police when she was shot.
Rights groups state that Fatima did not pose a danger warranting the use of lethal force against her.
According to the Israeli rights group B'Tselem, Fatima approached a metal police barricade and brandished a knife at a group of Israeli police and paramilitary Border Police on the other side of the barricade.
"The officers then fatally shot her," B'Tselem stated.
A witness told Defense for Children International-Palestine that the Israeli forces shouted "Drop the knife!" at her in Hebrew twice.
"The witness reported that the teenage girl then lifted the knife in the air and froze. Seconds later, she was gunned down, according to DCIP's source."
The rights group stated that the girl was killed in "circumstances warranting an impartial investigation."
Fatima Taqatqa, 15
Fatima Taqatqa, from the town of Beit Fajjar near the West Bank city of Bethlehem, was shot by Israeli forces after she drove a car into a group of soldiers at the Gush Etzion junction near the settlement bloc of the same name on 15 March.
Israel alleges that Taqatqa was waging a car ramming attack when she was shot. No Israelis were injured in the incident.
Fatima succumbed to her wounds more than two months later.
Security camera footage shows Taqatqa's car driving at a high speed over a median and crashing into a barricade, behind which the soldiers were standing.
More than a dozen Palestinians and three Israelis have been killed at the Gush Etzion junction since October 2015, according to the Ma'an News Agency.
Raed Ahmad Radayda, 15
Raed Ahmad Radayda died after Israeli soldiers shot him when he allegedly attempted to stab one of them at the Container checkpoint near the teen's hometown of al-Ubeidiya in the Bethlehem area of the West Bank on 22 May.
Raed was left bleeding for approximately 40 minutes, media reported, as soldiers prevented Palestinian medics from accessing the boy.
Raed's father told Defense for Children International-Palestine that "he was not notified that his son had been killed until he called Palestinian police nearly seven hours after the 15-year-old's death."
The boy's body was withheld by Israel until 26 May. An autopsy was performed the following day.
"Although the full autopsy has yet to be released to DCIP, the family reported apparent wounds to Raed's head, chest and feet," the group stated soon after Raed's death.
An Israeli police spokesperson told media that Raed had approached the soldiers while holding a knife, and "after a short dispute, an Israeli soldier was able to open fire at the suspect who was neutralized and the knife in his possession was seized."
No Israeli forces were injured.
Nouf Infayat, 14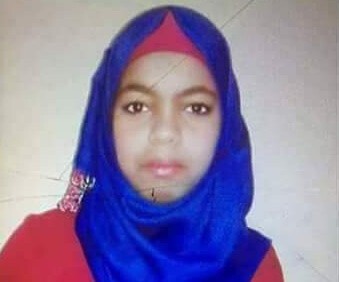 Nouf Infayat was shot and critically wounded after she allegedly stabbed and lightly injured an Israeli soldier outside the Mevo Dotan settlement in the northern West Bank on 1 June. She died of her injuries the following day.
Video from the scene shows Nouf lying on the ground and moaning in pain while Israelis, at least one of them armed, stand around her, cursing her and calling for her death.
Defense for Children International-Palestine stated that Nouf, from the village of Yabad, was shot six times in the neck, hand and thigh.
"Local news outlets reported that Nouf was left bleeding on the pavement for nearly an hour before an ambulance arrived," the group added.
"We are deeply concerned by video footage from this incident that suggests a significant delay in urgent medical care for the injured child," Ayed Abu Eqtaish, a director at Defense for Children International-Palestine, stated.
Israeli forces have failed to provide medical treatment or prevented Palestinian medics from accessing seriously wounded persons in many such cases in which soldiers have shot alleged or actual attackers.
Amnesty International has stated that failure to provide first aid to the wounded "violates the prohibition on torture and other cruel, inhuman and degrading punishment."
Aws Muhammad Yousif Salameh, 16
Aws Salameh was shot in the stomach when Israeli soldiers ambushed stone-throwing youths during a raid on Jenin refugee camp in the early hours of 12 July. An adult resident of the camp, Saed Salah, 21, was also killed.
Saed and a group of 40 to 50 youths were chasing two military jeeps when the vehicles suddenly braked.
Saed, who was riding a motorcycle, stopped too.
"I think the sudden braking caught Saed by surprise … and he tried to stop. At that moment, I saw one of the soldiers shoot him," a 19-year-old youth told B'Tselem.
"Then the soldiers fired in the direction of Aws Salameh, who was up front among the guys chasing the jeeps. I saw him fall over," the witness added.
Another witness told B'Tselem that the army jeeps braked near a home where soldiers had occupied the rooftop. The 16-year-old witness said that he saw soldiers on the rooftop fire at Saed and Aws.
B'Tselem stated that "After [Saed] Salah was shot, soldiers stood around him for at least 10 minutes without giving him medical aid."
The rights group said that Saed and Aws "did not pose a threat to the soldiers' lives" when lethal force was used against them.
It is hardly the first time that deadly fire was used during a raid without justification.
"The fact that no one was held accountable in previous instances, including the commanders who ordered the ambush, is what allows the implementation of this unlawful policy to continue," according to B'Tselem.
Aws' father told Defense for Children International-Palestine that his son was hit by an expanding "dum-dum" bullet that "ripped through his liver, lungs and spleen."
The rights group stated that "the use of expanding and exploding bullets is a violation of international humanitarian law and amounts to a war crime under the Rome Statute of the International Criminal Court."
Muhammad Khalaf Mahmoud Khalaf Lafi, 17
Muhammad Lafi was killed by a gunshot wound to the chest during confrontations between Palestinian protesters and Israeli soldiers near a military base in the West Bank town of Abu Dis, near Jerusalem, on 21 July.
Hours before Muhammad was shot, Muhammad Mahmoud Sharaf was killed during confrontations in the Ras al-Amoud neighborhood of East Jerusalem. Muhammad Sharaf died just a week after his 18th birthday, according to Defense for Children International-Palestine.
A 20-year-old youth, Muhammad Abu Ghanam, was also fatally wounded by Israeli forces in Jerusalem that same day.
The three youths were killed as thousands of Palestinians protested across the West Bank and Gaza Strip over new Israeli measures infringing on Palestinian worship at al-Aqsa mosque in East Jerusalem.
Three Israelis were fatally stabbed by a Palestinian in a West Bank settlement later that same night.
Abd al-Rahman Abu Hamisa, 16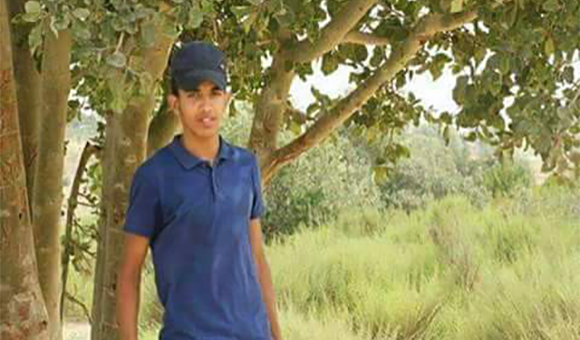 Abd al-Rahman Abu Hamisa became the sixth Palestinian to be killed during protests over Israel's closure of the al-Aqsa mosque on 28 July.
The teen was shot by a soldier in the central Gaza Strip as youth confronted occupation forces along the boundary with Israel.
Defense for Children International-Palestine stated that Abu Hamisa was tens of meters away from Israeli forces stationed on the Israeli side of the boundary fence when he was shot in the left shoulder.
Soldiers fired live ammunition at several youths who attempted to reach the teen after he was shot.
One of those wounded, Muamin Khalidi, 23, said that he was among those who had come to Abd al-Rahman's aid.
"I grabbed Abd al-Rahman by the legs and started dragging him away when the soldiers fired a bullet that hit me in the right thigh," he told B'Tselem.
"I let go of his legs, staggered a few meters and fell over," he added.
Abd al-Rahman and another protester who had been shot, Ismail Jaber, were lying next to Muamin.
"Ismail tried to get up and then the soldiers shot another bullet at him, and he fell back down," Muamin told B'Tselem.
An Israeli army spokesperson claimed that its forces had fired at Palestinians who were burning tires, throwing stones towards soldiers and damaging the boundary fence.
Israeli forces are typically separated from Palestinians inside Gaza by fences and a large distance and are often in fortified positions, making it unlikely that protesting Palestinians could present a credible danger.
B'Tselem stated that in October 2015, Abd al-Rahman was arrested along with five other youths when he crossed into Israel after a demonstration.
"At the time of the arrest and over the following three days, soldiers abused the six detainees, holding them shackled outside for the duration, beating them repeatedly, depriving them of sleep and even burning the hands and feet of one of the minors with cigarettes," according to B'Tselem.
Abd al-Rahman testified to B'Tselem that during his three days of detention at a military base, "We were so battered that our entire bodies ached."
The boy was found guilty of entering Israel illegally and sentenced to four months in prison. His family were not allowed to visit him during his imprisonment.
Abd al-Rahman's mother told B'Tselem that "The time in Israeli prison affected him very badly." He finished the ninth grade of school but didn't want to continue to the 10th grade.
"He was on edge all the time, would start yelling sometimes, and didn't want to talk to anyone," his mother said.
B'Tselem stated that the slaying of Abd al-Rahman and several other protesters along the Gaza boundary since October 2015 "makes it clear that the Israeli military has adopted an unlawful policy of shooting at non-dangerous Palestinian demonstrators."
The group added: "Far from deny[ing] it, the military describes this reality in media announcements as 'firing at key inciters' and taking action 'to prevent damage to the fence.'"
Qutaiba Ziad Zahran, 16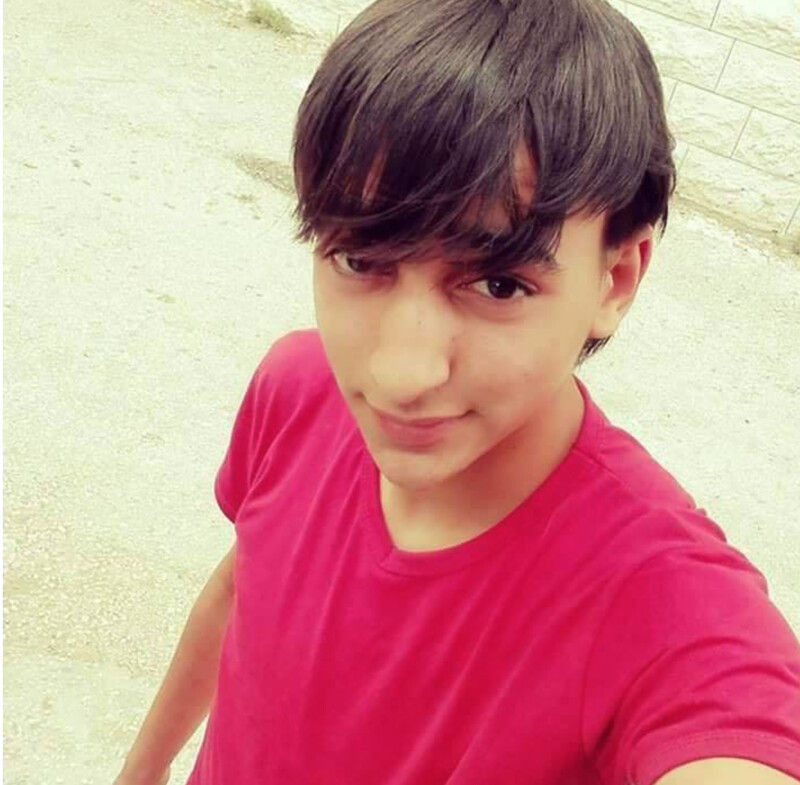 Qutaiba Ziad Zahran was shot after carrying out a stabbing attack on an Israeli soldier at the Zaatara military checkpoint in the northern West Bank on 19 August.
Soldiers continued to shoot at the boy after he fell to the ground.
An eyewitness told the Palestinian rights group Al-Haq that "I heard at least five bullet sounds when [Qutaiba] was already down."
The teen died immediately, according to Al-Haq.
Qutaiba's father, who said that the boy was the youngest of eight children, learned of his son's slaying from Facebook and local media.
"I received no official communication from any entity of the Palestinian Authority notifying me of my son's killing," Qutaiba's father testified to Al-Haq. "The [Israeli occupation forces] withheld my son's body; I did not know where it was being kept or when it would be handed over to me for burial in our hometown of Allar."
The day after Qutaiba was killed, dozens of Israeli soldiers raided his family's home. They searched the house and interrogated Qutaiba's parents and siblings. Qutaiba's 30-year-old brother Tareq was arrested.
The grieving family were not be able to bury Qutaiba until 9 September.
Al-Haq stated that "The aftermath of Qutaiba's killing, including the raiding of the family home, interrogation of family members, and the holding of Qutaiba's body, all fall within Israel's broad policies and practices of harassment and collective punishment."
An earlier version of this story included mention of a baby who died months after suffering excessive tear gas inhalation, as the Palestinian Authority health ministry announced at the time. The child's death has been omitted from this story after Defense for Children International-Palestine informed The Electronic Intifada that the group had thoroughly investigated the baby's case and had found that tear gas inhalation was not a primary factor in his death.
Tags