Don't get too close, Omar Abu Khater warned.
We were picking our way cautiously through the rubble of demolished farms and buildings on a recent afternoon in the al-Faraheen neighborhood of the town of Abasan al-Kabira in the southern Gaza Strip, east of Khan Younis.
His caution was warranted. Just 100 meters away loomed a concrete wall, part of the barrier Israel has erected around Gaza's boundaries, complete with watchtowers, cameras and soldiers with sniper rifles.
We were too close. While there is no official determination, it is generally understood that anywhere within 300 meters from the boundary is a no-go zone. Going there could be fatal. And when this reporter tried to move closer to take a few photos on a mobile phone, Abu Khater was having none of it. He had seen army jeeps near the wall and he was feeling uneasy.
"You never know with these soldiers. We have to hurry."
This is the very edge of Gaza, where the Israeli military has been busy fortifying a buffer zone of uncertain size within Gaza that keeps residents on constant alert and at risk of injury or death.
These so-called Access Restricted Areas – or simply no-go zones as residents know them – are enforced in a number of ways. Soldiers can arrest those who enter, usually farmers trying to work their land, and confiscate their equipment. Live ammunition is fired to clear people away, land is leveled and property demolished to allow soldiers clear lines of sight.
According to Abu Khater, here in al-Faraheen, soldiers begin to shoot at 5 pm. The gunfire, he said, is random and sporadic and has destroyed any kind of social existence in the neighborhood. Now, it is the sound of projectiles striking walls and tin roofs that marks the evenings.
The situation has only deteriorated since the devastating Israeli assault of 2014. No visitors come to these areas anymore, fearing for their lives. This, Abu Khater said, is the reality of life in the no-go zones.
He looked at his watch again while crouching behind a wall. "The occupation knows that you're a stranger," he said. "I advise you to return to my house and complete your work from there."
Gaza's wall
The no-go zones on land have long been ill-defined.
At sea, the Israeli navy has since April enforced a strict nine nautical mile limit, up from the six miles that had been allowed after the 2014 war on Gaza.
But that is much less than the 20-mile zone stipulated in the 1995 interim agreement signed by Israel and the Palestine Liberation Organization and just three-quarters of the 12 miles that was the most it ever allowed in practice. The limit went down as far as three miles after the capture of an Israeli soldier in 2006, seriously undermining Gaza's fishing industry and harming fish populations.
Overhead, Israel retains complete control of the airspace. The Yasser Arafat International airport, near Rafah in the south, survived only three years after it opened in 1998 and as the second intifada got seriously underway. The terminal building is still there, but the runway was long ago dug up by Israeli bulldozers.
On land, however, there is little clarity. According to the United Nations, areas up to 300 meters from the boundary with Israel are "generally considered to be a 'no-go' area." But farmers are scared to work land in what is considered a high-risk area as deep as 1,000 meters from the boundary. (Gaza is about 10 kilometers wide, 15 at its thickest.)
Palestinian human rights groups say the access-restricted zones can go as deep as 1,500 meters.
In addition, Israel recently announced the "largest project ever" undertaken by the military, a 60-kilometer above and underground concrete wall meant to prevent tunnel digging that is slated to run right along Gaza's boundaries.
Ground was broken on the NIS 2 billion ($520 million) "barrier" project in September. Near the boundary, residents can hear the sounds of diggers and heavy machinery.
Barren land
A few minutes before 5 pm, Omar again urged us to leave and speak to residents who live near the no-go zone. The only voices here now were those of the wind and the engines of tanks and diggers.
On our way, and some 200 meters down mostly sandy paths, Yasser al-Amour was picking his way carefully around the 15 dunams (a dunam is the equivalent of 1,000 square meters) of land he inherited from his grandparents.
The land now lies arid. The 54-year-old farmer has not been able to work here since the start of the second intifada in 2000, he said, fearful of being shot should he stay too long in the area.
"The soldiers shoot every time we try to cultivate the land because it is so close to the boundary. Of course I want to grow crops. But at the same time, I don't want to die or get injured doing it."
His is not an isolated story. The impact on Gaza's farming industry is dramatic. According to the Palestinian Center for Human Rights, some 27,000 dunams (27 square kilometers), or 35 percent of Gaza's agricultural land, can only be accessed at "high personal risk," and 95 percent of the restricted area is arable land.
This land is one of the perennial stumbling blocks in ceasefire negotiations with Israel involving Hamas, which controls Gaza's internal affairs, and other Palestinian factions in the territory. In 2012, after the Israeli offensive on Gaza that year, the parties, with Egyptian mediation, agreed to a ceasefire that would see farmers ostensibly able to cultivate land as close as 100 meters from the boundary.
But that was never borne out on the ground and after the 2014 aggression, only fishing restrictions were mentioned in the final communique. The mediation then was undertaken by a different Egyptian leadership that, the very next year, was to begin creating its own buffer zone on the Egyptian side of the boundary.
"We'll never leave"
Hazem Abu Mur, 45, was sipping coffee after finishing work in one of the car mechanic shops in the still-inhabited western part of the al-Faraheen area. He was sitting at the entrance to his house. Behind him were walls scarred with bullet holes.
The Abu Mur family of eight is trying to maintain as normal a life as possible under the circumstances. Hazem's 19-year-old son is at university studying accountancy, four other children are in school and Bisan, at four the youngest, plays with her mother in the house.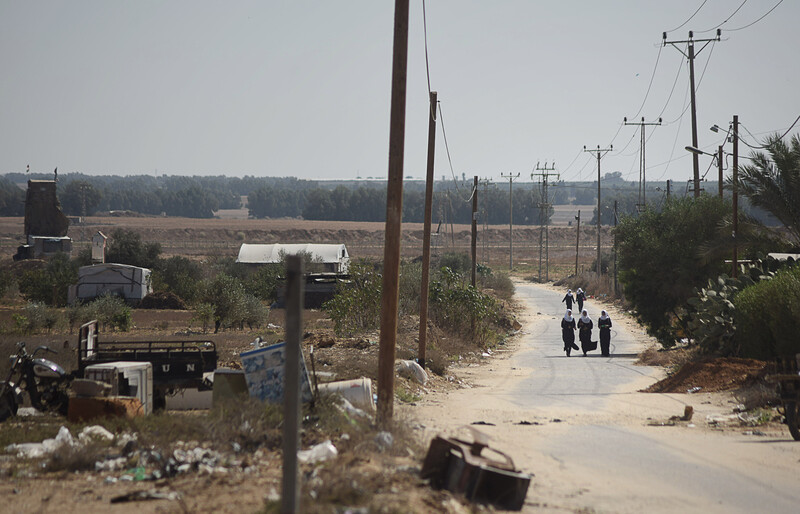 "The occupation has always been a part of our life," said Abu Mur. "Every day we face the risk that bullets penetrate the walls of our house. Anyone can be killed, injured or arrested at any moment. However, we have to go on and have a normal life."
He also objected to any suggestion that family members leave their land for safer neighborhoods.
"The occupation is trying to force us to leave," he said. "We'll never leave, even at the risk of death."
Adapted to cruelty
The adverse living conditions in the buffer zone extend to services. Potable drinking water is scarce and has to be bought from water trucks, electricity is intermittent at best and roads and other infrastructure lie unrepaired.
Most residents here are Bedouin. They work in agriculture, herding livestock, or drive delivery trucks. And the "barrier" project that Israel is pursuing not far away is well known here and resented.
"We know what Israel has planned for, and we've heard about this wall. We've seen the diggers, we are adapted to cruelty. Whatever happens, we'll never leave," said Abu Mur.
Omar Jaara, an Israel affairs expert with An-Najah University in the West Bank city of Nablus, said the "barrier" project – which Israel says is undertaken to prevent tunnel infiltration under the boundary – indicates that Israel remains fearful of the capabilities of the Palestinian resistance.
It also suggests that there has been no change in the fundamentals of the Gaza situation. The coastal strip continues to be mired in poverty and despair imposed after a decade of blockade.
"The siege continues, reconstruction is delayed, slow, non-existent. There has been no serious mediation from the Palestinian Authority, Egypt or any other Arab country."
It all suggests, he said, that another major conflagration is in the offing.
Not far from the Abu Mur family's home, Abdullah Rumeilat, 24, was herding sheep. He has been shot in the right leg twice, once in 2006 and once last year. He continues to work, though, and an extreme situation has become normal to the young man.
"We herd our sheep and, from time to time, the soldiers shoot at us. They want to make us leave."
Not far from where Rumeilat's sheep were grazing, Siham Abu Rashid, 55, was collecting herbs with her grandchildren. The family's livelihood – collecting medicinal herbs to sell to shops – is also under threat from Israel's buffer zone.
"We feed our children. And when we can't get to the land because of the shooting, we risk starvation," Abu Rashid said.
She is only out now because her husband was injured in a shelling of their house during the 2014 war. Fathi, 61, used to work the land too, but Siham had to stay with him for months after the shelling when he was too incapacitated to look after himself.
Death journey
Such stories are common right across the edge of the Gaza Strip. Anyone straying close to the boundary runs the risk of being maimed or killed. It is danger by dint of location.
According to Al Mezan Center for Human Rights, Israeli troops committed 111 human rights violations in the restricted-access areas in the first half of 2016, from live fire and artillery shelling in the areas to troop incursions and the spraying of chemicals on crops.
In the crosshairs have been farmers, shepherds, bird hunters, iron and scrap collectors, as well as demonstrators who took part in a protest there on the commemoration of the Nakba, the 1948 ethnic cleansing of Palestine, in May. In all, seven Palestinians, including three children and a woman, have been killed in the no-go zones in 2016.
Two Palestinian rights groups have submitted some of these findings to a UN special rapporteur for an upcoming report to the UN Human Rights Council, due in March 2017. The submission highlights, among other violations, the crop spraying the groups say the Israeli military has implemented in the restricted zones near Gaza's boundary and the effect of movement restrictions and closures generally on Gaza's farming and fishing industry.
Ramy Abdu, head of the Euro-Mediterranean Human Rights Monitor, said that "Israel commits grave violations of international humanitarian law and human rights by its repeated targeting" of residents in Gaza's boundary areas, adding that Israel's leaders should be taken to the International Criminal Court.
But those whose livelihoods depend on the no-go zones have little choice but to get on with it.
Majid al-Err hunts birds, and the mostly empty agricultural lands near the boundary are prime hunting grounds. The 28-year-old sets nets to catch birds, but has to hide behind sand dunes in order to avoid becoming prey himself for Israeli soldiers. It is a dangerous life, he said, but this is the hand he was dealt.
"Bird hunters call this the 'death journey.' Every day, I kiss my mother before leaving home, afraid I may never come back."
Hamza Abu Eltarabesh is a freelance journalist and writer from Gaza.
Tags