Muhammad Abu Safiyya lost everything during Israel's 51-day attack on Gaza during the summer of 2014.
Most of the thirty-six homes in his village, also called Abu Safiyya, were completely destroyed after Israeli forces invaded.
"We came back during ceasefires and each time we returned we found [the area] worse," the 54-year-old father of six told The Electronic Intifada.
The signs of destruction still remain visible in the northern Gaza village. A pair of torched cars rest on their sides near the barn on Abu Safiyya's farm and a large John Deere tractor is now an immense pile of contorted steel.
During the offensive, Israeli strikes killed 2,257 Palestinians, most of whom were civilians, according to the United Nations monitoring group OCHA.
"There aren't any water wells left and [Israel] destroyed the mosque," Abu Safiyya said.
Abu Safiyya is unable to calculate how much it will cost him to repair the damage. "It's impossible to know exactly how much we lost," he said, explaining that "much of our land was destroyed by tanks and we've had trouble getting the lentils to grow."
Some fifty of his cows and a dozen sheep died because of the attack. As he walked down the dirt road from his home, patches of sheep skin could be seen on the ground. "Some were shot, others starved when we were gone," he said.
He is just one of thousands of farmers and agricultural workers throughout Gaza whose land was damaged and whose livestock were killed.
According to statistics provided to The Electronic Intifada by the UN's Food and Agricultural Organization (FAO), Gaza's total livestock population decreased by 13 percent between 2010 and 2014.
Nearly 10,000 goats and sheep died in that four-year span, during which Gaza endured two major Israeli attacks.
Dependent on the animals for their income, the total number of herders pursuing their traditional livelihood also decreased by 22 percent, according to the FAO.
"Too dangerous"
Farmers in the nearby town of Beit Lahiya are undergoing the same struggle. Mahmoud Abu Afash, a 48-year-old father of ten, has farmed melons for more than a decade.
"We couldn't even come back during the ceasefires," he told The Electronic Intifada. "The area was too dangerous."
Abu Afash, who used to sell his melons in present-day Israel, said that Israeli drones are constantly present in the sky above him. "The jeeps come up and down the border here also," he said. "If we are close to the border, they fire their guns at us. People have been shot in this area."
After Israeli authorities evacuated settlers from twenty-one Jewish-only colonies in Gaza during 2005, its military declared a "buffer zone" between Gaza and present-day Israel, on the Gaza side of the boundary.
An Egyptian-brokered ceasefire that ended a previous Israeli attack on Gaza in November 2012 was supposed to offer clarity about the precise size of the "buffer zone." Israel declared in February 2013 that farmers would have access to land up to 100 meters from its boundary with Gaza.
Yet Israeli forces have since fired at farmers who are further away from the boundary.
"Here, I think they usually start shooting when we get closer than 300 meters," Abu Afash said. "That includes a large portion of my land. I take a risk every time I farm on it."
In the southern village of al-Faraheen, another farming community hugging the boundary line, Ahmed Abu Daqqa said that Israeli forces fire at farmers from varying distances. "Sometimes it is 500 meters, sometimes it is 300 meters," the 20-year-old told The Electronic Intifada. "We never know how close we can get."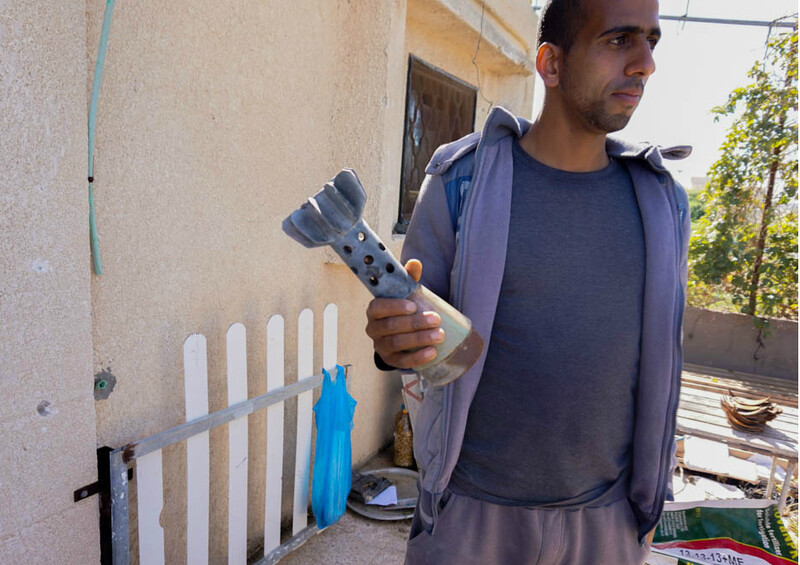 Like tens of thousands of their compatriots, Abu Daqqa and his family fled to nearby UN-administered schools during Israel's attack. "It was too dangerous to stay here," he said, recounting that Israeli tanks entered the area when the ground invasion began.
But they have found little relief since returning to al-Faraheen. "The Israelis have shot at us a lot," he noted.
Economic warfare
Down the dirt road, his aunt, Um Munther, loaded lentils onto her cart. "The [Israelis] shoot a lot in the morning and in the afternoon," she said calmly as Israeli military jeeps drove up and down the perimeter of the nearby boundary line.
On 22 February, Israeli forces in military vehicles fired on Palestinian farmers on the outskirts of Rafah, the southernmost town in the strip, reported Ma'an News Agency. Just four days earlier, farmers in the Maghazi area in central Gaza fled Israeli gunfire.
And less than a week prior to that incident, Israeli forces opened fire on Palestinian homes and farmers in the Khan Younis area, also situated in central Gaza, Ma'an reported.
"We hear gunfire hear every day," Um Munther said. "Sometimes it's too frightening to work, but we have to survive."
Alaa Tartir, a program director with al-Shabaka, a Palestinian research group, said Israel's frequent attacks on farmers in Gaza are part of a campaign of economic warfare.
"Israel's strategy is to keep the Palestinian economy paralyzed, dependent, de-developed and always on the edge of collapse," he told The Electronic Intifada. "A similar systematic war on agriculture, farming and water is also happening in the occupied West Bank."
The eight-year siege on Gaza has resulted in Palestinians, including agricultural workers, growing increasingly dependent on international aid for survival.
"More than 70 percent of the Palestinians in Gaza are dependent on different forms of international aid as a result of the Israeli siege," Tartir said. "Israel is imposing the siege and donors are paying for it."
Because international governments and institutions have failed to attach political conditions to their aid, Tartir argued that "donors are merely sustaining the status quo and refusing to take hard measures and therefore they seem to be determined to fail."
"Israel does not need the donors' silence to continue its violations of the Palestinian rights," he said. "But certainly it is delighted that others are paying for all the destruction it causes."
Back in al-Faraheen, Ahmed Abu Daqqa vowed to continue farming. "This is our only source of income, even though it keeps getting worse," he said.
"Farming is a dangerous job here."
Patrick O. Strickland is an independent journalist and regular contributor to The Electronic Intifada. Find his reportage at www.postrickland.com. Follow him on Twitter: @P_Strickland_.
Tags