Salah Sweidan fled his home while Israel was bombing Gaza in July last year.
"I honestly don't remember the exact day," Sweidan, 22, told The Electronic Intifada. "It is a blur. We tried to stay in our homes, but it was very dangerous."
Sweidan lived in a four-story home in the al-Shaf district of Gaza City along with his pregnant wife, four brothers and their families. When Israeli shells began to pound their neighbors' homes, the family gathered what they could and sought shelter in the central Gaza Strip until the attack ended.
"We came back to check on the home during every ceasefire," he recalled. "We found it intact every time. But then the last time we came it looked like this."
Although the home is still standing, the walls were blown off by shells and it looks like it could collapse at any moment. No one from Sweidan's immediate family was killed, but thousands of others were not as lucky.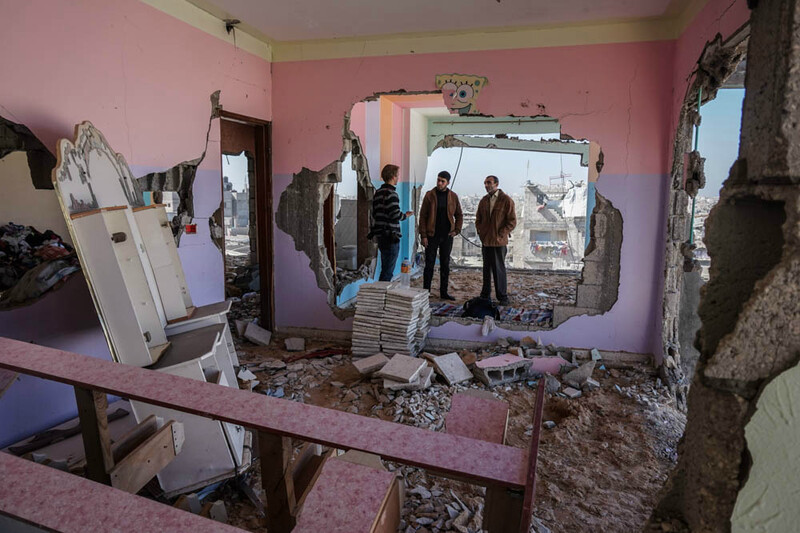 Israeli forces attacked Gaza by air, land and sea, leaving 2,257 Palestinians dead by the time the offensive ended in late August, according to the United Nations monitoring group OCHA. Of that total, 1,563 are estimated to have been civilians, including 538 children.
At the height of Israel's attack, more than 338,000 people were displaced and sought refuge in schools and other shelters across Gaza, according to the humanitarian aid coordination body Shelter Palestine.
Nearly 11,000 Palestinians were still taking shelter at UN-run schools at the end of last month, UNRWA, the UN agency for Palestine refugees, reported. Many more internally displaced people in Gaza stay with relatives or in other temporary accomodations.
"Open-fire policy"
More than 10,000 homes were completely destroyed and another 6,000 were damaged so badly they were "rendered uninhabitable," says Shelter Palestine, adding that at least 102,000 partially-damaged homes need repair.
"We all had to flee to different areas," Sweidan said. "After the [Israeli] forces entered we decided to leave because we saw people from the houses around losing people — civilians."
Before the attack, Sweidan and his brothers worked together in his supermarket on the ground floor of his house. "Thank God, business was good and I was able to work with my brothers," he said, explaining that his family has lived in the al-Shaf area for more than twenty years.
Sweidan climbed a mound of broken concrete and pointed to the spot where his supermarket used to stand. All that is left is a rubble-filled crater. "Life was good before the war," he said. "We visited each other all the time … we spent 24 hours a day together."
"The hardest part of the war was seeing houses collapse on top of families as we left al-Shaf," he noted. Explaining that his five-month-old daughter Rimas was born during the attack, he shook his head and explained that "it's not easy to raise a child here, but what are we supposed to do?"
A new report published by the Israeli human rights group B'Tselem finds that Israel's "open-fire policy" during its attack resulted in "dozens of instances in which residential buildings were attacked from the air or ground, causing them to collapse on entire families."
"The policy of bombing homes was implemented throughout the Gaza Strip all through the fighting," the report, which examined seventy such cases, concludes. "These attacks were not carried out on the whim of individual soldiers, pilots or commanders in the field. They are the result of a policy formulated by government officials and the senior military command."
"They destroyed the whole house"
Without the income from the supermarket, Sweidan and his brothers have all had to take out loans from the bank in order to rent apartments elsewhere.
"But it's not comfortable for me to rent from someone else," he said. "I come to the house every day to clean and gather our belongings — what's left of them."
Forty-five minutes south of al-Shaf in al-Faraheen, a farming village hugging the boundary line between southern Gaza and present-day Israel, Jaber Abu Daqqa reflected on Israel's summertime attack.
Abu Daqqa, 61, moved to al-Faraheen more than twenty years ago. "We always have problems from the Israelis here," he told The Electronic Intifada, "but the last war was the worst I've ever seen."
Passing through a front door ridden with bullet holes, the farmer walked through his burned out home, collecting Israeli shells and bullet casings.
Picking up a half-charred photograph of his daughter, he said: "We had fled to our other house because this one is only seven hundred meters from the border. If anyone had been inside when they attacked the home, there is no chance they would have survived. They burned it all down."
The kitchen's ceiling was ripped open by an Israeli shell and the living room is covered in soot from the fire it caused. "They destroyed the whole house, but we are still alive," Abu Daqqa said. "They can destroy my home every day, but we want to live."
Abu Daqqa estimated that reconstructing the three-room home will cost him $30,000. As he walked out of his home, he paused and motioned toward a gravestone in the corner of the yard. The stone is a tribute to Vittorio Arrigoni, the activist, who was killed by a little-known Salafi group in 2011.
Arrigoni, who was actually buried in his native Italy, used to visit Abu Daqqa regularly.
"Look here," he said, motioning to the grave, "the [Israeli] soldiers shot bullets in the headstone."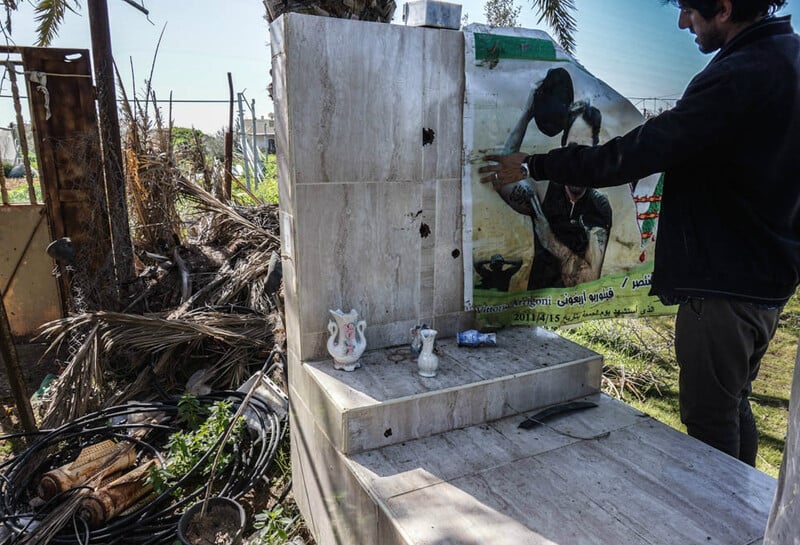 Failed promises
After Israel's assault ended, $5.4 billion was pledged towards Gaza's reconstruction by international donors attending a conference in Cairo. Of that total, the Ramallah-based Palestinian Authority set aside half of it to fill gaps in its own budget.
The eight-year Israeli siege on Gaza — maintained in cooperation with the Egyptian government — resulted in minimal reconstruction supplies being allowed into Gaza.
Worse still, United Nations-administered home repairs were halted last week when UNRWA, the UN agency for Palestine refugees, suspended financial aid to tens of thousands of Gaza residents whose homes were destroyed by Israel.
"Over 96,000 Palestine refugee family homes were damaged or destroyed during last summer's conflict and $720 million is required to address this need," UNRWA reports.
"To date, UNRWA has received only $135 million in pledges, leaving a shortfall of $585 million," a statement adds. "While some funds remain available to begin the reconstruction of totally destroyed homes, UNRWA has exhausted all funding to support repairs and rental subsidies."
Angered by the aid cuts, Palestinians protested outside UNRWA's Gaza office on 30 January. "Manipulating the Gaza reconstruction process will result in an explosion [of anger] by those whose homes were destroyed," Muhammad al-Karafneh, mayor of Beit Hanoun, a town in northern Gaza, told the news agency Maan.
Jaber Abu Daqqa is not waiting for governments or aid agencies will come to his rescue. He is planning to farm and sell his crops so he can rebuild his home.
"I don't want money from [humanitarian] organizations," he explained. "I prefer to do it myself."
Patrick O. Strickland is an independent journalist and regular contributor to The Electronic Intifada. Visit his website: www.postrickland.com. Follow him on Twitter: @P_Strickland_
Tags