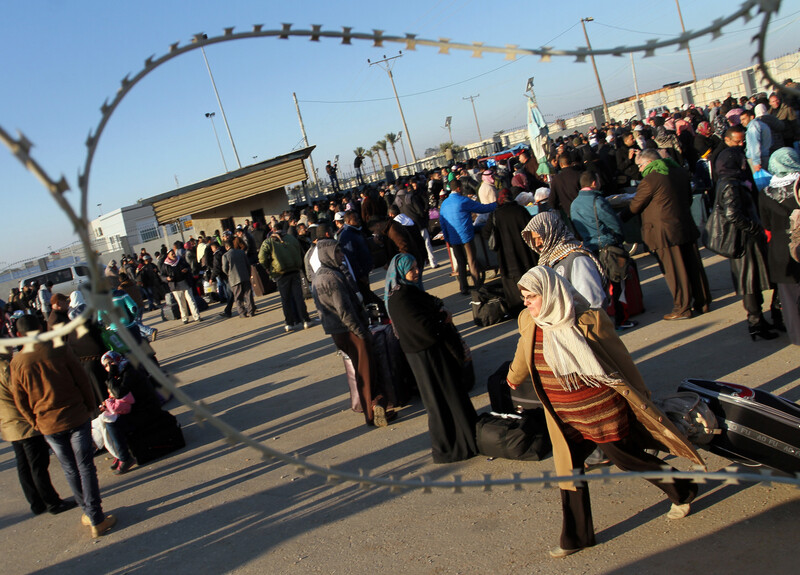 Mohammed Suliman does not know if he will be able to attend the birth of his first child. His wife Leila has been blocked from leaving Gaza to join him in the Australian city of Adelaide.
Their baby is due in August. "We are racing against the clock," Mohammed said this week, adding that he is focused on trying to get Leila out of Gaza.
"So far there has been no progress, so I'm very worried," he added. "Once she becomes seven months pregnant, she won't be able to travel."
Mohammed left Gaza through the Erez crossing between Gaza and present-day Israel in late March. Despite having an Australian visa and having paid national health insurance in Australia, Leila was denied exit by the Israeli authorities.
Granted a full scholarship to a PhD program in Adelaide University, Mohammed was a couple of months late for his classes by the time he arrived. He had made numerous attempts to leave Gaza before eventually succeeding in doing so.
Tight restrictions have been placed by Israel on the number of Palestinians passing through Erez. The Rafah crossing that separates Gaza from Egypt has been completely closed — with some rare exceptions — since the last week of October 2014.
"Purgatory"
"There are thousands of students like me here in Gaza," Mohammed told The Electronic Intifada earlier this year, before he managed to leave Gaza. "We are in purgatory. We've already been accepted to study abroad, we have visas, but there is no way to leave this prison — Gaza."
Mohammed is best known for an interview he gave to CNN as Israel bombed Gaza in November 2012. A loud explosion occurred during that interview.
At that time, he had just returned from completing a master's degree in human rights at the London School of Economics. He began working for the Gaza-based Al-Mezan Center for Human Rights, yet decided that he wished to undertake further studies abroad.
However, he did not actually apply for the Adelaide scholarship until after Israel bombed Gaza for 51 days last summer.
Israel's restrictions have not only affected students with college places abroad. They have also hindered medical patients from traveling to receive specialized treatment that is unavailable in Gaza's hospitals.
Though Israel sometimes allows groups of students to leave, that is the exception, rather than the norm.
According to Gisha, an Israeli human rights group that documents restrictions on Palestinian movement, Israel has not made public its procedures and protocol for Palestinians seeking to leave the besieged strip through Erez. Gisha has petitioned the Israeli courts in an attempt to have those procedures to be made public.
Because Palestinians from Gaza have been effectively banned from studying in the occupied West Bank, their only choices are to continue their education in the narrow coastal enclave or to seek opportunities abroad.
Students like Mohammed who leave from Erez have to travel via Israel to the West Bank, where they cross the Israeli-controlled Allenby Bridge into Jordan. From Jordan, they continue to their destination.
Since the US-backed General Abdul Fattah al-Sisi took over Egypt in a 2013 coup, leaving from the Rafah crossing into Egypt has become immensely difficult.
"Stuck in this prison"
"According to our latest information there are 8,000 people registered in the waiting list to exit the Gaza Strip via the Rafah crossing," Shai Grundberg, a Gisha spokesperson, told The Electronic Intifada. "Among them there are around 900 students who are stuck in the strip since [the 2014 summer attack on Gaza] unable to return to their studies, their work or their families."
Grunberg explained that their inability to leave Gaza puts at risk students' visas and scholarships, adding that "many miss the beginning of their studies."
Although Israeli authorities have promised to ease travel restrictions for Palestinians seeking to exit Gaza from Erez, "Israel is allowing transit via its territory in very few cases and in a very slow manner, nonetheless demonstrating that it is possible," said Grundberg.
According to Grundberg, Israel has also agreed to allow 30 students in Gaza to travel from the Erez crossing each week. Nonetheless, no students have been permitted to cross since early March.
The Israeli and Egyptian restrictions have also put Maha Mehanna, 44, in a predicament. Enrolled in an online program for a master's degree in business administration at a Scottish university, she is required to regularly travel to the American University of Cairo in order to take her exams.
Mehanna, an activist and translator, has had to postpone her exams for months due to Rafah's closure. "I haven't been able to go since the fall of Mubarak's regime," she told The Electronic Intifada, referring to the time when a popular uprising overthrew the former Egyptian dictator Hosni Mubarak in early 2011.
"This is a sort of collective punishment," Mehanna remarked. "The world thinks everyone in Gaza is Hamas. This is not the truth. People in Gaza really want to live like the rest of the world. People want jobs [and] a future, but it happened that we got stuck in this prison."
"And the government in the West Bank abandoned us," she added, referring to the Ramallah-based Palestinian Authority.
Back in February, dozens of students and religious pilgrims protested Egypt's closures of the Rafah crossing by throwing symbolic diplomas into the sea.
"I should have finished my degree already," Mehanna said. "Now I'm scared I will lose all my money and credits. I just keep postponing and postponing [exams]. It's endless."
Editor's note: an earlier version of this piece misspelled the first name of Mohammed Suliman's wife as Layla. It has since been corrected to Leila.
Patrick O. Strickland is an independent journalist and regular contributor to The Electronic Intifada. Website: www.postrickland.com. Twitter: @P_Strickland_.
Tags