Nearly two hundred Palestinians have been killed in Gaza in the past week, and while the death toll continues to rise, there remains no escape from the ongoing siege as Egypt maintains closure of Rafah crossing, the sole entry and exit point for the vast majority of Gaza's 1.8 million residents.
United Nations secretary general Ban Ki-moon urged Egyptian President Abdul Fattah al-Sisi to open the border on Wednesday last week, after three days of intensive Israeli bombing had killed approximately ninety Palestinians.
On Thursday, Egyptian authorities opened the Rafah crossing only for Egyptians and Palestinians suffering critical injuries. Only eleven Palestinians passed the crossing before Egyptian authorities closed it again on Friday morning, according to the Ma'an News Agency. Egyptian authorities did not provide any reason for the closure.
Meanwhile, charity and medical workers report that they have been prevented from entering Gaza via Rafah crossing to deliver medical and food aid.
Thanking Netanyahu
Meanwhile, much of the Egyptian media's coverage of the Israeli raids on Gaza imitates the language of the Israeli government.
Popular television stations such as CBC use words like "terrorist targets" when describing the objects of Israeli airstrikes.
Amany El-Khayat, a popular talk show figure, stated on Twitter that "Hamas is a Jihadist terrorist movement that does not differ much from ISIS. It attacks Israel and hides for the world to watch Israel strike at civilians":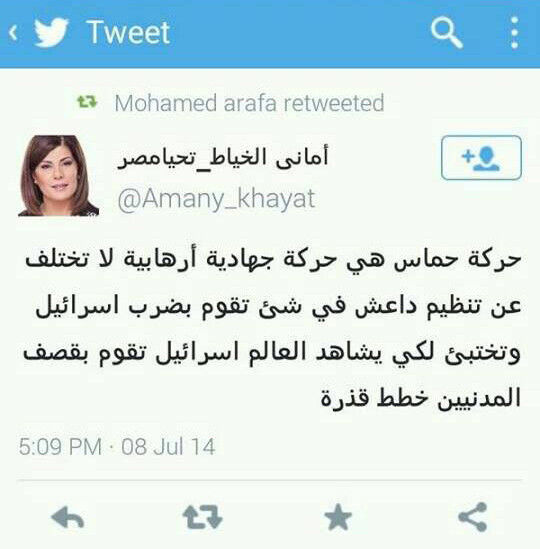 The co-editor of the state-owned Al-Ahram newspaper, Azza Sami, expressed gratitude to Benjamin Netanyahu, the Israeli prime minister, saying "may there be [people] like you for taking on Hamas, the root of corruption, treason, and the Brotherhood agent," referring to links between Hamas and the Muslim Brotherhood in Egypt, which was ousted from power in a military coup in July last year:
Before deleting her Twitter account, she also prayed for the death of all "Hamas members, and everyone who loves Hamas":
Blaming Hamas
The statements made by these media figures are not the first of their kind. Last year, incitement against Syrians and Palestinians was endemic as ousted president Muhammad Morsi was charged with communicating with Hamas and was often accused of giving electricity to Gaza.
Hamas, on the other hand, was accused of stealing electricity, wanting to take the Sinai peninsula, and of killing soldiers on the Rafah border in 2012.
The Egyptian interior ministry shared photographs of the funerals of the dead Egyptian soldiers on its Facebook page. The caption under the pictures read: "Sorry Gaza, we will not forget":
The idea was that because Palestinians from Gaza allegedly "killed Egyptian soldiers in Rafah," we cannot sympathize with them when Israel bombards the strip with airstrikes; they deserve it.
Rafah remains closed
The Egyptian foreign ministry meanwhile released a statement on 8 July condemning Israel and expressing "extreme concern" over the escalation of violence in the Gaza Strip.
In the statement, Egypt calls for the "immediate and absolute abandonment of violence on both sides." It calls for negotiations, and repeatedly states that UN Security Council resolutions must be respected and that Palestinians should work on calling for a two-state solution with East Jerusalem as Palestine's capital.
Meanwhile, al-Sisi had a phone call on 8 July with Mahmoud Abbas, leader of the Palestinian Authority, reportedly discussing the situation on the ground. The phone call made the headlines of local newspapers.
Despite the supposed "condemnation," the Egyptian authorities have kept Rafah closed. Since the 2013 coup which ousted Morsi, the Rafah crossing has remained shut down, intensifying the humanitarian crisis in Gaza as it created shortages in food, medical supplies and other basic necessities. The Egyptian military also destroyed hundreds of tunnels through which vital supplies were brought in to Gaza via Egypt.
Palestinians in Gaza have little hope that Egypt will provide any support or assistance.
"The people of Gaza cannot rely on anyone," Islam Zendeh, a Gaza resident, said.
"How many times have the Arab leaders failed us throughout the years? They will continue to let us down," Zendeh added.
"And how can a president who crushes his own people save another people that he and his soldiers keep under siege? How can we expect him to do anything for a group of people he considers terrorists?"
Jihad Abaza is a recent political science graduate from the American University in Cairo. She has also worked as a journalist.
Tags