The Canadian branch of the Jewish Defense League has threatened to "confront" and "derail" a conference on Christian Zionism this weekend.
The comments, made on the extremist organization's website, raise the specter of anti-Palestinian street violence, something the JDL is synonymous with.
Taking place in Vancouver, this weekend's conference is titled "Seeking the Peace of Jerusalem: Overcoming Christian Zionism in the Quest for Justice" and is organized by Canadian Friends of Sabeel (Sabeel is a Palestinian liberation theology group).
Its featured speaker include Christian clergy and Jewish rabbis, as well as Palestinian and Israeli human rights advocates and journalists.
Palestinian activist Yafa Jarrar, one of the speakers at the conference, has been particularly singled out for racist attacks and threats of violence by the JDL Canada.
Yafa is the daughter of leftist Palestinian lawmaker Khalida Jarrar, who Israeli occupation forces earlier this month ordered detained for six months without charge or trial.
JDL Canada has slandered the event as a "terror recruitment conference" and Jarrar and her family as not "indigenous 'Palestinians'" (the scare quotes are used because the JDL refuses to recognize the right of Palestinians to exist).
Jarrar told The Electronic Intifada over the phone from Vancouver that the JDL has as long history of violent threats, racism and harassment against Palestinian activists in Canada: "They have been advocating for violence, and armed violence against anybody who speaks out in criticism of Israel."
Police protection
Jarrar, who lives in Canada, said the JDL has been harassing them "since we started doing BDS [boycott, divestment and sanctions] work in Canada back in 2005." They would "come to all the events in full force, threatening to attack the speakers. So we ended [up] with every single talk and event … packed with police to protect us," she explained.
In 2006, a branch of the Canadian Union of Public Employees in Ontario "had their annual conference in Windsor where they passed a resolution to encourage their members to research the academic boycott of Israel. So I was speaking at that conference," said Jarrar.
The JDL "bussed their people [in] from Toronto to Windsor, booked rooms in the same hotel … and they were basically bullying and attacking us throughout the conference to a point where we couldn't leave any room without a security guard. I had to be actually taken to my bedroom … accompanied by a security guard or a police officer."
The US branch of the JDL was branded a terrorist organization by the FBI, after a campaign of anti-Palestinian and Islamophobic bombings there.
Extremist links
JDL Canada's leader Meir Weinstein is also a known associate of JDL UK's Roberta Moore, who was in February found guilty in London of possession of an offensive weapon and two counts of assault at a Palestinian literary festival.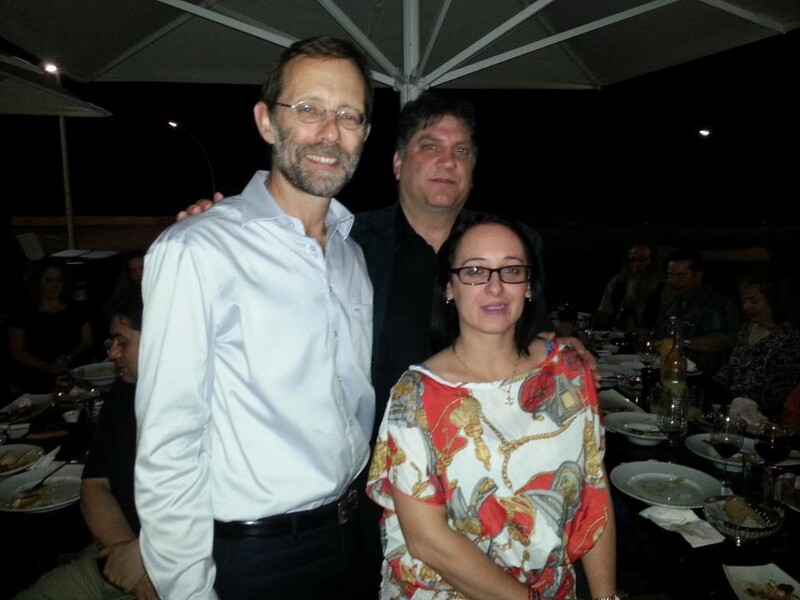 In this photo, Weinstein is seen alongside Moore and Moshe Feiglin, a top Israeli political leader notorious for advocating genocide in Gaza last summer.
In a 1 August posting on his Facebook page, Feiglin, a member of Prime Minister Benjamin Netanyahu's ruling Likud Party, called for the "conquest of the entire Gaza Strip, and annihilation of all fighting forces and their supporters."
Political shield
Astonishingly, the fever-pitch level of support for Israel amongst the Canadian political class in recent years means that, extremist group though it is, the JDL in Canada receives political support from the highest levels.
In January last year, Prime Minister Stephen Harper took a massive entourage with him to Israel during his first ever official visit.
One of the participants was Julius Suraski, the JDL's Ontario coordinator, who is active in Harper's Conservative party. After Harper's fawning speech in the Israeli parliament, Suraski gushed on the JDL website that the prime minister was "the moral leader of the west."
Yafa Jarrar said this was a sign of the government not only being complicit with the JDL "but actually actively endorsing their behavior and activity and [so] they have this diplomatic, political shield."
It is not clear how much support for its "picket" against the conference the Toronto-based JDL will be able to muster in the west coast city of Vancouver. A page JDL Canada has set up on the crowd-funding website Indiegogo to pay for the costs of the flights had only raised nine percent of its target at the time of writing.
History of violence
There is no doubt about the violently racist nature of JDL organizations around the world. JDL Canada activists also have a history of violence.
Meir Weinstein and his branch of the JDL have for years led anti-Palestinian, Islamophobic hate rallies against Palestine House, a community and social hub for the Palestinian-Canadian community based in the greater Toronto area.
Last summer, a JDL hate rally there was counter-protested by the Palestinian community, who were angry at the vicious murder of Muhammad Abu Khudair in Jerusalem. The Palestinian teenager was kidnapped, forced to drink gasoline and burned alive by Israeli racists.
Weinstein and his JDL thugs turned up with signs calling for the center to be closed down, including slogans such as "Smash Islamic terror." YouTube videos from the day show JDL supporters attacking the Palestinian counter-protest, before police pushed them back.
Soon after, a gang of leather-clad bikers with "JDL" jackets attacked the Palestinian crowd, who then defended themselves, before taser-wielding police protected the bikers. One JDL thug was apparently later arrested for refusing to move his bike.
Several arrests were reportedly made on the day, including of Eric Brazau, a convicted Canadian Islamophobic hate-monger who can be seen in a YouTube video shouting at police.
Even more chillingly, the JDL Canada was investigated for an alleged bomb plot against Palestine House.
According to Weinstein himself, speaking in 2011 to Sun News (a now defunct right-wing channel known by critics as "Fox News north"), nine people associated with JDL Canada (including Weinstein) were interviewed by Canadian police over the alleged plot.
Weinstein denied involvement.
Violent anti-Arab racism
The JDL was founded by Meir Kahane, a violent street thug turned rabbi who later went on to found Kach – an organization so racist and extreme that even in Israel it was outlawed and classified as a terrorist group.
Kahane believed that all Palestinians should be expelled from the entirety of historical Palestine, and the whole land should be an exclusively Jewish state.
The logo used by Kahane for both his his JDL and Kach terror groups (a raised fist against a Star of David) is the same as that used by the modern branches of the JDL, including in Canada.
While often considered to be on the extreme fringes of the Zionist movement, Kahane's views were in reality coddled and encouraged by mainstream Israeli figures – as evidenced by the support of genocide-advocate Feiglin, who before the recent elections, was the deputy speaker in Israel's parliament.
During last summer's violent "death to the Arabs" riots in Jerusalem, another popular slogan (often found on propaganda distributed by settlers' groups) was "Kahane was right!" (see for example the top photo in this article).
The racist slogan is one that JDL Canada has titled at least one of its events: a November 2014 "memorial" to Kahane.
In May 2014, JDL Canada arranged a visit by Feiglin to Toronto which he used to spread his anti-Palestinian message, his "alternative" to the peace process.
In it, he called for Israel to be "a real Jewish state and not a state of all its citizens." In that speech, sponsored by JDL Canada, he also called for Israel to "encourage the Arabs … to leave the land of Israel … to sell their homes," to annex the entire West Bank – which he said was "given by God" to Israel in "miraculous wars" – and to "give the land to the Jews" from all over the world.
Aptly enough, Jarrar is set to speak this at this weekend's conference about "suppression of freedom of speech in Canada when it comes to talking about or criticizing Israel." With the Canadian government apparently in bed with such violent extremists, it seems there is a severe free speech deficit in Canada.
Tags