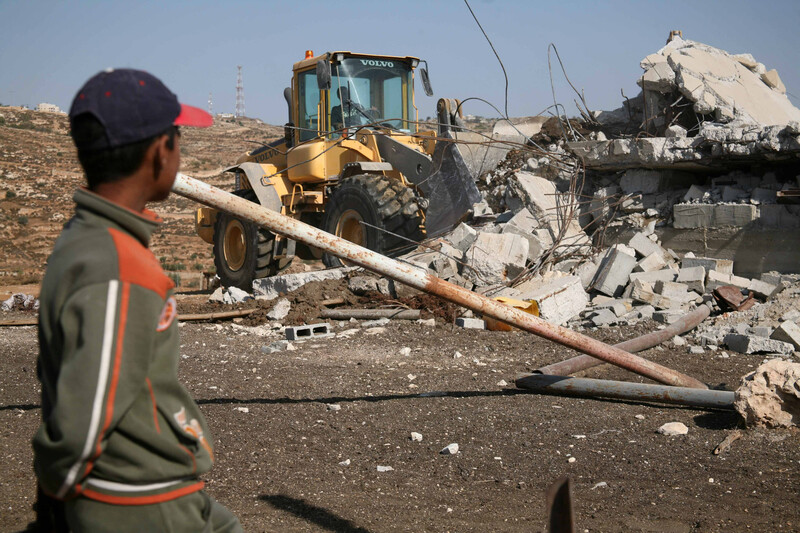 "What is happening is that on the one hand, there is [a] tremendous response to the call for solidarity with Palestine. On the other hand, this is also a response to the shift in India's foreign policy; the strategic shift from the support for Palestine – which existed during the freedom struggle in India – to the not only business-as-usual with Israel today in India, but to business-more-than-usual." - Githa Hariharan of InCACBI
This week on The Electronic Intifada podcast:
Transcript of interview
The following is a rush transcript of The Electronic Intifada's interview with Githa Hariharan of the Indian Campaign for the Academic and Cultural Boycott of Israel (InCACBI).
The Electronic Intifada: Let's talk about InCACBI, and some of the BDS campaigns you've ben a part of in the past months. Tell us about InCACBI and why so many Indian activists, writers such as yourself, scholars, artists and workers have joined the Palestinian-led movmement.
Githa Hariharan: Well, when we began in 2010, in response to the Palestinian call, we didn't realize that there would be such a wide variety of people who would be interested. Now, that's not to say that there aren't tremendous problems, but briefly, let me say that all of our campaigns, appeals, and our recent demonstration in Hyderabad have shown that a range of people have been coming together: students, academics, even engineers working in the software industry joined in the demonstration in Hyderabad.
What is happening is that on the one hand, there is tremendous response to the call for solidarity with Palestine. On the other hand, there is also a response to the shift in India's foreign policy, the strategic shift from the support for Palestine – which existed during the freedom struggle in India – to the not only business-as-usual with Israel today, but business-more-than usual.
EI: Githa, talk about the protests in Hyderabad against Israel's participation in the global education summit. And of course, this came just weeks after InCACBI put out a major statement in opposition to the India-Israel free trade agreement. Tell us about the current relationship between Israel and India, and how activists are working to address these partnerships.
GH: The Indo-Global Education Summit and Expo 2012 in Hyderabad, which was held from 7 through 9 September this year is a typical example.
We found out, quite accidentally, that this was being held; and that though it was not organized by the government, it is organized by something called the Indus Foundation, but the government has, in a way, given its imprimatur, because the preface, the introduction to their official pamphlet is in fact signed by a union minister of the Indian government.
So, rallying around this, again demonstrated the need not only to express solidarity with Palestine – by saying, why have you got these Israeli academic instutitions here, particularly Technion, with its deep military ties with the Israeli establishment, but also the fact that the summit itself is doing something to Indian education in general. A lot of these new links with Israel are talking about privatization, increased security, surveillance, military ties – so it is actually a complete shift in the way India views itself.
The combination that we had of people who came to this wonderful demonstration, which I simply must describe… this summit was being held at a five-star hotel called the Taj Deccan in Hyderabad. The various groups that came together on 3 September … announced the protests for the 7th at a roundtable conference. The police apparently refused permission for the demonstration. The group said, well, we're going to hold it anyway, and the police did give permission. And apparently at 11:30 in the morning, outside the Taj Deccan, you had students, academics, as I said, you had engineers, you had a group called Aawaz which is working with the minorities, another NGO called COVA which primarily works with Muslims, but you had a combination of political affiliations, different communities and so on.
And when they arrived there, the police stopped the demonstration. And in effect, the demonstration was a series of scuffles and arrests. Of course, there was very poor media coverage, so this gives you an idea of what we are up against when you demonstrate anti-Israel and pro-Palestine. One is that the mainstream media will not give you the attention you deserve; on the other hand, the police, naturally – this is a high-profile thing in a five-star hotel – and so they're going to be very difficult about what you're allowed to do.
But the fact that they came together and when the organizers of the demonstration spoke to me, they said, you know this really was a first, and we want to do more, we want people to come to Hyderabad and talk about the situation in Palestine and talk about the new relationship that India has with Israel.
EI: In the same realm, InCACBI has initiated a call for the academic boycott of Israeli universities across India. Can you talk about how this campaign has developed?
GH: Well, one of the problems is that there are so many MoUs – Memorandums of Understanding – with Israeli institutions, being signed all over the place. We can hardly keep up. We find that we are issuing several statements a week, because almost every day we find that there's been a new MoU signed. For example, we discovered that Ahmedabad, which is in Gudjarat state, there is an institution set up called iCreate, which has a link with Technion. And in fact, they have someone from Technion, a faculty member, on their advisory board. So that is one, for example.
Then, there is actually an academic research agreement between the University Grants Commission, which is a very important body in India, with the Israel Science Foundation. So these are the things we have found out about, but we don't now how many links and MoUs there are that we don't even know about. So what we are trying to do is to write to as many academics as we can, we are using our [web]site, we are using our Facebook page, and so the first thing is to desseminate information.
We are also hoping to have a university event on 29 November to show solidarity with Palestine, to actually get students and faculty in certain universities and colleges in different parts of India, to use a kit we send them and create their own event to discuss not only what is happening with India's growing relationship with Israel, but what is happening in Palestine; and to actually discuss what do we mean when we say that Israel is an apartheid state, and why are we talking about a boycott? Because there is a lot of confusion about the boycott, and we need to discuss that.
EI: Well, let's explore the recent campaigns in the cultural boycott realm. Last year around this time, an extensive list of prominent Indian artists boycotted invitations to show their work at the Tel Aviv Museum; and several months ago, the tabla maestro Zakir Hussein canceled his scheduled performance in Israel due to the efforts of BDS activists in India and around the world. Talk about some of these campaigns, and why these cultural boycotts are so significant.
GH: I think, finally, artists and writers know deep in their hearts that, if you are an artist of conscience, you don't write and perform and paint in a vaccuum. And I think – we are terribly proud of these artists who have responded, who have shown that there is life beyond a career, and a good concert, or a good art exhibit, so we are very proud of them.
And of course when someone like Zakir Hussein cancels a performance, people sit up and say, well, let me learn more about this. And certainly, with the artists boycotting, one of our artists did a wonderful job – she spoke to any number of artists and there was debate – which is what is important. It's only when there is debate that people are going to start asking sharp questions about why are we sitting here in India, working so hard for Palestine?
A whole plethora of issues then come up – it is Palestine, what is life under occupation like, at the same time, how do we pressure the Indian government to bridge the gap between the kind of rhetorical support they occasionally offer for Palestine; and on the other hand, they see themselves as very much with Israel in their new self-image. So this is what we're hoping to do, and we do hope that we can work towards an exchange of students, artists, academics…
At one time, when I was a young woman, we saw a lot of Palestinian students in India, and that's really not true anymore – there's been a significant drop. And one of the things that InCACBI would like to do is make sure that we pressure the government, and at the same time ask for help from other organizations, to actually make sure that we can bring Palestinian artists, academics and students there, and perhaps we could go there as well.
You can learn more about the InCACBI campaigns at www.incacbi.in, and on Facebook. Their email address is incacbi [AT] gmail [DOT] com.
Tags