On Wednesday, Students for Justice in Palestine along with a diverse array of organizations at the University of California at Berkeley constructed a mock Israeli wall and dramatized encounters at a mock checkpoint. The creative actions took place under the iconic Sather Gate for a few hours on campus during the middle of the day.
The actions were intended to spark discussions between students as part of Israeli Apartheid Week, an annual, global campaign to educate and mobilize the public against Israeli violations of Palestinian rights.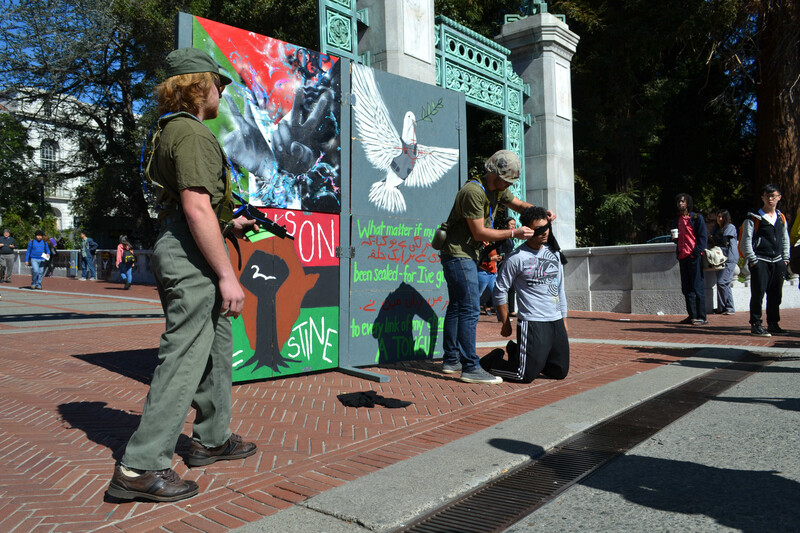 Sections of the mock wall were painted by different student and community groups and included tributes to the Black Lives Matter movement and Palestinian American community leader Rasmea Odeh.
The Electronic Intifada spoke to several students and supporters who came to help set up the mock wall and checkpoint, including some who took part in a theater action to display human rights abuses at Israeli checkpoints in the occupied West Bank. Students say that the checkpoint scenes were modeled after actual encounters filmed at Israeli checkpoints.
"We're here on the [twenty-first] anniversary of the Hebron massacre … that led to the closing of Shuhada street in Hebron for Palestinians," UC Berkeley graduate student and SJP member Kumars Salehi told The Electronic Intifada.
"We're not only protesting that particular closing but also the other segregation and occupation activities of the Israeli military in the West Bank, as well as calling for the UC Regents to divest — as six of nine undergrad UC campuses, as the UC grad student union, as the UC student assembly have called for. We're trying to make it harder for the Regents to ignore student voices," he added. The Regents are the University of California's governing body.
Listen to interviews with students and supporters at UC Berkeley via the media player above.
Twitter user @violentfanon posted short videos of the mock checkpoint theater actions:
Tags