This week on The Electronic Intifada podcast:
The Electronic Intifada podcast is available on iTunes! Click here to view the podcast archive, or subscribe via the iTunes interface (search for The Electronic Intifada).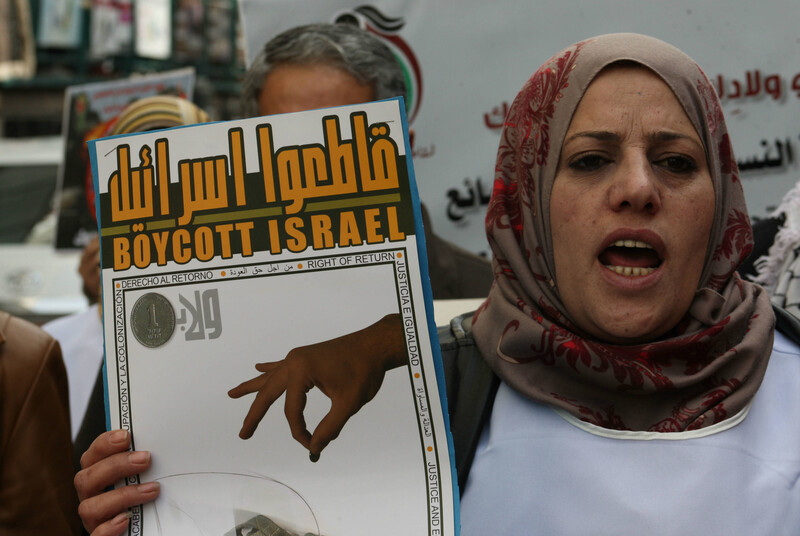 Interview with Kumars Salehi
Student workers at the University of California have voted by a landslide to support the Palestinian-led boycott, divestment and sanctions (BDS) campaign to hold Israel accountable for its violations of human rights.
The votes, which were cast on 4 December by members of UAW Local 2865, resulted in 65 percent of voting members casting their support of a BDS resolution against 35 percent voting against.
UAW Local 2865 has thus become the first major labor union in the US to join the BDS movement.
The union represents 13,000 student workers in the University of California system. It joins a growing number of student governments, academic associations and activist organizations in the US which have pledged to hold Israel accountable for rights violations and to end the complicity of corporations and universities which profit from such violations.
Nora Barrows-Friedman: First off, your reaction to the landslide victory as the UAW Local 2865 voted in support of BDS, and the significance of this being the first US labor union to join the BDS movement.
Kumars Salehi: I'm overwhelmed because our margin of victory was so overwhelming. We expected to win, but not by a thirty point margin.
Although academic boycott was not up for a vote, 52 percent, by our calculations, of voters actually made a personal pledge on their ballot to respect the boycott of Israeli academic institutions, which of course Palestinian civil society has asked us to do, including their academic organizations. We actually won every UC campus except Irvine and Santa Barbara — we even won at UCLA, which last time we talked I said I didn't even really think that we had a shot at UCLA until divestment passed there a couple of weeks ago in their student government.
That means six of nine undergrad student governments have voted to divest; they've spoken, the UC student body, and now the UC grad workers have too. It's our labor that keeps these universities running, and if the Regents want to continue to ignore students' voices, they have to ignore us too. And I think that I'm more hopeful when it comes to other unions following suit — as you mentioned, what makes this resolution so historic isn't just the margin of victory, it's that we're now the first major US union to pass a BDS resolutions by a member vote.
And I think that what this indicates to me is that peoples' views are really changing. Palestine really is a social issue in the United States, and a new generation of workers and students is seeing how we're linked — not only as workers, not only as students, not only as Americans, but as people of conscience to the struggle of Palestinians, and how we can actually help them in their struggle.
NBF: What's the next step here, in terms of activating this resolution and pressing forward with the demands for divestment from the University of California?
KS: Well, there isn't a particular mechanism that is on us right now to complete. I think that the opposition is going to try to contest this result, they have already indicated that they're going to try to dispute the result on some sort of procedural grounds, maybe even file legal injunctions, which they've been threatening to do the whole time.
However, we feel that we went to enough lengths to ensure an open and transparent democratic process that this result will stand. This is a non-binding resolution, so UAW International, our umbrella organization, doesn't have to act on it and to divest its funds from companies complicit in the occupation.
But I think that the general view, in my personal opinion, is that this will trigger something of a domino effect, and that as more and more unions, perhaps other locals of UAW in the US follow suit and also pass BDS resolutions, that eventually the pressure will build, and UAW International will see that their locals across the United States are starting to join their counterparts in Europe and across the rest of the world in supporting the call for BDS.
NBF: Finally, if people want to learn more about this resolution and get in touch with members of UAW Local 2865, if they want to start replicating this kind of BDS activism on their campuses, where can they go?
KS: They can go to UAW2865.org, where the results as well as all of the procedural information, all of the press releases and statements from way back when this bill was first being considered by the joint council — the elected body — of the union, you can basically see how we did it. And if you want to talk to us about it, you can send an email to the union, you can find the contact information on the website.
And frankly, if you want to do this at your union, you should talk to us individually. You can talk to me on Twitter at @KumarsSalehi. This information is probably going to get put into more of a readily-accessible form, but for now, I think we're going to take a couple of days and celebrate.
Tags