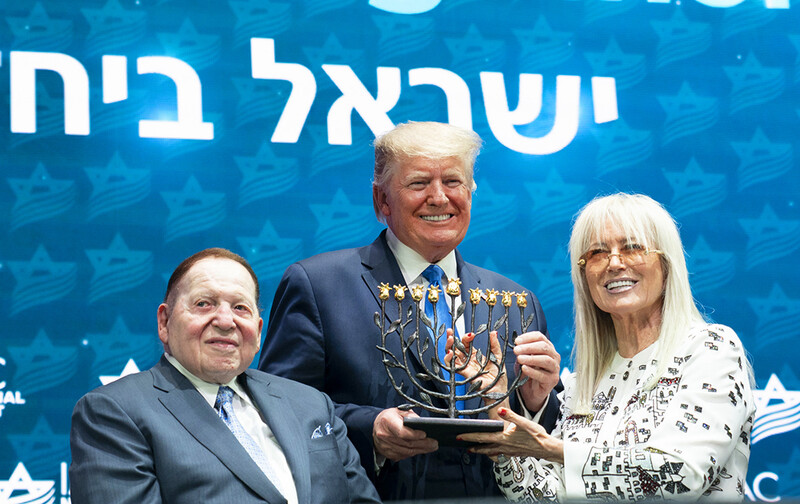 Casino magnate Sheldon Adelson died this month at the age of 87.
He is survived by his Israeli widow Miriam Adelson, who looks set to continue the couple's work empowering Israel and its lobby. She is now Israel's richest person.
One of the world's richest men, Adelson was for two decades the sugar daddy of the pro-Israel lobby in the US.
He was a fervent anti-Palestinian racist, once claiming that "the Palestinians are an invented people," and funding Islamophobic activists.
He used the billions from his casino empire to fund both of Donald Trump's presidential campaigns.
Sheldon and Miriam Adelson poured about $250 million into Republican campaigns, including Trump's, during the 2020 election cycle alone.
Sheldon Adelson's largesse on behalf the Zionist cause is a matter of record.
But Miriam Adelson – Sheldon's Israeli-American second wife – is less well known. She now controls the vast majority of the shares in the Adelson company – a stake reported to be worth $24 billion.
At 75, she may continue the couple's malign work for years to come.
Spying for Israel
One of Sheldon's last public acts was to send a private jet to New Jersey to fly convicted spy Jonathan Pollard and his wife to Israel.

A US citizen and naval intelligence officer, Pollard stole a vast amount of top secret US intelligence during the 1980s and sold it to Israel in exchange for tens of thousands of dollars, to fund a luxurious lifestyle.

Pollard served 30 years in jail, before his release in 2015 by President Barack Obama. Pollard's parole ended in November, allowing him to move to Israel where his treason against the United States has made him a hero.

The Adelsons shared that sentiment. "Jonathan deserves Israel's deepest and eternal gratitude," wrote Miriam last month, saying the spy "deserves every benefit and grant the state can offer" like "a wounded soldier returning from a long and difficult journey."

Miriam obtained US citizenship after marrying Sheldon in 1991.

Press reports noted that the private jet which flew the Pollards "home" was owned by both Adelsons – not Sheldon alone.

And that is how it so often was: While the focus was on Sheldon, the Adelson "philanthropy" for Israel was almost always done in the name of the couple.

In the final days of his presidency, Trump pardoned Aviem Sella, the Mossad agent who recruited Pollard.

Sella was indicted for spying on the US, but fled the country shortly before Pollard's arrest. Israel refused to extradite him.

Sella's pardon appears to have been a personal favor by Trump to his generous benefactor. The request for clemency was "supported by" Miriam Adelson, the White House press release noted.
"I'm a one-issue person"
According to a 2008 New Yorker profile of Sheldon, it was Miriam who convinced her husband to become an active funder of right-wing and pro-Israel causes in the first place.

Before they met in 1988, Sheldon had donated to Democrats. But after their 1991 marriage, he became more conservative and more Israel-focused, backing the most right-wing candidates.

It was Israel above all that motivated the Adelsons. As Sheldon put it, "I'm a one-issue person. That issue is Israel."

Sheldon Adelson opposed the Obama administration's negotiations with Iran over its nuclear energy program and successfully convinced Trump to overturn the deal struck by his predecessor.

The couple also successfully convinced Trump to move the US embassy from Tel Aviv to Jerusalem.

They even pushed the Israel lobby further to the right.

In 2007 Sheldon attacked AIPAC, the powerful Capitol Hill lobby group, for what the couple considered insufficiently anti-Palestinian positions.

Until that year they had funded AIPAC to the tune of tens of millions of dollars – but only to pay for Israel junkets for Republicans, not Democrats.

In 2013 Sheldon started pouring money into the Israeli American Council, elevating it into a more openly partisan right-wing competitor to AIPAC.

The couple also ploughed tens of millions into Birthright Israel, a group which sends young American Jews on free trips to Israel to indoctrinate them with Zionism.

Sheldon made little secret of his attempt to influence elections in both the US and Israel. He has backed Israeli Prime Minister Benjamin Netanyahu, but has also cozied up to competitors to his right, such as Naftali Bennett.
"It really is amazing that we have this influence"
Miriam played a leading role in all of this. The couple had ready access to US presidents and Israeli prime ministers.
In 2008, The New Yorker reported, Miriam had boasted to an associate of the influence they had on then President George W. Bush: "I had a CD on Islamic jihad. I brought it to the White House and told the chief of staff, 'I would like the president to see this.' It really is amazing that we have this influence."
(It seems likely that the "CD" pushed by Miriam was actually a DVD of the Islamophobic film Obsession: Radical Islam's War Against the West. The Adelsons reportedly gave away copies ahead of the 2008 election to young US Jews participating in Birthright trips.
They have also funded anti-Muslim extremist Steven Emerson, who appears in the film as a supposed expert.)
In a statement announcing Sheldon's death, Miriam summed up her husband's influence.
"He crafted the course of nations," she said. He had once told one business associate that he "would like to leave a visible footprint in history."
Born as Miriam Farbstein to settler parents in Tel Aviv, Palestine, during the British colonial period, Miriam later served in the Israeli army before becoming a medical doctor.
She met Sheldon in 1988 during a research trip in New York.
The couple's empire of anti-Palestinian, pro-Israel lobby groups took off in the late 1990s.
"We have others working on this"
Groups financed by the Adelsons over the years included the Foundation for Defense of Democracies, United Against Nuclear Iran and the openly racist Zionist Organization of America.

As aptly noted by investigative journalist Eli Clifton, the couple "turbocharged" these groups over the last two decades.

Some groups funded by the Adelsons are not simply US organizations that happen to lobby for Israel. They coordinate with Israeli officials – calling into question whether some of the Adelson-funded groups are acting in violation of US law.

A high-ranking Israeli intelligence officer once admitted as much in undercover footage filmed by Al Jazeera.

"We have FDD. We have others working on this," said Sima Vaknin-Gil, a brigadier-general in Israel's military intelligence.

She explained that the Foundation for Defense of Democracies was doing "data gathering, information analysis, working on activist organizations, money trail" – all on behalf of Israel.

"This is something that only a country, with its resources, can do the best."

Not coincidentally, Vaknin-Gil was speaking to an audience at an Israeli American Council event. Both IAC and FDD are funded by the Adelsons.

Vaknin-Gil had been in Israel's air force intelligence for 20 years. At the time she spoke, in 2016, she was the director general of Israel's Ministry of Strategic Affairs – a semi-covert agency waging war on Palestinians and their global solidarity movement.

The Adelsons and the ministry also jointly funded Act.IL, a sophisticated Israeli government social media campaign with an annual budget of a million dollars used to harass students, smear and censor supporters of Palestinian rights including former UK Labour leader Jeremy Corbyn.
Will Miriam Adelson back Trump 2024?
According to The New Yorker, Sheldon "was a micromanager before the word had become a cliché."

He remained the CEO of his Las Vegas Sands megacorporation right up until his death, dictating even minor details like the color of the water in the fake Venetian canals surrounding his casinos.

Although Miriam now owns a controlling stake in the company, she seems unlikely to take such a hands-on role in the casino business.

The Wall Street Journal reported this week that Sheldon's successor as CEO has been named as Rob Goldstein – for decades an Adelson loyalist.

But Adelson family control of the financial motor for their empire of Israel lobby groups seems assured. And through her control of a complex web of trusts and foundations, Miriam will continue to lead this empire.

In addition to her $24-billion stake, Miriam has another foothold in the Las Vegas Sands company: Upon Sheldon's death the firm promoted Miriam's son-in-law to chief operating officer, setting him up to one day succeed Goldstein as CEO.

Patrick Dumont, 46, is the husband of Miriam's daughter from a previous marriage. Sands owns properties in Las Vegas, Macau and Singapore and made $13.7 billion in 2019, The Wall Street Journal reported.

Having been ill for some time, Sheldon had long put succession plans in place. He handed the shares over to Miriam in 2019, making her Israel's richest person – "by a long stretch," according to Israeli newspaper Haaretz.

When Sheldon's death was announced, potential 2024 Republican candidates and figures lined up to pay tribute – likely with an eye on Miriam's largesse.

Miriam is reported by one Israeli journalist to favor Nikki Haley, Trump's ambassador to the United Nations.

Haley cut aid to Palestinian refugees and opposed UN investigations of Israeli killings in Gaza in 2018.

Now that Sheldon has passed from the stage, will his widow play a more assertive public role?

Her column last month lauding Pollard's release to Israel gives a clue.

Pollard "deserves the right to live in a country … where sensitive matters are kept secret, and whose heroes are humble," she wrote. "Let us honor him in the same vein – quietly."

Announcing Sheldon's death she wrote that "some of the historical changes that he helped effect – in the United States, Israel and elsewhere – are publicly known. Others are not."

Sheldon Adelson's family seems certain to use their billions to further his poisonous legacy for many years to come.
Tags